"I want them to go on the journey with me and hopefully connect with them on a personal level," says Zoy Frangos, the singer and actor who has performed across Australia and in New York. Most recently seen with Tina Arena in Tim Rice and Andrew Lloyd Webber's iconic musical EVITA.
Frangos' cultural history is built on storytelling. The ancient Greeks and Australia's First Nations people are story tellers; the two cultures love yarns, who have their own history of dreamtime and myths.
He grew up with the classics, but Frangos sings in Greek and in the Wemba Wamba language to honour to his grandmother and the people of this land.
Frangos' story is a testament to the country's multicultural identity with an Aussie spin. On July 18, he will present a piece of him on the Art Centre's stage.
Variations, is about communicating with the audience, through a relatable tale of growing up in Australia, as a mix of some of the oldest cultures in the world. Cultures that through him find common ground.
"As a kid I was exposed to an eclectic range of music." His parents were into The Beatles, The Rolling Stones, Eagles, Farnham, Drifters, Dire Straights,and Elvis.
"We'd have big family gatherings with Greek music, and there was pop music, rock, grunge, metal, soul, disco, R&B, I was deeply into Metal in the 90s, Pantera and Metallica. Mum and Dad where let us listen to what we liked and mum would tape music videos off Rage for us."
As he grew older, he opened up to a wide range of music. Never big into music theatre, he did like the John Farnham version of Jesus Christ Superstar and musicals like Cabaret and Little Shop of Horrors. Theatrical rock like Queen's Flash Gordon soundtrack and classic films were his thing, along endless hours of film music by Ennio Morricone, Bill Conti, Nina Rota and John Williams.
"I would get the soundtrack albums of films like The Blues Brothers and Stand By Me" .
"I liked Ramin Karimloo and his 'broadgrass', how he combined bluegrass and theatre. I got really into Elvis and rockabilly at one point and I loved how he would collaborate with great musicians and work with them to develop a sound that was influenced by his experiences and tastes but was he's own creation. He wasn't reinventing the wheel but he was being true to himself," he explains, saying that he used that as inspiration for Variations.
Backed by great musicians who helped him realise the idea, his Variations is sort of a gospel/country/rockabilly meld of music theatre.
"For example, what happens when you combine Bring Him Home and In the Ghetto or Superstar with Johnny Cash.
"Anglo stuff can be pretty dry, a bit lacking in gut, but Greek and Aboriginal culture is about passion and passing on the story, not trying to sound like everyone else. I try to bring them all together through my unique voice and passion, I sing Lloyd Webber and loosen it the hell up!"
Letting go and allowing the soul to lead is the goal for this performance. It sprung from the need for freedom of expression and what can became visceral over the past two years.
"The pandemic was a massive eye opener about the importance of performing in front of a live audience," Zoy says.
"Many artists went online -including myself- but it lacks the connective tissue and spontaneity that comes from live performance. I want each audience member to be moved and come on a ride with a brilliant group of people for 60 minutes."
In Variations, he collaborates with his partner, Elisa Colla, and they share cultural, and other, threads.
"My wife has been doing it much longer than I have, she's the performer I love," he muses.
"She surprises you, some of the stuff she comes up with is out of this world, she's a craftsperson, a hilarious comic actor and a stunning singer. We have learned so much from each other, and our voices blend beautifully. She comes from a quiet family and I come from a loud one and somehow we meet in the middle. We keep each other grounded. It's an absolute privilege to have her perform with me."
Outside performance, the two share a passion for Greek and Italian food and sharing stories over meals. During the lockdowns, their dream of performing in London's West End was put on hold. So they started a blog titled 'An Italian and a Greek', and shared the process of making and presenting their favourite dishes, as legacies of their migrant families. They melted into the Australian fabric but kept their heritages alive.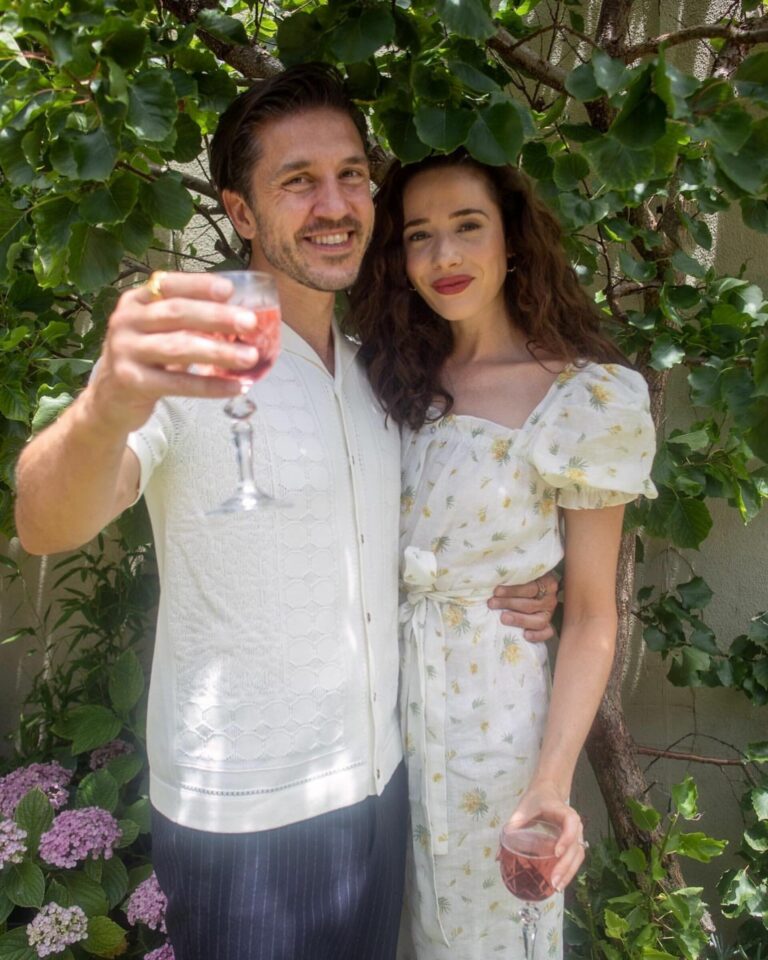 "I grew up on a farm as an Aussie kid in Ballarat, but I had these other parts to my heritage that was different to the other kids at school," Frangos says to Neos Kosmos.
"In the 80s and 90s it wasn't cool to be Greek and it definitely wasn't cool to be Aboriginal.
"Being Greek was the dominant force in our family. We were Greek Orthodox and went to Greek Church, we would spend a lot of time with our Uncles, Aunties and cousins, we didn't speak Greek, but would be spoken to in Greek, we would wear traditional Greek dress for Australia Day. There would always be big Greek parties where we would dance to Greek music, all my relatives owned restaurants and/or fish and chip shops!"
Greek was the norm for Zoy. Aboriginal was harder, he says, as he didn't get to spend a lot of time with his Grandmother; she was unable to pass on their heritage being in the stolen generation era.
"We knew we were Aboriginal and embraced that but that was about it," he says. "Grandma, lived near us in Ballarat for a time before moving to Bermagui and then she died when I was 16.
"I began to explore that side of my ancestry began in 2009 when I studied at VCA and met Deborah Cheetham. She introduced me to fellow Indigenous artists Jess Hitchcock, Dom Bemrose and Tiriki Onus. This opened the door to learning more about my Aboriginal Culture and embracing that side of me."
Zoy has since connected deeply to his Indigenous side, has visited Country and met cousins that he didn't know he had. The sad part was hearing his Indigenous family talk about Uncles and Aunties with the familiarity and proximity he has of his Greek side.
"The door is open now and that is the main thing," he says.
"When I went to dad's village in Greece, Mytikas, I took off my shoes and stood in the water just near where my father was born, I wiggled my toes and took in the air and the view. I did the same when I first visited mums birth place – Lake Boga. In both places I felt a sense of belonging.
"I sing in English, I sing in Greek, I sing in Wemba Wamba. While I will always be learning I am now forever connected."
But how do these different identities meld in one person? What are the challenges and what are the advantages? The challenge is often putting yourself out there, being vulnerable, Zoy says. He stresses that creating is a vulnerable process, you often have no idea what people will think.
"People won't like all of what you do, performing brings with it a lot of opinions… and I can be the worst," he laughs. He reflects on his younger self as an athlete.
"I was a decent sprinter; 100 metres and 200 meters. I had competed nationally, but I just wasn't fast enough," he says.
"I started running 400 metres and my times improved and I was in the process of changing my training to 400 metres specifically so I could make a go at the Olympic 400 metres relay squad. But I got a bad hip injury which required surgery and I just couldn't run fast any more. So I was looking for another outlet and singing became it."
Without ever having sang before, he gave it a go with the help of a friend and realised that he wasn't just a decent singer. He was good. Music was not his only artistic expression. Zoy has also completed a degree in graphic design and started a job as an editorial designer at The Ballarat Courier. Then he started doing amateur theatre and was playing lead roles.
He quit his job and entered at Victorian College of the Arts, and things only took off from there. A supportive family, he was important for Zoy and helped him learn to live with the fact that not everyone like what you do.
As an athlete Zoy embraces challenges and learned quickly. "If you want to be good at sport, you can't be slack," he says. He would work harder than anyone and spend as much free time as he had catching up to the skill level of his much younger peers.
"I was super focused, it's the way I trained as an athlete."
"Sprinting is about 100 per cent forward motion, acting is being aware of every movement, 360 degrees and all levels of effort. I improved quickly but I probably took a few years to be aware of where I was, to relax and to focus. Also to stop thinking of an end result and where I was heading rather than where I am."
His most satisfying moments were when he "just went for it as Valjean in the 25th anniversary tour of Les Miserables and as Judas for Jesus Christ Superstar. At the top of his list was Pecan Summer the world's first Indigenous opera.
Producing, Variations, hearing the music he envisioned come to life in the hands of great musicians is a "fleeting but awesome moment".
Zoy today is more confident with his craft and more grounded. He is determined to "evolve as a better person and a better artist."
He says that the two can't be separated, and this was the big takeaway of the pandemic.
"Variations is my first attempt to tell my own stories. This is essentially what I want to do. I am writing a very personal one man show, aiming to develop an Indigenous Australian work with an Italian-Australian coming up.
"Moving forward, I want to challenge and educate the audience with my work but I also want to create shows where people just have a bloody good time. The world is open to possibilities now and we only live once."
Zoy Frangos Variations at the Arts Centre
When: 18 July 2022, 11am and 1.30pm
Where: Hamer Hall
Tickets: Subscriptions: $20 | Single $30 via www.artscentremelbourne.com.au/festival-and-series/morning-melodies/2022-program
Neos Kosmos acknowledges the First Nations people as the traditional owners and custodians of country throughout Australia and we acknowledge their continuing connection to land, waters and community.
We pay our respects to the people, the cultures and the elders past, present and emerging.
NAIDOC week July 3-10 calls for commitment from all of us to Get Up! Stand Up! Show Up! by supporting institutional, structural, collaborative and cooperative reforms. It is a time to celebrate the many who have driven and led change in  First Nations communities over generations.