Many of us across ages, especially the younger family members play games on our consoles, computers or mobile phones. Some of these games are being created by a group led by our Greek Australians.
PlaySide Studios is the largest video game developer and publisher in Australia, it is based in Port Melbourne with another studio in Gold Coast.
The company was born when Gerry Sakkas, then lead designer for the Melbourne studio of video game giant Electronic Arts (EA), decided he was going to live his dream.
It was 2011, and he began to grow frustrated, as higher-ups back in the US were not releasing any of his team's work – so he decided he was going to leave and start his own studio.
Sakkas decided to get started on his dream so he reached out to his friend Aaron Pasias.
"Gerry was a good friend of mine and was working for EA where he was given the option of relocating to USA or taking a small payout," Pasias told Neos Kosmos.
"Having seen the opportunities in the newly created Apple App Store, he came to me with a business idea to start a new company making games for the App Store."
Pasias referred him to his brother-in-law, broker/investment banker, Mark Goulopoulos, and the three of them created PlaySide.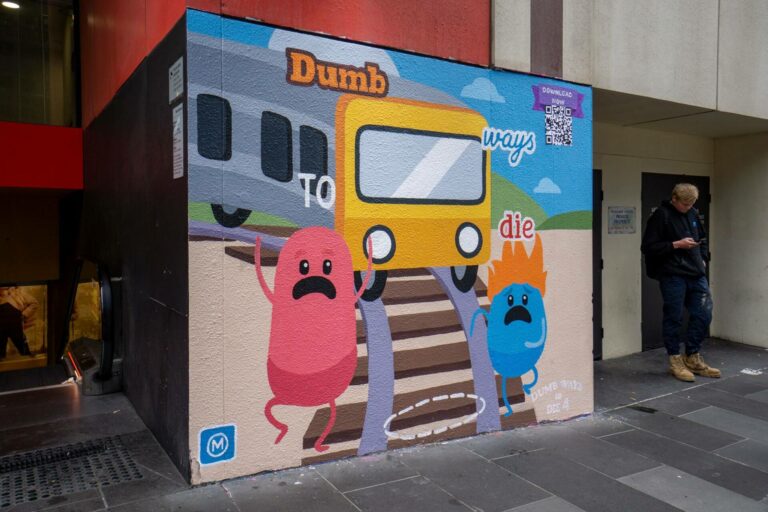 The next year saw their first game – Catch the Ark – hit the App Store and the rest is history.
Today, PlaySide employees over 300 people across both its studios along with many artists and engineers who work remotely across Australia, New Zealand and worldwide.
Some games developed are in collaboration with major studios like Disney, Pixar, Warner Bros, Meta and Activision – with some recent IPs obtained including Legally Blonde and The Godfather.
But there is one brand that has been ultra-successful for the Greek led business.
Many may remember the old Melbourne train safety campaign from back in 2012, Dumb Ways to Die, with those little colourful bean shaped cartoon characters and catchy song.
Earlier this year it was resurrected after going viral on social media, and many downloaded the original app, bringing it back to pole position.
PlaySide are responsible for the creation of this portfolio of games, apps and even upcoming card game.
They originally created the games for Metro Trains over the years and then in 2021 the opportunity to acquire the brand had arisen.
"Given our familiarity with the brand we were very well placed to recognise its inherent value and we had a number of ideas of how we could further broaden and deepen the global reach of Dumb Ways to Die," Mark Goulopoulos told Neos Kosmos.
"We have also been very successful in building the Dumb Ways social media presence such that our TikTok account is now the fourth largest (by followers) gaming account on that platform."
"We have lots more to come for Dumb Ways to Die in coming months and years as we further our ambitions to make it a truly global brand."
The success that the brand has given to PlaySide was recognised by larger parties in the US, as Netflix have partnered up with the Aussie developers to create games for their service.
Pasias tells says that Netflix were quick to recognise the brand's value and that its been great to have the partnership because the streaming giant "understands consumer entertainment so well".
What is next for PlaySide? In early 2024, they have a video game for PC set to launch in Early Access called Dynasty of the Sands.
It is set in Ancient Egypt, and with the connection of Ancient Greece to Egypt, we asked the proud Greeks – Sakkas' family comes from Lefkada while Pasias and Goulopoulos are from Florina – if there are any plans for a game set in Ancient Greece or related to Greek mythology.
Pasias responded that "We have always been passionate about Greek mythology and it is certainly a theme we have looked at over the years".
"We don't currently have a game that focuses on Ancient Greece but never say never!"