Melbourne lived up to its reputation this weekend of four seasons in one day, with the conditions less than ideal for the Oakleigh Glendi. But it wasn't enough to deter Greeks Australians and members of the wider community from coming together at Warawee Park to celebrate the area's proud Greek and multicultural heritage.
Thankfully the rain subsided on day one, giving festival-goers a chance to enjoy a bite for dinner, while being entertained with live Greek music and dance.
On Sunday for day two of the event, it was ideal conditions for the Oakleigh Grammar parade through Eaton Mall to Warawee Park. The official formal welcome followed, with the local parish priest starting proceedings with a prayer, followed by speeches from official guests, including City of Monash Mayor Shane McCluskey and Labor Member for Oakleigh, Steve Dimopoulos MP.
Performances followed by various folk dancing groups, kicking off with the Canberra Hellenic Dancers.
The crowds' hearts were stolen by young Oakleigh Grammar students who sung in both English and Greek, and performed a Greek dance, with proud parents and grandparents watching on (see our live video below).
The rain returned, but festival-goers continued to have a good time, whipping out their umbrellas, and enjoying the entertainment while sipping on frappe, and eating loukoumades.
See our gallery from the Oakleigh Glendi below: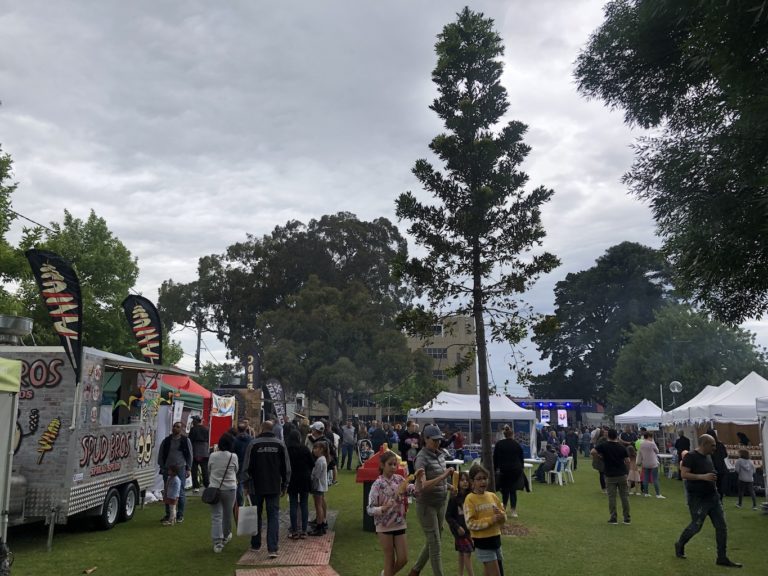 If you have any photos from the Oakleigh Glendi that you would like to share, send them through to anastasia@neoskosmos.com.au