Back in the Seventies, a fellow fifth grader – a diasporan like myself – asked me what part of Greece I was from. "I was born in Constantinople," I said.
"You mean Istanbul? In Turkey? So you're not Greek. You're Turkish!"
One thing lead to another and despite my profuse historical explanations dating all the way back to the Byzantine Empire, she ran around the playground chanting, "You are Turkish!" Others chimed in. And that's when I realised that having clear geographical boundaries was needed to legitimise one's cultural identity.
The pain and nostalgia of belonging to a homeland that doesn't exist was rekindled through the photographs of Yannis Dramitinos in the exhibition titled "Greeks. Romioi. Greek Australians" at the Steps Gallery until 28 February.
Organised by university students old enough to be the sons and daughters of my fifth grade playmate, it occurred to me that the third generation of Greek Australians have evolved and are better equipped to understand and navigate diasporas.
Cretan-born Dramitinos agrees. "Second-generation Greeks were unable to truly identify with their motherland or Australia. This new generation is more secure and more focused when exploring its own past and interacting and identifying with it," Dramitinos told Neos Kosmos.
Young diasporans' better understanding of their own roots is not perceived by Dramitinos as "a return" but as a "necessary existential step to better understand who you are".
"Looking for an identity is like being Alice in Wonderland," Dramitinos said, and much like a visit to Wonderland, the 27 photographs on display open cultural windows to lost homelands in Constantinople (aka Istanbul), Cyprus and other foreign lands. These are captured with simplicity but tell a complex tale of upheaval. And the display itself is a bridge between homelands to show younger generations how important it is to keep something of your identity even when the place you come from is one that is lost, that you've not visited, and that no longer exists.
"Why am I doing this? My son was born in and is growing up in Australia. Cockatoos are the first birds he heard when leaving the neonatal clinic. For him, they will always be part of who he is. Cockatoos will always be exotic for me. I am trying to bridge these two different experiences," he said.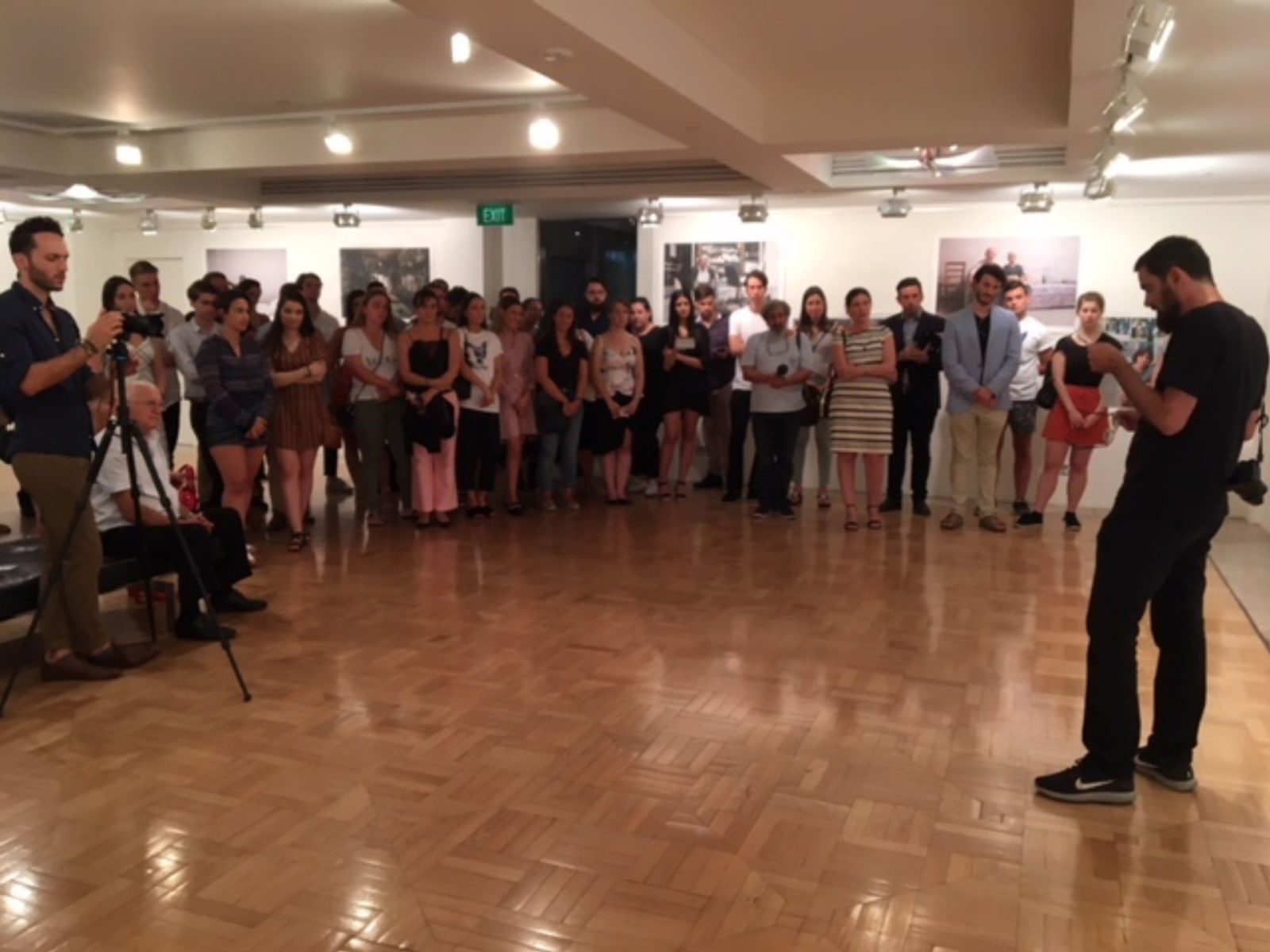 Though the cackling of cockatoos are sounds taken for granted by students of the Melbourne University Greek Association (MUnGA) and Macquarie University Greek Association (MUGA), they are also intrigued by the double-headed eagle that looks in both directions and never dies.
Themistocles Kritikakos, PhD student at the University of Melbourne, is devoting his life to exploring his Greek heritage, and in particular the Greek and Armenian genocides. As the MUnGA Club President, he is just one of many young Greeks fascinated by chapters of history that he states "were never taught in Greek school". And therein lies the problem because for him, and others like him, lost homelands are simply not a lost cause to be buried in the annals of time.
"If you don't know where you've come from then you don't have a holistic view of who you really are," Kritikakos told Neos Kosmos. "There is a fracture in your identity."
Kritikakos can boast of a treasure trove of identities as a Greek Australian with ancestry from Asia Minor. The legacy he carries comes with a rich heritage but also a lot of pain as he is a minority within a minority. "I've definitely researched the subject (of losing your homeland) and those I've interviewed have felt trauma," he said. "And my own layer as a romios also hurts."
Some cannot handle the hurt and shun the past, trying to forget and move on. Or perhaps it is just ignorance. But Greek millenials are drawn to facets of Greekness that their own parents may have overlooked. Kritikakos says that the stories told in Dramitinos' photos are "interconnected, and not linear" – meaning that they may show people caught in different places and different times but they are all part of our identity as Greeks.
"Hellenism is not defined by borders of the Greek state and this has been the case for thousands of years," Kritikakos said.
"We are growing, redefining our identity evolving and are not losing touch with our history."
Yannis Dramitinos photos are on display at the Steps Gallery (62 Lygon Street, Carlton) through to February 28 with proceeds going to the Cancer Council. A larger exhibition will also be on display at the Kudos Gallery in Sydney from 19-23 March.