Joanna Kordos is not just a multimedia artist, she is a multi-faceted creative talented in manipulating several mediums in order to give her artistic vision life.
That makes her not only a painter, but a photographer, designer, curator and builder as well.
Kordos commenced her journey in the visual arts in 1983 and has over 30 exhibitions under her belt, solo and group collaborations.
Her great love, as she calls it, is the medium of oil painting and what pleases her is achieving the brilliance of colour and layering like the old masters, yet blended and executed in a contemporary manner.
Using the best quality oil pigments and materials she usually paints on Belgian linen, glazing her paintings employing traditional techniques.
"I have studied the lost secret knowledge of the oil binding mediums used by the Flemish and Italian masters," Joanna Kordos muses, "I cook and prepare these oils myself."
"Part of the binding ingredients comes from the island of Chios known as Mastiha" she explains, adding that being of Greek origin is of great inspiration to her, in many different ways.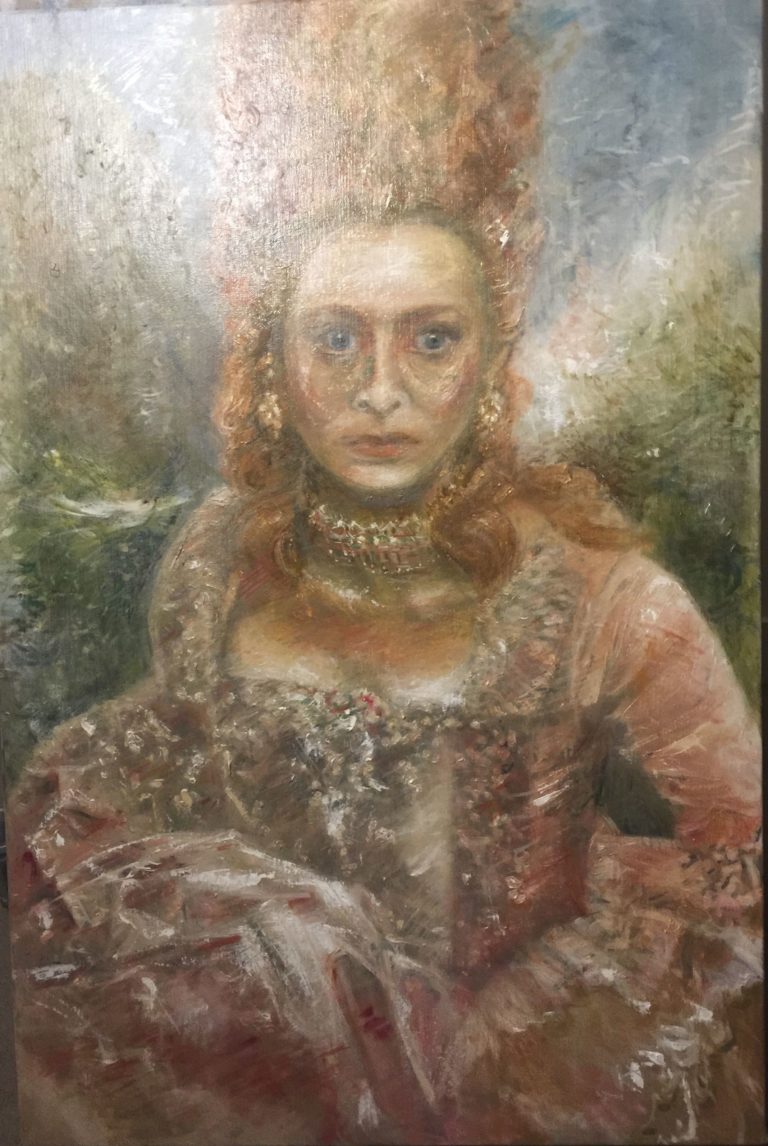 In her most recent study, a body of work developing across 12 months, the fine artist once again explores the beauty and mystery of life through Gothic and Romantic themes of an era long.
Kordos uses Elizabeth Tudor as a metaphor to femininity and leadership. She is inspired by the way Elizabeth I of England is forced into a position and shows her prowess by maintaining until her death an image of eternal youth and beauty.
"She had many lovers but was known as the Virgin Queen as she remained unmarried and never had children. She is a symbol of an empire and a great power. She lived and created the world of the Elizabethan era, Shakespeare's world and so much more."
What inspired her the most is that Elizabeth was the first queen to use make up as a means of camouflage and strength; to mask her vulnerabilities her weaknesses and imperfections. That is where the painter saw herself.
"I feel the painting like it's me," she says. "The whole paining represents me, my desires and my shortfalls the weariness and the energy. My experiences in life have led to a greater understanding of female power."
"Elizabeth's contemporaries believed that beauty amplified female power and so the Queen's splendour validated her rights to the throne. She therefore used caustic cosmetics, pungent white lead and vinegar to mask her face neck and chest.over time the lead ate into her skin creating damage, poisonous and toxic lead vermilion reds on her cheeks and lips, yet she insisted to be adorned with dangerous substances to create daily the fiction of beauty."
For Kordos, this is reminiscent of plastic beauty being the norm of the new way of life in the modern world and believes that women face the same dichotomies metaphorically seen through the life Queen Elizabeth I.
Meanwhile, The Messenger is a theme which belongs to the same metaphor of Elizabeth, that of the Old World, masking one's identity in order to communicate a message. Kordos refers to a verse from Proverbs 25:13 "Like the cold of snow in the time of harvest Is a faithful messenger to those who send him. For he refreshes the soul of his masters". The messenger rides eternally carrying knowledge for the other side, answers to spiritual and physical questions we all have.
Symbolisms of the cycle of life and death (Eros/Thanatos) and metaphysical transformation are always present in her work. Even though Victorian and Gothic elements are prominent in her depiction of Romanticism, Greek Mythology and its archetypal and symbolic influence of Hellenism is part of her everyday world of communication.
"Greek history and the journey of migration are themes that often define my art. My first fond memories of life were as a toddler to junior living in Ano Kalamaki in Athens during the tumultuous times of the Junta."
"My portrait of the composer Mikis Theodorakis was a depiction of this iconic haunting figure as he was larger than life in the Greek media back in the day," Kordos says amidst preparations for the opening of her exhibition at Steps Gallery. But that is not the only reason behind her excitement; she has another announcement to make.
"I am very excited to be showcasing my work, in my first ever show in Greece in April 2019. If you are in Athens, you're all invited."
*Opening: 14 June 6.30pm – 8.30pm at Steps Gallery, 62 Lygon Street, Carlton. The exhibition will run until 28 June 2018.