The Lonesome West, an adaptation of Martin McDonagh's highly praised book becomes a darkly irreverent black comedy to be staged at the Alex Theatre St Kilda on 22 June.
Directed by Peter Kalos and performed by his talented Lab Theatre students in association with Aleksandar Vass, the play will kick off a series of many plays set to speak to the hearts of Melbournians and point out the simple things that matter the most yet sometimes tend to make life unbearably complicated.
"We have a play readings every week at THE LAB and The Lonesome West just stood out," Kalos tells Neos Kosmos.
"We've already picked the next seven plays that we're doing at the Alex, so make sure you come!"
In The Lonesome West, following the death of their father, brothers Coleman and Valene, played by Dean Gunera and Sean Kitcher respectively, are left to live in Ireland together, where they consistently argue and fight over the most mundane and innocent of topics.
Father Welsh, brought to life by seasoned actor Matthew Elliott, a good-hearted but deeply troubled priest, frantically attempts to reconcile the brothers before their lives spiral out of control, but his advice goes unheard. That is all until Renee Kypriotis as Girleen comes into the picture. The beautiful young schoolgirl provides the hope for a brighter future; if only the men were ready to find compassion for each other.
The commonness of the story line is essentially what makes Peter Kalos set this play apart and have his cast work on it long-term other than the fact that he admires Martin McDonagh's writings and how "the language just flows".
"It's simple, really. How many relatives do we know where there are two brothers and don't talk to each other? It's everywhere!" he says.
"I'm always amazed at the small argument people get into and they hold onto them for decades; they just latch on and it consumes so much of their lives – that's what this is about. Like I said, you don't have to look far."
As Peter tells me the two lead actors, Dean Gunera and Sean Kitcher, have worked on one scene in class for about two years. Matt Elliott and Renee Kypriotis joined them about nine months ago.
"What I admire about them is that without asking me, they saved their pennies, went to Ireland and stayed in the exact village where the play takes place just so they get the accent down and the mannerisms, which they have," he says.
"You can't find actors like that easily here in Melbourne, but you can at THE LAB!"
Peter hopes the audience will take some things away from this experience that go further than just the pure entertainment of it, which is also important.
"Were not here to get any political messages across, we're here to entertain and we must always remember why it's called the entertainment industry.
"However, I'd also like the audience to see into the narrow-mindedness that is generated when people lock horns and keep feeding and fermenting an argument. People will really go out of their way to hurt someone and that consumes us. We've all been there," he muses explaining that entertainment, in Greek psychagogia, is also a means to educate the soul.
For Socrates, the word psychagogia translates into "soul-leading" and describes the nature of rhetoric, the technique of directing the soul by means of speech. Psychagogia was then coined by the masters of the arts, who 'entertained' current affairs and even directed opinions through their works.
It seems that Kalos and his team have much to teach us, and The Lonesome West is only the beginning of many great things to come from a promising breed of creatives. Peter took some time off from his very busy schedule to help us better understand why he loves to do things differently.
Tell us a few things about your collaboration with the Alex Theatre?
Aleksandar Vasiljevic or Aleks Vas (and by the way the theatre is not named after him) was a person I had heard about for quite a few years. Many people kept on telling me 'you must meet Aleks, you and him will get along so well' – this went on for years – so finally Fran, a mutual friend, invited him to one of our shows at THE LAB and he came. He didn't just turn up, he stayed for the entire play in a very small theatre with no heating. But the show was amazing and he asked me why we weren't at a bigger space. I told him we have no money, he has a theatre, so we had a few meeting and it's one of those things where two people just click.
I go into his office and I don't feel like there's any pretence going on, I'm not trying to impress him or anything. It's like playing poker – but you've got your hand open. I tell him what vision I have, he tells me his vision and then we agree on things and we go from there. What I love about him is that not only he has the obvious resources – many people have money – Aleks also has an understanding into our world and a passion for it that's not easy to find. We don't let each other off the hook either, we battle out our ideas which is important. It's a wonderful creative union and [The] Lonesome West is only the first project together. We'll have many more and we'll learn how to work better with each other, not just when it comes to creating theatre but we plan to venture into films down the road. I proposed this to him: 'You don't fire me and I won't quit'. It's a great union!
How many years have you been involved with theatre and the arts now?
I think I've been around since the age of eight? It all started with [a production at]The Greek Theatre called The Bridge which was started with Nick Skiadopoulos, and I was the first one to play Isaac in Abraham's Sacrifice (I Thisia Tou Avram). While most of my cousins were playing soccer I was running around with a bunch of Greek actors two-three times my age and I loved every moment of it.
You moved to LA at a young age and spent a good 20 years there. What made you come back to Melbourne?
Primarily my kids; at the time my oldest was 13, and my younger daughter was six. I figured that if I stay in LA any longer my kids will never know aspects of life I grew up with like their yiayia and pappou and all those Greek things uncles, cousins … you don't have that in LA. At least they [have] got to see that now. Ironically Nick, my oldest son, moved back to the US and joined the army there. He's been there for four years now but he always says to me "At least I know what Oakleigh means now …" so he got to have an understanding of that and it will stay with him. Many people take that for granted but if you move away from it you treasure it.
What are the main challenges an actor in Australia will face especially when coming from a culturally and sometimes linguistically diverse background? Do you think things have changed much?
Oh we're stuck in the Dark Ages here, we really are. As far as acting, for the most part the industry here thinks you can just be 'natural' and 'just do it'. That's garbage. Most actors you admire studied for years: Brando spent three years with Stella (Adler), De Niro spent years with both Stella and Lee (Strasberg) and at the [Actors] Studio so you can't compete with that kind of knowledge, and yet most people here don't think you need the study aspect of it. It's a skill and a craft, and it's a lot of work. The industry as a whole doesn't understand that.
As far as the whole cultural diversity thing, I hear it all the time 'there's not enough diversity here' and so on. Okay, so there's a bunch of white Australian people controlling our industry. Right. I can sit and moan about it all day long or I can get out there and write or create my own stories. You pick. I was recently talking to a friend of mine who made All These Creatures a short film here in Melbourne with a young Sudanese kid as the lead; he won the Palme d'Or in the Cannes Film Festival – that's massive! Will the industry here pay any attention to him? No, they didn't, he got close to zero offers here and a bunch overseas. Will they start using Sudanese actors in the mainstream industry? Of course not! Should we care? No. Get out there and just make your film. We're not here to change an industry, that's a whole other political discussion which isn't worth getting bogged down in. Yes the industry is narrow-minded and you won't know that till you've worked overseas. Very little has changed but the good ones just bypass all that and get on with the main objective which is to make films and theatre. I offered Yared Scott (the lead) a year's scholarship at THE LAB – and we all get onto the next project from there.
What is different about the Lab Theatre Company and the Actors Lab?
I'd start by saying there's nothing formal about THE LAB: it's like the kafenio of all acting schools. See, there are these "prestige" acting schools and they charge stupid amounts of money, it's mostly the parents paying those bills so they get influenced by the building, and the receptions desk, and the formality of it all and they think "If I pay $17,000 a year for my kids they'll become actors. Mostly what happens is a year later you end up with a big debt 'cos those actors think that after a year and a certificate that they can act. I want actors there to train with me long term, for what you pay at some of these places you can study for about five years at THE LAB because it takes years to become an actor, not weeks or months. As much as we have a casual vibe about us, when the time comes to work, we work extremely hard, we never finish on time and we go well into the deep hours of the night because there's work to be done. I have some amazing actors who work every single day on their craft. It's not a hobby for us or a passing phase, we've thrown everything else away and dedicated our life to this. We're like those old boxing gyms where legends are born in. A casting agent once said to me "they will build empires, you'll build actors!" that's the best compliment we ever had. And it's happened: these schools have grown in size. We have people like Nicole Chamoun who's been at THE LAB for about six years and is up for a Logie award. So at the end of the day, where do you want to be as an actor?

Which are the most important values and principles you teach your students?
That acting is the first thing you'll give up, and if that's the case then quit! If your boss at your day job asks you to stay back for an hour a day you'd do it without thinking because you'll worry about losing your job. If I ask an actor to spend one hour a day to spend on their craft, and their cat will die that day, or they get pneumonia, grandma will be sick, or they come up with a thousand reasons why they can't do it, and they'll lose a day of work that day, they don't think it matters but it does: you just gave away your career. I don't want to hear people talking to me about how much acting means to them; I heard that a hundred times a day, it's garbage, it means close to nothing, I want you to show me by doing the work, then, that's when changes start to happen. Don't wait for permission from anyone, don't wait for the world to give you anything because it won't, don't let fear cripple you: it never goes away you learn to work with it … just put in the time, do the work and then you're on your journey. Otherwise it will remain a nagging dream and tear away at your heart and soul. That's the message, stop talking about it and do it!
Finally, what is a day in the life of Peter Kalos like?
As far as my everyday life goes, I remind myself that I'm dealing with someone's dream and passion. It's not my job to step on it, but to push them off the cliff and teach them to fly … not just fly but soar!
I don't actually answer my phone; it rings every single minute. I get actors calling me up at 2.00 am after they've had a few drinks telling me how much I've changed their life, and I do appreciate it.
I have people calling me from morning to night asking me to read their script, or look at their audition, or ask an acting question or even who they should cast. It just doesn't stop. It's work yes, and I do get tired but it's not a job! I don't feel like I'm going to work and I'm glad when the day is over, it's just an extension of me, I breathe and think acting and films and story in every aspect of my life.
But this didn't happen overnight, I've worked very hard to get here.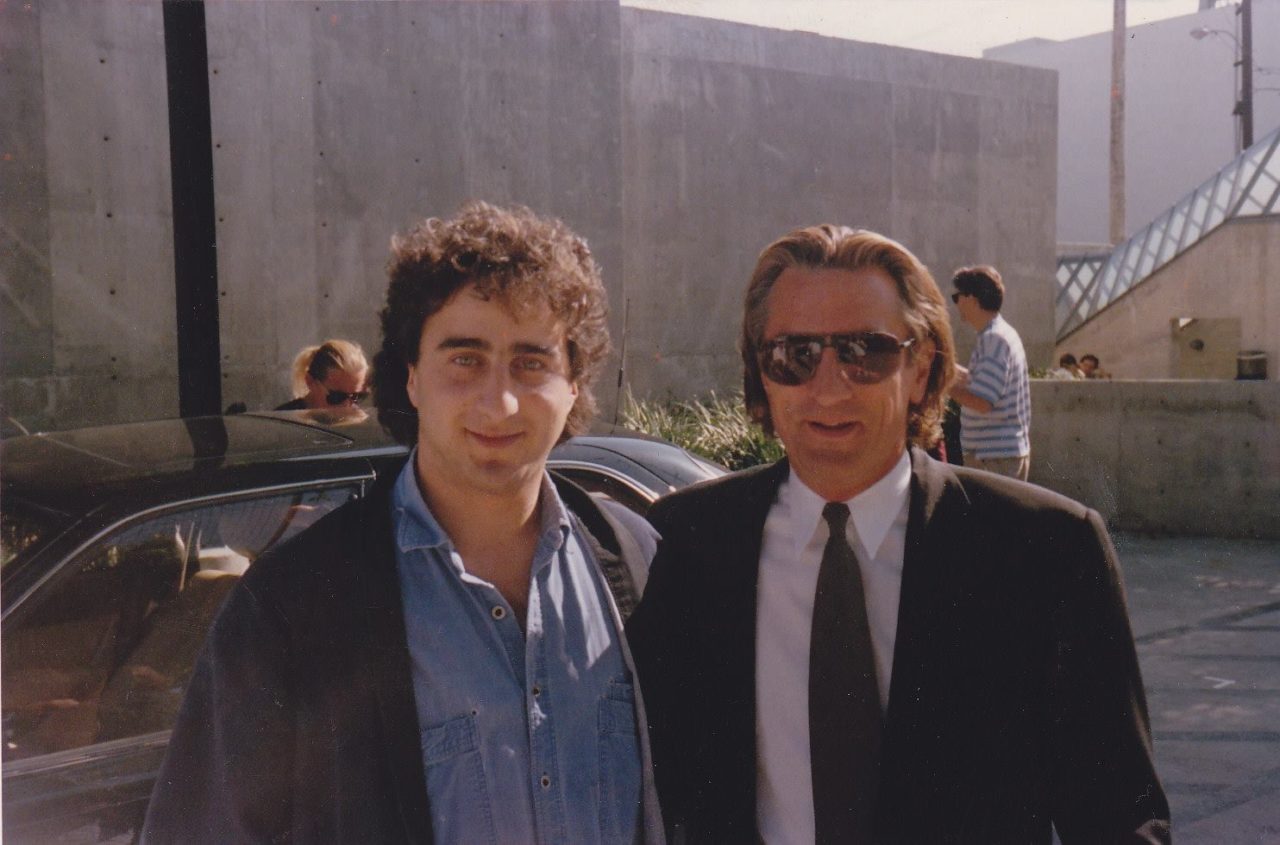 'The Lonesome West' stars Renee Kypriotis, Dean Gunera, Sean Kitcher and Matthew Elliott. Direction: Peter Kalos. Production: Natalia Nespeca, Dennis Manahan and Skye Young.
It will be staged on Friday 22 and Saturday 23 June at 8.00 pm, Sunday 24 June at 2.00 pm, and Thursday 28 until Saturday 30 June at 8.00 pm at the Alex Theatre St Kilda (Level 1, 135 Fitzroy St, St Kilda, VIC). Click here to find out more.