The members of the Australian Hellenic Medical Charity Inc. (AHMCI), which was conceptualised and registered 18 months ago with a sole purpose of raising funds to support hospitals in Greece, will see their dream come into fruition next July, when two of its members will travel to Greece to deliver the first piece of equipment for the General Hospital in Halkidiki.
"After two intense years of hard work and two major fundraising events, we are really excited to be announcing that we will be delivering a BK Flex Ultrasound Imaging Machine to the General Hospital in Halkidiki this summer," says Adelaide born IT professional and President of the organisation, Konstantinos Barkoukis, who after visiting Northern Greece two years ago, witnessed first-hand the difficulties the hospital was facing in procuring the medical equipment required to service the patients' needs, and in some cases, to save their lives.
"Due to the diligent nature of the medical staff, Greek hospitals receive positive reviews for customer service, however infrastructure and medical equipment is outdated and in short supply, increasing significantly the health risks to patients. When the doctors of the hospital asked for our support, we made a promise to the Hellenic people that we would do everything we could in Australia to donate and raise funds to assist," says Barkoukis.
AHMCI's second fundraising event was held in Adelaide on May, 4 and Greek-Australian TV personality Athena X Leventis was the guest speaker on the night.
"The evening was a huge success and we managed to raise over $50,000 just from this event alone. We would like to take this opportunity to thank all the guests, our sponsors, members of our community and Adelaide business men and women who joined forces so that we can contribute in such way towards a Greek hospital and enhance patients' well-being and chances of survival by facilitating a rapid diagnosis and expediting the treatment of cancerous conditions," says Treasurer of AHMCI Despina Pastrikos.
"I believe it's a blessing from God to be a Hellene, therefore, it's our duty in the Diaspora to assist our fellow Greeks," added President Barkoukis who –unlike many- instead of pointing fingers and condemning behaviours, decided to commit to the cause that was close to his heart.
Greek Australian Chief Justice of the Supreme Court of South Australia Chris Kourakis together with Barkoukis' spouse Despina Pastrikos, solicitor Lucasz Wyszynski and businessmen George Apostolou and Sotiris Phillis are also Board Members of the organisation.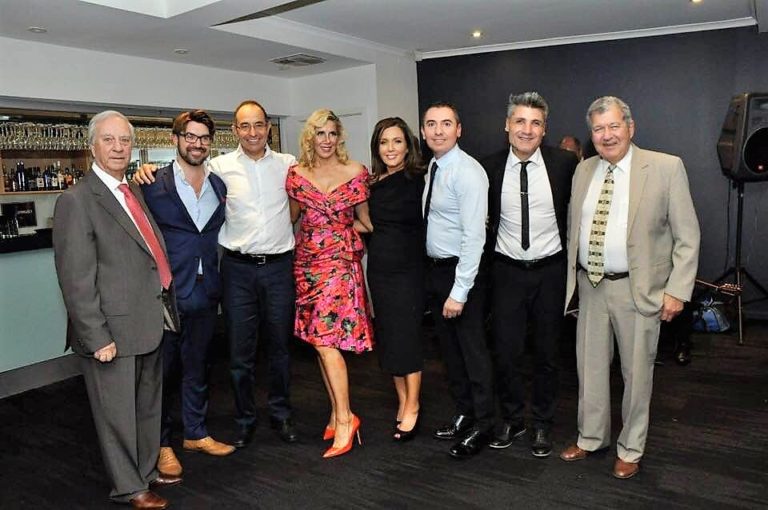 "My assistance with this charity is my way of repaying a moral debt to Greece that I have owed for a very long time," says Polish-born solicitor Lucasz Wyszynski who in September 1986, together with his parents, fled Poland due to their religious convictions and connotations attached to their family name and found refuge in Greece.
"While fleeing Poland, my parents applied to Italy and the Hellenic Republic for temporary refuge; however, both stated that they were somewhat full. Nevertheless, the Hellenic Republic ignored their own policy based quota and accepted my family regardless and I will be forever grateful for that."
The General Hospital in Halkidiki services the northern Greek peninsula and surrounding areas and it will be the first hospital that the AHMCI charity will assist but will certainly not be the last.
"We are already exploring some options to decide on the second medical institution that we will fundraise for, in Greece, but we haven't concluded to which one as yet."
"If we can save one person's life, it'd be worth our while," concludes Barkoukis.
For more information regarding the organisation and donation options, visit https://chuffed.org/project/ahmci