It was back in March when Neos Kosmos published animated GIFs featuring the before and after photos of digitally restored ancient ruins, including the Parthenon.
The project began as a collaboration between travel site Expedia, London-based visual content marketing agency NeoMam Studios, 3D visualisation specialists This is Render, and digital experts with the help of archaeologists and architects, who managed to restore missing parts of the relics, bringing facades and marble back to life, erasing years of decay.
In the form of animated online flip books, viewers can see the exterior of the Parthenon restored into its 5th century BCE glory.
Aside from Athens' main archaeological attraction, one can also admire the true beauty of Egypt's Luxor Temple, the Nohoch Mul Pyramid and Pyramid of the Sun in Mexico, the Temple of Jupiter and Area Sacra di Largo Argentina (Temple B) in Italy, and England's Milecastle 39.
NeoMam Studios have done it again by recreating another batch of historical landmarks, collaborating with the My Voucher Codes website, owned by UK price comparison website GoCompare.com. The new list of sites to explore includes the interior of the Parthenon in Attica, the Roman Baths in England, Domus Aurea and the Basilica of Maxentius in Italy, Masada's Lower Terrace in Israel, the Great Kiva, Aztec ruins in New Mexico and Cambodia's Angkor Wat.
"My Voucher Codes brought us on board to help them create travel content that would inspire people to go on their next holiday," Gisele Navarro, operations director at NeoMam Studios tells Neos Kosmos.
"This time, we recreated the interiors of some of the world's most fascinating ancient ruins to reveal what experts believed they used to look like.
"When looking into the reasons travellers pick their destinations, we discussed visiting iconic heritage locations and we all agreed on one thing: When one thinks of ancient ruins, images of dilapidated steps, half-standing columns and crumbling statues generally come to mind.
"Not the most inspiring of thoughts," she muses.
"We wanted to change that, and we knew that we had to bring those ancient landmarks back to their former glory. We rebuilt each of them based on our research on what experts believed they used to look like."
The project involved multiple people: including a researcher, a content writer, a designer, an art director and the managing editor who brought all of them together.
"A big team effort!" says Navarro.
For the Parthenon, NeoMam studios based their 're-imagination project' on multiple sources, including a reconstruction of the statue of Athena made available by Penn State University Libraries.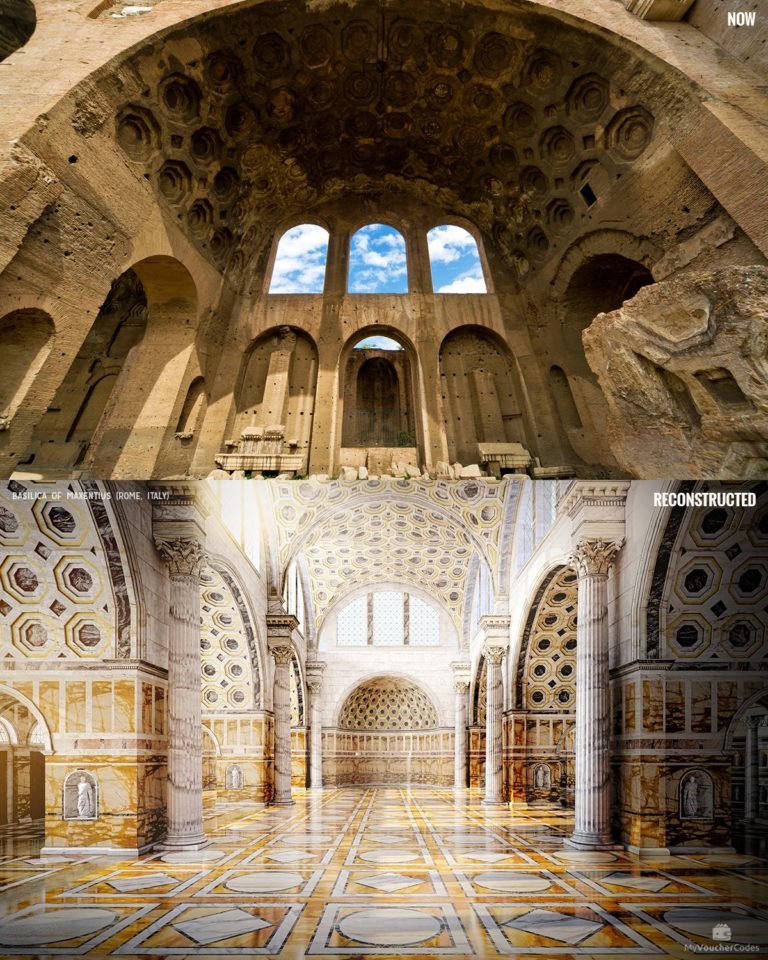 Images & captions courtesy of My Voucher Codes myvouchercodes.co.uk/rebuilt-and-reimagined