While major life events are often credited for instigating radical change, there are times when all it takes is a lightbulb moment for someone to reassess their priorities.
This is more or less how the story goes for Paula Hagiefremidis. Prior to launching her business as a writer and creative facilitator, she was running a successful restaurant with her then partner in Byron Bay.
"The restaurant was doing enormously well, but deep down I wasn't happy, I knew I was venturing further and further away from what
I wanted to do.
"I'm a firm believer in everything happening for a reason. We are presented with opportunities that invite change and that was what happened to me. I was invited to step out of my secure, comfortable life and launch into pursuing my passion," Paula tells Neos Kosmos, while describing her decision to close the door on an 11-year relationship and a life built to deliver security, but not fulfilment.
Tapping into her studies in Professional Writing and Editing and her background in hospitality, Paula became reacquainted with the things dearest in her heart: writing, food and travel.
She began working for a series of publications and offering one-on-one coaching for writers and creatives. Yet it wasn't until she started hosting creative retreats and workshops in the Greek islands that her aspirations came to full circle by launching her business, the Mediterranean Wanderer.
The majority of participants are professional women experiencing a period of transition in their lives and needing some direction and support in navigating this process.
The six-day itinerary comprises writing practicums, photography seminars and interactive courses aimed at helping attendees unleash their creative potential, as well as meeting local artisan producers, touring the island on private boat trips, enjoying rustic feasts and of course plenty of dancing and swimming.
But, according to Paula, this experience offers much more than a pleasant getaway or a skills training package.
"The retreats are all about giving people a chance to completely immerse, learn and be inspired through the creative process.
"People think they are coming to learn to write better or how to take nice photos, but they end up walking away with huge insights they had previously not realised about themselves."
She explains that regardless of whether they are working on goals at a creative, professional, or even personal level, her role is to teach them how to harness the tools necessary to overcome unhelpful patterns and habits.
"Fear can be a huge immobiliser in inhibiting us from doing what we love. Each of us has our own inner critic which is quick to rear its ugly head in the face of change.
"When we step into change, we experience an entire new shift in perspective and this is what gives us the confidence to step forward and feel certain about the new direction we are about to take."
Meanwhile, Paula stresses the importance of location for the workshops and retreats in general to provide a complete sensory experience, enhancing the learning outcomes for participants.
"Greece is a very giving country, the minute you step foot there, you immediately feel the warmth of its embrace. It's incredible. There is no other country that impacts me on an emotional level in quite the same way Greece does and I think that's what the participants also experience when they are there."
This year's destination for the Emerge: A Food, Writing and Creative Escape trip in September is Serifos.
"I tend to favour islands that are not on people's radar. This goes back to my preference and approach of offering participants a more authentic travel experience and the chance to really feel the heart and soul of a place," she explains.
Other Mediterranean Wanderer retreats have taken place in Ikaria, one of the famed 'Blue Zone' islands, and Lemnos, where Paula's mother hails from.
Her dad's side is from northern Greece, Florina and both families happened to have migrated in Australia at the same time during the late 50s.
"It was the mountains meeting the sea for the first time when they met each other in Melbourne. Dad always knew from a very young age he was going to marry a girl from the islands and have four kids and that's exactly what happened," she muses.
While Paula says she feels extremely proud of her Greek background, she does not shy way from the fact that it took long to be comfortable growing up as a second-generation migrant in Australia.
"I always felt like a foreigner and felt a sense of shame about my heritage[…] I have spent a huge amount of time repairing, recovering and accepting myself and feeling an enormity of pride at my heritage, my ancestry and where I'm from."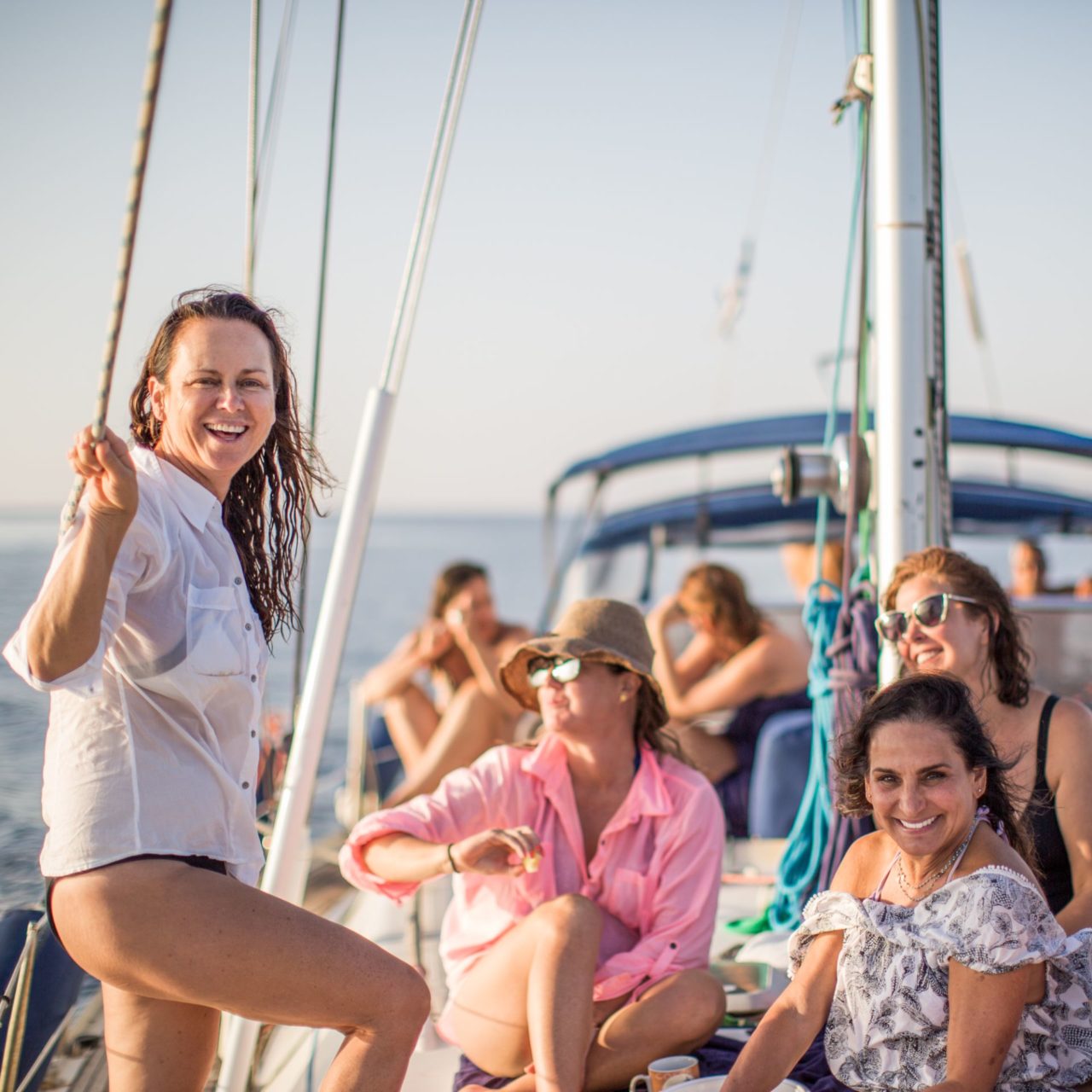 When not hosting the retreats in Greece during European summer, Paula is based in Melbourne, where, among other activities, she organises tailored culinary tours for private groups and corporate clients.
"What people love about these experiences is that they are getting a unique insiders guide to Melbourne. We live in such a fabulous city and there are so many hidden gems that are easily overlooked if you are coming for the first time," she says.
Benefiting from local wisdom is also her personal preference when it comes to visiting a new place.
"My favourite approach is meeting the locals and having them share their knowledge. This is how you find the best beaches, the best eateries and have the most authentic travel experiences.
"Allowing your sense of curiosity, adventure and spontaneity to guide you, has always led to the most memorable travel experiences. I wouldn't travel any other way …"
For more info on the retreats and Paula's work, head to mediterraneanwanderer.com