The Antipodean Palette 2018 art exhibition wrapped up on Thursday, realising one of the most successful events to date.
In its eighth year, the exhibition not only attracted an eclectic group of local and regional established and emerging Greek Australian talent, it garnered much publicity and over 250 visitors attending the opening day alone.
Fifteen artists used painting, photography, mixed media, 3D installation, sculpture, heritage jewellery, monotype and lithograph to express themselves.
"The opening was the most fabulous evening," curator Stella Papas told Neos Kosmos.
"The feedback was outstanding and extremely positive. The artwork was admired by representatives of other cultures outside of the Greek circle.
"A perfect way to engage, collaborate, associate and introduce the artist's talent to a broader community within our multicultural country," she added.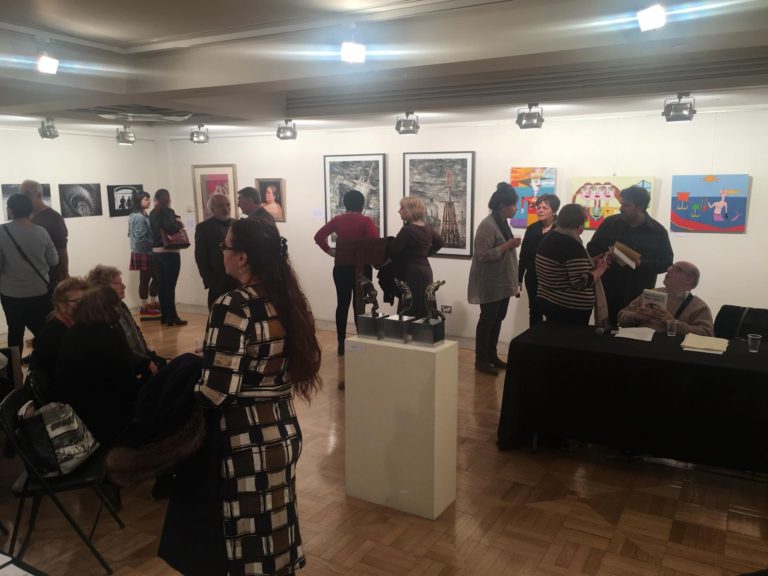 The official opening took place on Saturday 4 August and was launched by Michael van Vliet, newly appointed Chairperson of Multicultural Arts Victoria, and was attended by many officials and media personalities.
Greek Consul General in Melbourne Dimitrios Michalopoulos, National Association of Visual Arts CEO Esther Anatolitis, Vice President of the Greek Orthodox Community of Melbourne and Victoria Theo Markos, HACCI chair Georgina Poulos, and John Tatoulis the CEO of the Hellenic Museum were also there.
"The support of Melbourne as a whole was absolutely phenomenal," Ms Papas said.
"I was truly touched and extremely grateful. The Greek Australian Cultural League committee, officials, community members, media platforms, associations, volunteers, sponsors … they were all present. A magical flow!"
Art lovers from all walks of life, ages and backgrounds were mesmerised and engaging with artists rostered daily at Steps Gallery. Established artists who played an integral part in the beginning of the Antipodean Palette team and had participated in the past, visited the exhibition and were impressed with this year's collection, presentation and curating.
Exhibiting Artists:
Emmy Mavroidis, Heidi Seraphim, Helene Athanasiadis, Kyriaki Theodorikakos, James Pasakos, Jim Pavlidis, Luke Spiliopoulos, Nelly Skoufatoglou, Nick Athanasiou, Olga Tsara, Panos Apostolou, Rolando Garay-Matziaris, Sofronis Michaelidis, Stella Tsirkas and Theo Papathomas
Exhibition Coordinators:
Aphroditi Karalis, Vasy Petros, Stavros Messinis, Stella Papas.
For more information and future project visit http://gaclmelbourne.com/g/