As a player, Abbas Saad is worshipped by Sydney Olympic fans. He is fondly remembered for his outstanding 1989-1990 season, which included 13 goals and a dramatic late winner against Melbourne Croatia in the semi-final that earnt Olympic a place in the decider.
The former NSL powerhouse went on to win that Grand Final – which was the club's first ever title against Marconi 2-0, with Saad earning the Joe Marston medal for his man of the match performance.
After finishing top of the NSW National Premier League this season, Sydney Olympic has an opportunity to do the league and Grand Final double this weekend.
Saad believes his previous Grand Final experience as a player will be vital when he takes charge of Olympic for Sunday's decider against APIA at Leichhardt Oval, Sydney.
"It's amazing," he says. "I've done everything with the club. I've won honours as a youth and as a first grade player. So, to come here and to do it as a manager is an amazing ride, it's a very proud moment.
"Finals football is a different beast from league football. I've been there as a player, I've won finals and I've lost finals. I know exactly what it takes, it's really a mental factor. It's a confidence factor. I am confident and the team is confident but we are playing a very good team. Hopefully our team will turn up and play the best football on the day."
Olympics' success this year is in sharp contrast to how the club began their NPL campaign. Just a week before the season kicked off, Spanish coach Gorka Etxeberria departed, leaving the club in crisis.
But after only a short period of time, Olympic CEO John Boulos was confident that Saad was the right man for the job, after witnessing the new coach's approach.
"I'm not surprised we've had this success," Boulos told Neos Kosmos. "The moment we saw them after the first few weeks of working together, we knew that it was going to be a very exciting year for the club.
"We knew we had a very good squad that were all very hungry. We felt as the pre-season went on that what they were lacking was someone to put them in the right direction.
"So certainly, Abbas's leadership proved that it as an obvious choice. Since the first week, he's been able to build the confidence in the team that we knew they had. He's been able to bring the best out of them and that's why we weren't surprised one bit with the success that this team's had."
Olympic won the league on a dramatic final day of the season after beating former NSL rivals Sydney United. The win saw the club finish three points ahead of Sunday's Grand Final opponents APIA and Saab believes the secret to the club's success has been down to team harmony.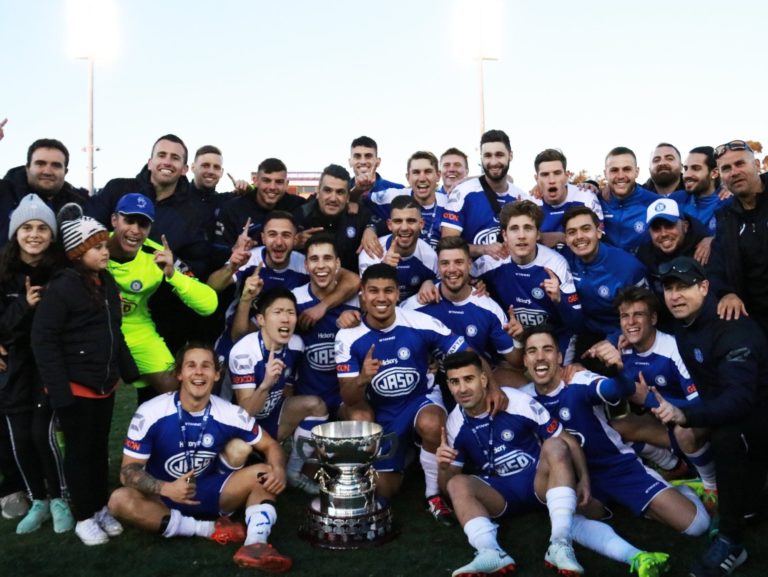 "It's been about unity," he says. "We've all stuck together. They all believed in the project that we put ahead of them. Sometimes it's really hard to back up the younger guys and just believe in their ability and we have done that. We have been very consistent in our style of play and that gives you confidence. When you have been consistent and winning, it gives you a lot of confidence – that has probably been our best factor this year."
Sydney Olympic has a squad full of players with first team A-League experience such as former Sydney FC trio Nikolas Tsattalios, Riley Woodcock and Hagi Gligor. But Abbas was keen to highlight that many players have made an impact this season, such as the club's 19 goal scoring hero.
"Of course there is Alex Sanchez, our Spanish striker, he has been amazing," he says. "He's been fantastic in front of goals," he says. "Then there is Max Burgess in the creative department and If you look at the midfield, we also have Nicola Kulevski, who has been great with Zachary Mackenzie in the middle of the park.
"At the back we've had a fantastic backline with Tom Whiteside and of course the old man between the sticks Paul Henderson has been absolutely superb and is probably the best goal keeper in the league even though he is 42 years old."
Saad has been so impressed with his player's performances that he believes many of his players could make the step up to the A-League.
"The NPL is not much different from the A-League," he says. "There are some very good players on show. Technically they are all very, very good. The A-League teams just have to believe in them. These boys are 20 -23 years of age and they have their best football days ahead of them and if you put them in a professional environment where they are training twice a day, every day they can only get better. At the moment they are semi-professional and they are performing as well as the A-League boys."
While Olympic's on field success has been significant, CEO John Boulos also made note of the club's relationship with the Bundesliga club Schalke which led to defender George Timotheou's recent move to Germany.
"George came to us (after he was cut by Sydney FC) to become a better player and our staff assisted him," he says. "In that process we created an environment that allowed him to do that and then we were able to be supportive in him moving on.
"Our relationship with Schalke is through our president Bill Pappas. He has orchestrated this deal that allows Schalke to help us develop our players and our coaches and it gives them the opportunity to experience their club.
"This year we also sent a group of 12-year olds over that spent a week in and around their training base which is a football experience few will ever get."
Ahead of the Sunday's blockbuster, Head Coach Saad made a call to arms for the Olympic faithful to turn out in huge numbers in the hope that it will inspire his team to victory.
"We'd love to have that," he exclaimed passionately. "Let's not forget this is an old rivalry that goes back 30-40 years. We've always had great games from the former NSL days. Both Apia Leichhardt and Sydney Olympic are two huge clubs and two of the biggest clubs in Australia if you look at it historically and they do have very, very good followings.
"So we'd love to see all the old Sydney Olympic supporters and the new Sydney Olympic supporters and probably supporters of football who love football. They should all come down and have a look at the NPL."
Probable Starting Line-ups
Sydney Olympic: Henderson, Whiteside, Mackenzie, Woodcock, An, Angel, D Burgess, M Burgess, Madonis, Pavicevic, Sanchez
APIA Leichhardt Tigers: Necevski, Muata-Marlow, Millgate, Galimi, Ucchino, J Symons, S Symons, Parisi, Sekiya, Fondyke, Lundy