Originally from Samos, Pantelis and Katina Aimilianos farewelled Greece at a young age, seeking a better future in Australia. After settling in Melbourne, the young couple married, bore two children and spent 15 years working in factories in order to provide for their growing family. Despite the hardships they endured, as well as the successes they celebrated, the possibility of one day returning home never left their thoughts.
Their real adventure began in 1977, when the family visited Greece for a holiday.
"As much as they loved Australia, my parents soon realised that they just couldn't cope with being away from Greece. It was time for us to go home," the couple's 47-year-old daughter Toula told Neos Kosmos.
Pantelis and his family moved back to Greece. The couple used all their savings to purchase a small piece of land on the Greek islet of Marathi, which lies eastwards from Patmos with a combined coastline of approximately four kilometres.
According to the now 73-year-old family patriarch, establishing a new life in Greece during the 1970s was not a task for the fainthearted.
"Back in 1977, when we visited Marathi for the very first time, there were no trees in sight, no water or electricity," he says.
It certainly took a lot of hard work and great effort to turn the island into a small green hideaway for the family and for the few visitors who, only in recent years have started to visit during the summer months to get away from civilisation and urban stress, seeking to experience the tranquillity of nature; they relax on the one and only sandy beach that exists on the island, they swim in the beautiful clear waters of the Aegean, and they enjoy top quality fresh food and hospitality offered by the family, who has built a small block of apartments and a traditional taverna by the seaside.
There are still no roads, cars or stores on the 355-acre islet.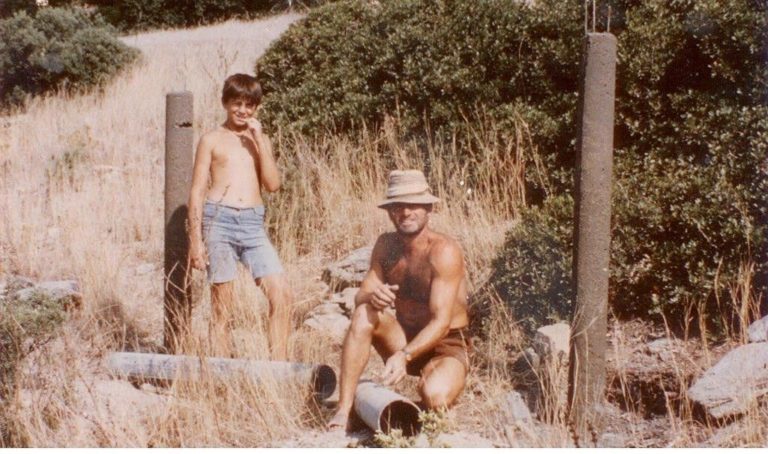 A beautiful green garden with palm and pine trees and a variety of colourful flowers welcome the guests who indulge in a feast of culinary flavours during their stay.
"All our products are organic, either grown in our own garden or supplied by local producers and fishermen from the islands of Leros, Lipsi, Samos, Arki and Makronisi," says the couple's son, Manolis, 49, who also works in the family business.
"Homemade bread, traditional Greek dishes and delicacies are all prepared by my mother Katina who puts all her love and passion into the dishes we present to our few selected guests," he adds.
The migration story of the Aimilianos family is certainly an unusual one, nevertheless, it's a testament that with hard work and determination, anything is possible.
"We certainly don't regret moving back to Greece, but that doesn't mean that we don't also have fond memories of the years we spent growing up in Australia," says Toula.
"We love both countries, but ultimately it was Greece that was destined to become our family's heaven on earth and, to be frank, we couldn't be happier about that."