Two months have passed since the East Attica wildfires that sank Greece deep into mourning. For those who survived and have lost their loved ones, however, the trial continues. The death toll has reached 99, and it's not unlikely that it will rise even higher, while the extent of damages in housing, infrastructure and the environment makes the victims' predicament even direr. Add to that the significant delays in crisis management response and the high demand for financial assistance from the state to cover basic, immediate needs, and the picture of the tragedy becomes clearer.
And while the residents of Mati and neighbouring areas continue to count their wounds, the unanswered questions and blame game when it comes to assuming responsibility have the lead in a drama that just won't cease.

The news team of ABC's Foreign Correspondent visited the site to document the chronicle of the devastating incident and reveal how things stand in the aftermath of the tragedy, through Eric Campbel's confronting report which will air on Tuesday.
The show's producer, Mark Corcoran, speaks to Neos Kosmos about the stories he heard and everything he witnessed during a two week filming period from the end of August till the beginning of September.
Their investigation focused on the causes and the impact of the fire, presenting personal accounts from those involved, but also some of the questionable statements from politicians and crisis management officers regarding responsibility.
"We talked to a range of people: government ministers, emergency services people, firemen; [we talked to] the helicopter pilots, to alerting crisis and disaster experts," Corcoran tells Neos Kosmos.
THE PERSONAL ACCOUNTS
"The most immediate impression I got was, as the fire came through, [the residents] were pretty much left to themselves," he says.
"And also, this extraordinary bravery thing that Greeks have and manage pulling together every last bit of strength in moments of crisis."
Corcoran will not forget an 84-year-old man who didn't hesitate to put his own life in danger in order to save two children.
"We interviewed another man, Ilias Karvounopoulos, who – with serious burns on his back – went through the fire on a motorbike to rescue his mother."
"Quite extraordinary accounts, but also great tragedy," he adds, recounting the moment he met a young professional fireman who was fighting the blaze and realised it was getting closer to his home where his wife and six-month-old son were.

Andreas Dimitriou called his wife to tell her to evacuate, but he was unable to prevent the worst from happening.
"We interviewed that gentleman. It is extraordinary how he was going on helping others despite the immense loss he'd suffered."
The feelings of the local community are mixed, Corcoran says. "Disappointment, questions, anger, fear for what the future will bring … but through all of the above there was incredible resilience and great strength, even hope."
"Most are quite angry, yet they're really hoping that things can change, not only in terms of rebuilding Mati, but in terms of the system. A lot of people are still in shock; 100 people are gone, hundreds more are injured. Many have lost their homes and winter is coming."
THE BLAME GAME
Beyond the victims' personal accounts, ABC's report focuses on the attempts to find the deeper reasons and failings that led to such a devastation, as well as on who is, or is considered to be, responsible.
One of the most sharp statements heard on the show comes from former SYRIZA MP – and Speaker of the Hellenic Parliament – Zoe Konstantopoulou, who deems the austerity responsible for the extent of the tragedy as staff, supplies and equipment cuts were made in crisis management and infrastructure departments due to lack of funding.
"On a national and political level, there's a lot of finger pointing; people blaming the fire brigade, the police blaming the government. [Ms Konstantopoulou] said it's a crime and that people should be prosecuted for what happened," Corcoran explains.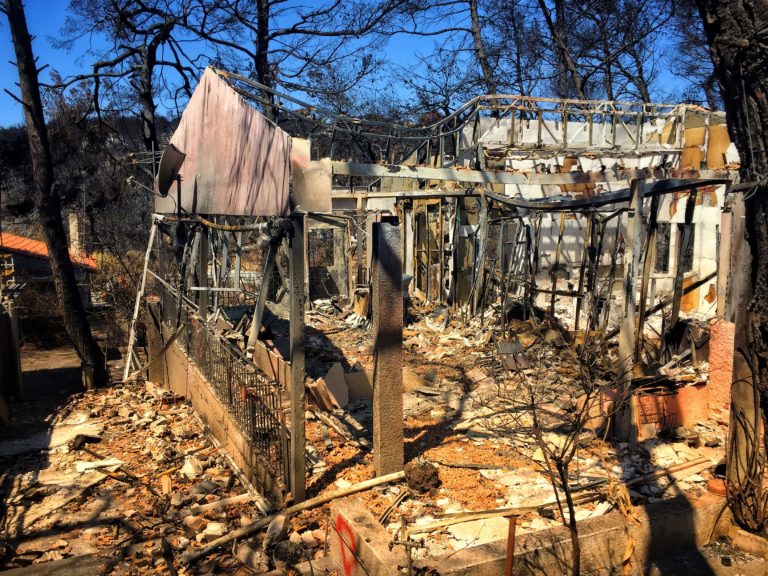 "Given the circumstances and the location, what is extraordinary is that the death toll is not much higher, mainly thanks to some extraordinary accounts of bravery from certain people."
Amongst those featured is Crete Polytechnic University professor Costas Synolakis, a natural disaster expert who, according to Corcoran, was quite scathing in his response; "everything that could go wrong went wrong".
"Some people blame climate change, it's not like Greece has a moderately cool summer. Some people blame austerity and [Synolakis] says this is part of it, but his overriding conclusion was that it was a management failure, a systemic failure of emergency services and he feels that if things were working properly, perhaps they couldn't have stopped the fire but at least they could have delayed it for an hour or two. This would have given enough time for people to evacuate. There was no formal evacuation [process]; people were left to themselves."
REACHING FOR ANSWERS
Seeing the affected area up close, Corcoran concludes that this could have also happened in Australia, but with a major difference.
"It reminded me of places in Australia, outside Melbourne or the central coast of NSW – It could have been here a very similar ambiance to the place; however, Australia has a much more advanced warning system, allowing residents to prepare for the fire, mitigating the risk of fire to your house and offers tips on what to do if the fire actually comes your way. There was none of that in Mati."
Corcoran can't help but wonder if anything will change through this tragedy. "Where does one begin here?"
"Assuming they can demolish a few thousand homes based on the argument that the paths to the water are obstructed, will it really make a difference? Was that the critical factor?," he wonders.
"There was not much consensus regarding the investigation but I'm reflecting on what Synolakis said, that given what happened there, the scale and ferocity of the fire, it is surprising that more lives were not lost and certainly from what we were told, you could put that down partly to the heroic efforts of individuals looking after themselves friends and families."
*The Foreign Correspondent episode 'Eye of the Fire' airs on ABC at 8pm on Tuesday 25 September.