What does the son of former Greek Prime Minister George Papandreou have in common with a tormented lawyer, the Greek aristocracy in 1970s' Istanbul with the mass execution of 200 war prisoners in Chaidari concentration camp by Nazis, or the Athenian street demonstrations of 2008 with the struggle of an Aussie working-class dad caught in a cycle of debt? Not much really, except for the fact that they all form part of, in some way or another, the storytelling presented at this year's Delphi Bank Greek Film Festival (GFF).
Celebrating its 25th anniversary, the iconic event promises to deliver a program capable of fulfilling every Greek film aficionado's desires, with a stellar line-up of 10 feature films, a selection of thought-provoking shorts as part of the Greek Australian Short Film Festival (GASFF) and a tribute to old humorous favourites making up its 'Comedy Retrospective'.
Speaking to Neos Kosmos, the GFF's National Director Pamela Proestos explains that instead of an overarching theme, what emerges from this year's selection is the richness and diversity of the recent work of Greek filmmakers.
"You've got films with a serious tone, like our opening night's The Last Note and then you've got lighthearted ones, or others really fresh like Smuggling Hendrix fresh from Tribeca Film Festival. And then you've got for example Pity, which is kind of in the vein of the Greek Weird Wave. So there's a huge selection," says Ms Proestos.
"That speaks to what Greece is producing, to what is available. The themes in the films vary; we had seen the Greek financial crisis informing a lot of films but we're finding that the more time passes they're not so much focused on that. There's a lot more diverse subject matter this year than what has been in the past."
Opening nights in Sydney and Melbourne will take place on Tuesday 9 and Wednesday 10 October respectively, with the Festival running until Sunday 21 October in the two metropolitan cities, and it will also travel to Adelaide, Canberra, Brisbane and Perth.
As is the case every year, the selection committee has gone through a lengthy and meticulous process into discerning which films will be screened, pursuant to what Ms Proestos describes as their commitment to "offering always the very best of Greek cinema".
With the full program released on Tuesday and tickets already on sale, we put together all the bits and pieces you need to know before making your personalised 'to watch' list. The only spoiler is that after reading the breakdown you might end up treating yourself with a multi-film pass!
OPENING AND CLOSING NIGHT
In both Sydney and Melbourne, the Festival will open with the heart-rending drama The Last Note (2017) by award-winning director Pantelis Voulgaris in collaboration with acclaimed screenwriter Ioanna Karystiani. Voulgaris' comeback to the big screen, four-years after the successful Little England deals with one of the bleakest moments in modern Greek history: the execution of 200 resistance fighters by the German occupiers in 1944 in Kaisariani, as reprisal for an ambush against the Nazis. Among the highlights of the movie is the protagonist Andrea Konstantinou's performance, which won him a Best Actor accolade at this year's Hellenic Film Academy Awards.
Selected for the closing night is Jamaica (2017), a powerful 'dramedy' telling the story of two brothers, a TV presenter and a taxi driver whose divergent paths in life have to cross when a family tragedy strikes. Jamaica is Andreas Morfonios' – one of Greece's most successful TV makers – film directorial debut, with the cast including beloved TV personalities such as Spiros Papadopoulos and Anna Maria Papacharalampous.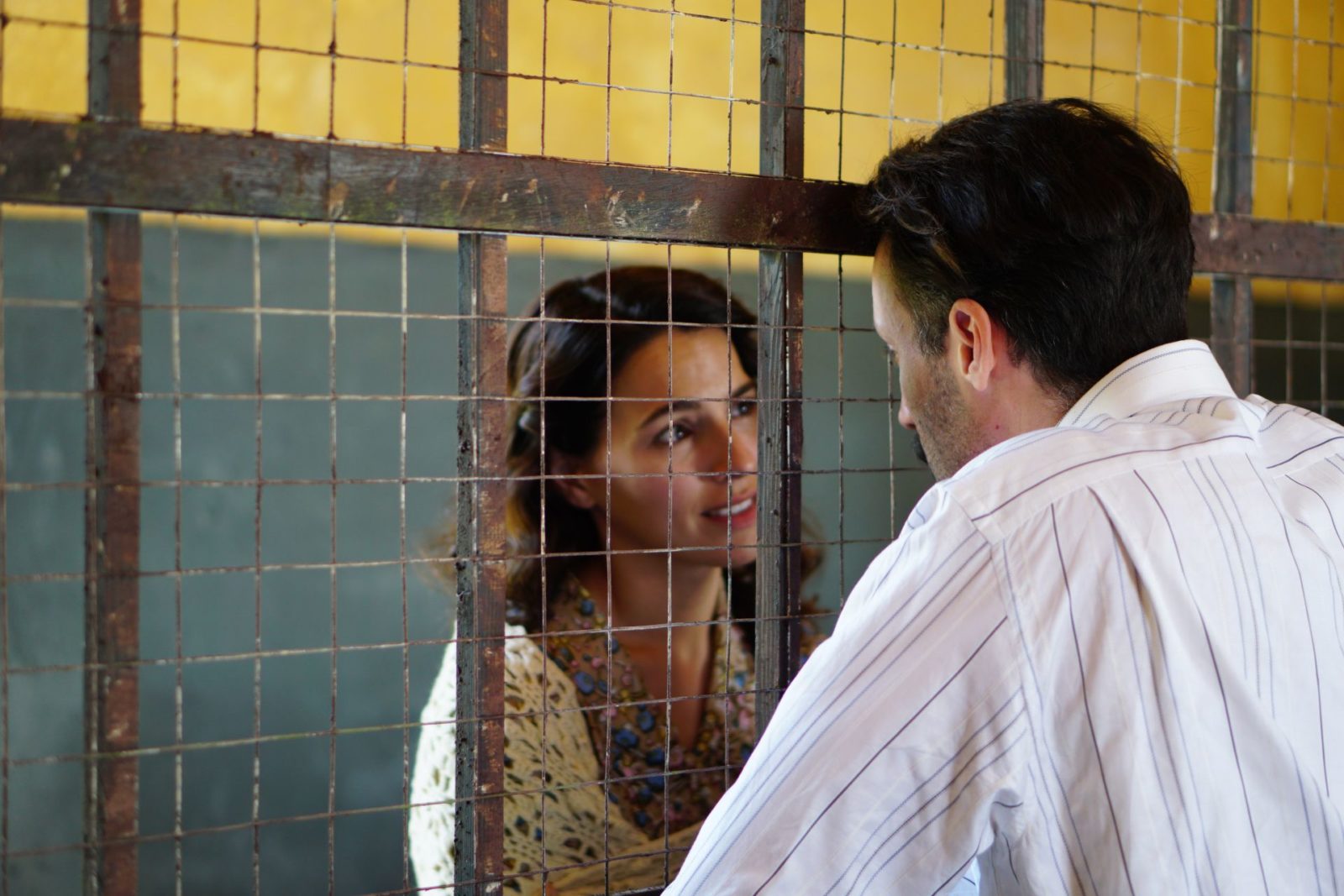 FEATURES IN A SNAPSHOT
Happy Birthday (2017, Dir. Christos-Georgiou) draws inspiration from the turbulent Athenian street demonstrations of 2008 and brings audiences face-to-face with a family drama unravelling at the onset of a similar series of protests. A policeman under attack from protesters is confronted by his own daughter. Eventually the girl is called to decide between family and the 'cause'.
Pity (2018, Dir. Babis Makridis), a black comedy situated within the so-called Greek Weird Wave of cinema, depicts a lawyer hit by the cruelty of fate. Living a dark existence, his martyrdom will not end when his wife wakes from the coma she is in. The film's finale is said to be a true contemporary remake of Greek tragedy.
A drama inspired by true events, Polyxeni (2017, Dir. Dora Masklavanou) transports the viewer to the long-gone era of Greek aristocracy in 1970's Istanbul to narrate a tale of trust, tragedy and love. The protagonist's blossoming romance with local Turkish man, Kerem jeopardises more than her financial security as the heir of her late father's fortune.
Described by critics as a "tragi-comic portrayal of a man torn between art and reality", Rosemarie (2017, Dir. Adonis Florides) is the winner of Best Film at the 2017 Cyprus Film Days International Festival. A soap-opera writer, tormented by writer's block, finds much-needed inspiration through his neighbour's dysfunctional family. Immersed more and more in their reality, he will unwillingly come to face his own demons.
Fresh off Tribeca Film Festival and directed by Rosemarie's producer, Marios Piperides, Smuggling Hendrix (2018) is a touching and funny tale of a Cypriot man's commitment to smuggle his dog, Jimi, back home, after he sees him crossing the UN buffer zone dividing Greek and Turkish Nicosia.
Bringing together some of the biggest names in Greek cinema, including Konstantinos Markoulakis and Tonia Sotiropoulou, Nikos Perakis' Success Story (2017) is beautiful mix of thriller, drama and comedy elements. Set on the cusp of the previous decade's financial crisis, the plot focuses on a passionate affair between an author, psychiatrist and rising politician with a working class actress.
If you are on the lookout for a comedy hit, make sure you grab tickets for The Bachelor 2 (2017, Dir. Yiannis Papadakos), which is a Cretan-style version of The Hangover blockbuster experience. A series of unfortunate events turn a classic bachelor party into a night of comical mayhem with the bride and groom's perfect day at stake.
Directed by Greek Australian Jason Raftopoulos, West of Sunshine (2017) is a quintessential example of life imitating art. We take a glimpse of Australian social realism watching a working-class dad's adventures amidst struggling to repay a loan shark and looking after his young son during school holidays.
COMEDY RETROSPECTIVE
Entitled 'LOL @GFF', the comedy retrospective selection promises "to have audiences rolling in the aisles".
"For our 25 years, we wanted to bring audiences something that would make them laugh with their hearts, it's almost like a flashback to the nice moments of Greek cinema through comedies […] It's our fun little retrospective, a sort of lighthearted offering to cinema-goers and patrons," says Ms Proestos.
Indeed, a brief look at the line-up reminds us that the good old Greek sense of humour never goes out of fashion.
With the exception of the 1984 Nikos Perakis cult classic, Loafing and Camouflage the selection includes comedies produced within the last decade or so. Drawing inspiration from former PM George Papandreou's son Nikos, First Time Godfather (2007, Dir. Olga Malea) is a cinematic portal into Greek culture and politics with all its absurdity, served with a strong dose of humour. In I Love Karditsa (2010, Dir. Stratos Markidis) clone science meets organised crime and much more, in an impossible escape mission. While Kiss of Life (2007, Dir. Nikos Zapatinas) presents a series of amusing mishaps starting to unravel after a chance encounter of a 30-something groom with a mysterious photographer on the way to his wedding.
Completing the mix is Nisos (2009, Dir. Christos Dimas), a story of scandalous revelations for a small island's leaders who strive to inherit the richest man's estate, and the follow-up to Perakis' Loafing and Camouflage, Sirens in the Aegean (2005), the comedy classic which when first screened attracted over 1.5 million viewers.
GASFF
Last but not least, cinema lovers will be pleased to see the Greek Australian Short Film Festival returning for its 9th year.
The curatorial duo Jim Koutsoukos and Katerina Kotsonis have put together a program of eight shorts featuring a high calibre of local and international artists.
The small gems selected are: 9 to 5 (2017, Dir. Filippos Tsapekis), Goldfish (2017, Dir. Yorgos Angelopoulos), Maneki Neko (2017, Dir. Manolis Mavris), Mr. Segur (2018, Dir. Jeff Johnson), Mute City (2014, Dir. Yiannis Georgioudakis), Tangles and Knots (2017, Dir. Renée Marie Petropoulos), Theodore's Gift (2016, Dir. Elli Iliades), and Treading Water (2012, Dir. Melissa Anastasi).
Their vision for this "short festival within a festival" has been "to connect and build a community" comprised of film makers, artists and the audience.
What do you need to do to become part of this? Simply attend a short films session and prepare to get immersed in a world of cinematic magic microdosing!
The 25th Delphi Bank Greek Film Festival runs 9-21 October at Palace Norton Street and Palace Central in Sydney and 10-21 October at Palace Cinema Como and the Astor Theatre in Melbourne. It also tours nationally, with a selection of films screened in Adelaide (11-14 October), Canberra (dates TBA), Brisbane (18-21 October) and Perth (dates TBA). For further details visit greekfilmfestival.com.au