The invitation surprised her. Filli Kaoullas, an operating theatre technician from Melbourne, couldn't see the reason of her inclusion in the panel of an upcoming HACCI event on Women in Medicine.
The other two panelists of the 16 October event of the Women in Leadership Series, pediatrician Dr Betty Messazo-Trapetsas and Dr Sianna Panagiotopoulos, manager at the Office for Research of Austin Health, are doctors.
"Their stories on the challenges and their experiences in one of the most demanding and constantly evolving field of work would undoubtedly be of enormous interest," Filli told the organisers, objecting to her own inclusion. "I told them that I was very honoured to be involved but I also reminded them that I am not a doctor, I am just a surgical technician. 'You have two doctors there, find one more', I told them."
The answer she was given represents in the most accurate way not only the thought process behind the invitation to the panel, but also what Filli's life story and stance the last six years has been all about.
"It is about inspiration." That is what she was told.
Filli's life, some six years ago was what you would call a 'serene' one. The owner of a café, Filli was sharing her time between her business and her family – her husband, Andy, and their two children.
But life decided to give this family a violent slap. After some unexplained headaches, her husband was diagnosed with a brain tumour, located in the worst possible area. "We were told that the tumour was inoperable. It was four-and-a-half centimetres in size, biting Andy's brain stem."
A monster was growing in Andy's brain. Even its name sounded monstrous; a schwannoma in the jugular foramen, the doctors called it.
But Andy had to go ahead with the operation; he did not have many other choices.
"We went ahead with the operation. But post operative Andy came out with loss of hearing, his swallowing nerve was paralysed, his vocal cords were paralysed. So we couldn't hear him, he could hardly hear us and he couldn't eat or drink, because he was choking.
"It was horrible," she says. "However, I had to forget what was in front of us and I had to think how am I going to get these children through this. Not myself, not my husband, we have been dealt with this, we have to deal with this as adults. My mind was spinning… How am I going to help these kids to see that this is not as bad as it looks?"
While her universe was falling apart, she had taken upon not just the care of her husband, whose food had to go through the food processor for him to eat, not just the care of finances, but also the arduous task of providing a sense of normality for the rest of her family.
Her heart was tearing apart, but her steely determination to put on a brave face for her children and her husband, dried the tears when she was around them.
"I used to cry in the car. And I can honestly say it was post traumatic stress, and I had it and I still have it six years on, but you learn how to manage it. Crying in the car was me letting the emotions out. I didn't care who saw me crying as long as my children and my husband didn't see me."
We all in one way or another have our fair share of going to the hospital as patients or visitors and there are many of us who complain about the service, the delays and the list can go on. But Filli is not one of those begrudged individuals.
"I cannot put in words the profound gratitude that filled my heart for the treatment we received from the surgeons the nurses, everyone," she says.
Filli could not find the words but she did find the actions to show her deep gratitude.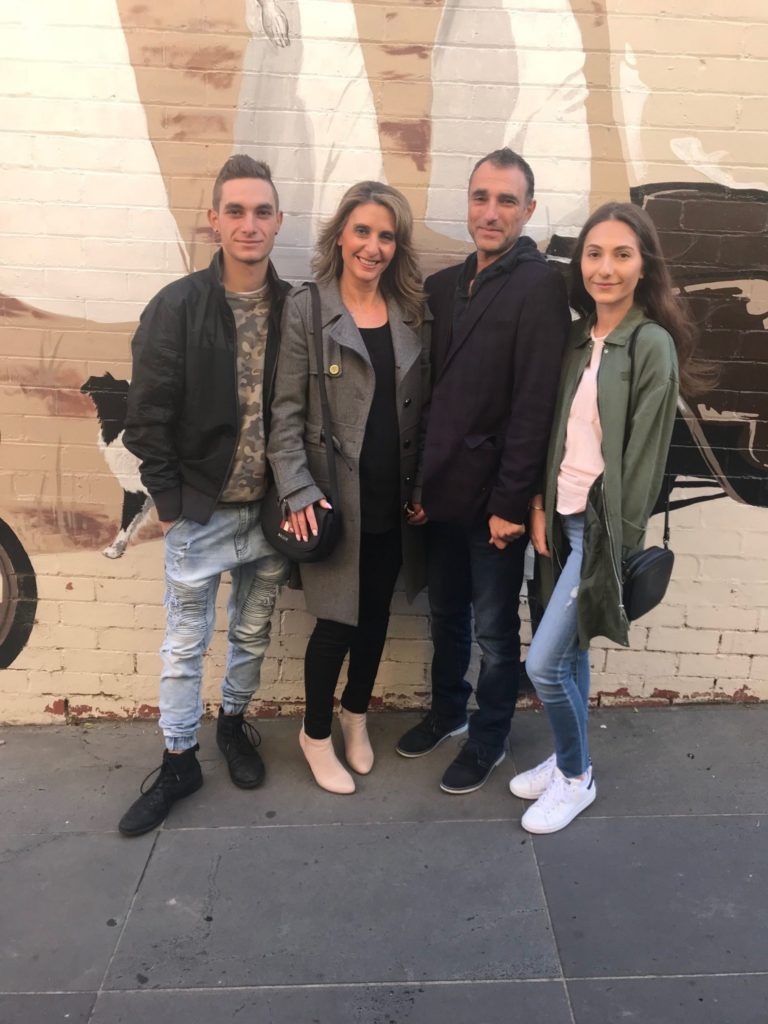 "Once we went home and we treated my husband and we all went back to work, three months later, I decided to go back to school and get into the health care system somehow. There are not enough of us carers that want to give back to the health care system. They really looked after my husband, even if he came out with complications."
Filli went to Box Hill Institute for three years and became a specialist operating technician. During these three years she was three days a week in the class, two days a week at work, one day a week preparing her assignments, seven days a week mother, wife and carer. Her placements started from St Vincent's Private hospital and when she was offered a job there in the Neurosurgery Department, where she is currently employed, she just dived into it.
"I did it to inspire the kids. It was not and it is not about me becoming this amazing mum in balancing all these. It's about inspiring my children and my husband. Life does not stop because we were diagnosed with something. We don't know what the future holds. With medical advancements everything is possible. The idea is to keep my husband alive. The doctors said he might have five years, seven or 10. We just finished chemo this year and we will see."
And there she was. In a time span of three years, from the waiting room of the theatre where her husband was operated on, she moved inside it, preparing every single detail for the next operation.
Surely a difficult experience. "It is fine," she says. "It was always fine. Even till today when I am in surgery and the patient has a similar tumour like my husband, I am more likely to make sure that everything goes smoothly for the surgeons and the patients. I do it for all the patients, but in these cases it is almost like nothing is allowed to go wrong. My experience works as a motivation. There always has to be a backup plan, if something doesn't work right, always."
She has her moments.
"It's a long day and I am up at 4 o'clock every day except for Mondays. I get home after six or seven. I think fatigue kicks in when I am in bed. But I keep going. I just know that if I fall apart my kids will fall apart. My husband and I have said that the kids they are not to struggle in all of this, they are not allowed to see us frail or sad".
Filli feels positive these days. Her husband went back to work for some hours a week and that's a good sign, but the most gratifying part of this couple's journey, is seeing that their misfortunes did not destroy their ability to fight and persevere. Their efforts and resolve have paid off.
"My daughter is 21 and my son is 18 now. I think what happened to my husband inspired her. She is a third year science student majoring in biology. So I think see wants to know why; 'Why is babas' cells doing what they are doing?' And that is great. If we have done anything right for these past six years, hopefully it was to inspire our kids, to have their dream. My son always wanted to be a builder."
And indeed the monster didn't manage to subdue this family. When life gave Filli lemons, she did not make lemonade. She grew a lemon tree.
The HACCI Women in Medicine event takes place on Tuesday, 16 October, at the International Chamber House (Level 5, 121 Exhibition Street, Melbourne). To attend, book online www.trybooking.com/book/event?eid=421260& or contact Chrissa (03 9602 2977).