Whether you are a kid of the '80s or just among the many who despite not growing up in that era still feel mysteriously attracted to it, Astroman is your go-to play to revive your sweet nostalgia for everything that decade contributed to popular culture.
Co-directed by Sarah Goodes and associate director Tony Briggs, the Melbourne Theatre Company production will open at Arts Centre Melbourne this month.
From BMX bikes and walkmans to Karate Kid and video games like Pac-Man and Donkey Kong, playwright Albert Belz has combined all those classic elements that make the script read like 'a love-letter to the 80's' and uses them as the backdrop to tell the story of an unlikely friendship between an older Greek man and a young First Nations boy.
The plot unravels as an indigenous family moves to the small town with their two 13-year-old twins, Sonny (Calen Tassone) and Jiembra (Kamil Ellis) Djalu. The two boys become regulars at the local arcade run by Alex Pavlis (Tony Nikolakopoulos) and Jiembra, portrayed as a maths genius and a video game whizz who is always ready to get into trouble, starts developing a strong bond with the Greek owner.
The young hero protagonist and Mr Pavlis, both fringe-dwellers in their own way, embark on a journey of learning and trust, with the viewer following Jiembra's coming of age story and the grumpy man's transition into sharing his big heart again for the first time after having lost his wife.
Talking about his character, Nikolakopoulos describes Pavlis as a sort of guiding figure to Jiembra.
"He sees something of himself as a young boy and wants to help him. It is in a way mentoring, but at the same time the boy sees something paternal like a father figure in him and the wisdom they share creates this bond where they're both learning from each other," Nikolakopoulos tells Neos Kosmos.
Likening Pavlis' mentoring role with that of the renowned film character of Mr Miyagi from Karate Kid, the actor says he ends up instilling the safety and confidence Jiembra was lacking as a boy who is "tormented and torn and angry and feels everyone is against him".
"It's a very heartwarming story, a human story".
But that's not all it offers.
For a play set in 1984 Geelong, it would be unrealistic for racial connotations to be absent. In fact, there are plenty of them in the story, Nikolakopoulos explains, and not necessarily easily digestible.
"I think the writer tried to stay true to what was happening in the '80s. Some of the things that come up in the script, we go 'Oh!' but we have to think of how it was back then and especially in a place like Geelong and not judge it by today's ears.
"So therefore you get the racial slurs against Jimmy and his brothers being Aboriginal, against Mr Pavlis being Greek and a wog. It's important to hear those words, the weight of them, because it sort of makes us realise 'okay, we have come quite a way in 30-38 years or so, but we still got a long way to go'."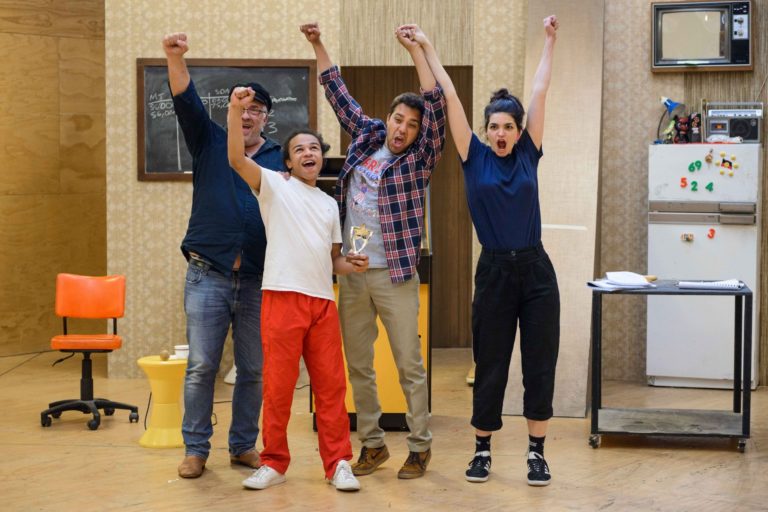 Meanwhile, the mise-en-scene, he adds, makes the play look almost like it is being filmed, with the transitions being quick and energetic, while keeping the viewer immersed in the story.
"It's almost like we're jumping into the middle of the scene rather than leading into a scene. That's quite challenging for an actor," he admits, but at the same time says the result makes it worth it.
"Sarah's eye and her shaping of the story is fantastic; it's very detailed and refreshing to work with."
Nikolakopoulos might be impersonating a Greek character, but this has little to do with the elements he resonates with most, feeling mostly attracted to what he calls the "philosophical wisdom" that comes with the role.
"It's this idea that some people have the ability – like Pavlis – to see good in someone, and no matter what the circumstance, they can still feel the forgiveness and take away the judgement," he says.
"I like those philosophical attributes of the story because it's a journey about not necessarily what's being said, but what's happening underneath."
For many, getting a message deeper than the visible across is part and parcel of the creative storytelling process, which is the element Nikolakopoulos says he enjoys most about his work. He is quick to clarify though that it does not matter whether storytelling takes place within a film, TV production or theatre, through acting or directing. And his stance is not an impetuous one, after all he's done all of the above. His resume lists TV appearances including Wentworth, All Saints and Underbelly, feature films Alex and Eve, The Wog Boy, Head on among others and short films. His stage experience is equally impressive, while he has also directed over 100 productions for Stage School Australia and taught Drama at Deakin University and VCA.
"I equally enjoy acting and directing, but for different reasons … I get lost in both, that's how I judge it. If I can get lost in something and get totally absorbed … you always know you're in the right project and doing the right thing if you're turning up because you want to and not because you have to, or getting paid to."
Nikolakopoulos' passion for telling stories through the camera lens is what prompted his desire to set up a film company, which is currently underway. One other experience that features highly on his bucket list is filming in Greece.
Bringing us back to the present moment though, he reiterates some of the elements that make Astroman a must-see for this season.
"I think it's a story easy to watch, easy to follow, really fast paced with a lot of '80s music, and I think there's something in it for everyone.
"I think for the real warmness and loving nature of the story, if the readers of Neos Kosmos love theatre, this is something they should come and see."
Astroman will be on show at Arts Centre Melbourne, Fairfax Studio from 27 October – 8 December. For tickets, visit mtc.com.au/plays-and-tickets/season-2018/astroman/