It was some 30 years ago that Alexandra Servos and Andrea Ibrahim first fell in love with Greek fashion, and flirted with the idea of opening their own store back home in Australia. And in 2017, the best friends made their recurring dream a reality with the opening of AlexAndrea Living in Brisbane.
Both hailing from Melbourne, it was really serendipity that brought the pair together.
Alexandra and Andrea first met at Greek school, and rekindled their friendship on a trip to Greece in their 20s.
"It was just purely coincidental," Alexandra told Neos Kosmos.
"I was going on my big long vacation, so was Andrea, over to Europe, and we bumped into each other at the airport. I gave her my phone number, she contacted me in Greece and then we caught up and went to the islands. As soon as we met up at the airport in Glyfada at the old Athens airport we just spoke and spoke catching up on what had happened in the past few years, and then that was it, we were joined at the hip once again ever since then. So it was like Greece brought us back together again."
With a near identical taste in fashion, the old school friends further bonded over shopping, where they were overwhelmed by the designs and quality that they agreed was near impossible to find back home.
"We said 'oh my God, look at all this stuff! We've got to bring it to Australia'. We'd talk about it, we'd go overseas, we'd talk about it again."
But then as often happens, life took them in different directions: Andrea went into the finance industry, eventually getting married, relocating to Brisbane and having children, while Alexandra further pursued her interest in fashion, and went on to work as a designer and buyer, travelling the globe.
Fast forward over 20 years later, and Alexandra found herself on an extended holiday back in Greece where she would reignite the spark for their dream.
There during the financial crisis, while it has had an insurmountable negative impact on Greece and its people, she noted what has been said time again: that it is in times of hardship that creativity flourishes, and that's precisely what Alexandra was witnessing.
"A lot of the young Greeks have taken over their grandfather's and dad's factories, reinventing the wheel again, and coming out with brilliant designs like they used to when we were younger," she explains.
"Greece used to produce a lot of garments, a lot of shoes, then it closed, they went off shore, like Australia. But due to the crisis a lot of the kids were unemployed and said 'dad, mum, we want to start doing what we used to do; it's in our blood'. And you know what? They're killing it. They're doing such a great job with it, and that's when I turned around to Andrea and said 'we've got to do this'. Her kids have grown up and she said it's time now for the dream to come true."
Alexandra set to work in 2015, doing the ground work necessary to set up what is no simple task, and says that the more designers' work she saw, the more she was blown away – from clothing to shoes, accessories, home wares, and even artisan olive oil – and the sentiment has been shared by customers around Australia.
"The response has been very positive, they're loving the point of difference, the way the garments sit on them, the way it fits, and the way it feels," she says.
"Everything is made in Europe number one – that's our number one criteria; it's got to be made in Greece or Europe. The designs are completely different to what is your run of the mill, it's something they can purchase and have in their wardrobe for years to come; there's a point of difference that makes it wearable season after season. It's versatile; you can wear it in many ways. And the fabrics; a lot of the fabrics, the cottons, the linens are made in Greece, you feel it."
What's particularly special is that many designers in Greece are going back to their roots, and using old techniques, handmade with quality artisan workmanship, and using organic cotton and vegetable dye.
Aside from stocking some of Greece's best designers, Alexandra has also teamed up with a factory in Crete that brings her sandal designs to life. Made from genuine a-grade leather and sold at reasonable prices, it's her way of highlighting how affordable quality goods made in Greece can be.
She says that there has been a gap in the market for some time, and believes that the work coming out of Greece is the perfect bridge to the divide.
"From what I can gather and from I can see, people crave to wear something different, and this is world-wide. Like I was struggling shopping in Melbourne, and a lot of people are – that's what we hear," she says.
While the concept behind AlexAndrea Living was initially born from pure aesthetics, now that the store is up and running, it has become so much more for the best friends and business partners.
This month they will be celebrating the store's first birthday. Asked what it means for her to be championing the work of Greek designers, and celebrating her own Greek identity in the process, Alexandra's passion is undeniable, unable to fight back the tears.
"Sorry, I'm crying now … how can I explain it to you? The emotions are overwhelming; it feels amazing. We both love what we do; we're both passionate about it," she says.
"Someone gave me the opportunity to be able to design, to be able to move forward in my career and what I love and what I do, and I just felt that it's time to give back because I could," she says.
"In the fashion industry in the past I would actually do garments, do accessories, I would do whatever it was because this is what the market wanted because it was mainstream. Whereas now I'm doing something that's not mainstream, it's something different, it's individual and I absolutely love it. The biggest, biggest plus for me is seeing people come in, appreciate it, love it, and walk out with a smile on their face and then they come back. That actually pulls my heart strings."
In a way, Alexandra sees the experience as coming back to her roots in more ways than one. Now at 50, she recalls as a child when goods were made in Australia, the quality completely different, before manufacturing moved abroad.
"I just think that people have lost their ways, I really do, and I think sometimes when you're forced to do something different and it's what you love, you end up doing it well, and when you know that you're contributing to feeding how many families because you've reopened a factory, that's what a lot of these designers in Greece are more proud of than anything else, that they can actually feed other families. And that's a big thing," she says.
"I hope from the bottom of my heart that we get a lot more Australian designers producing in Australia; that's what I'd like to see. I think that's a big start for employment number one, a big start for the economy, and for education as well."
While Melbourne has a reputation abroad as little Greece, for Alexandra the store being based in Brisbane couldn't be a more fitting choice for clothing produced in Greece.
"When I'm sitting here and I look, I think climate-wise Brisbane's perfect," she says.
"Really, what is there to wear on a hot day? Which country has perfected that? I've been a buyer for the majority of my life and I think Greeks do summer better than any other country in the world. In fact some of these designers that we stock are selling in France and in New York now because of the summer ranges they're selling. No-one does summer like the Greeks do summer."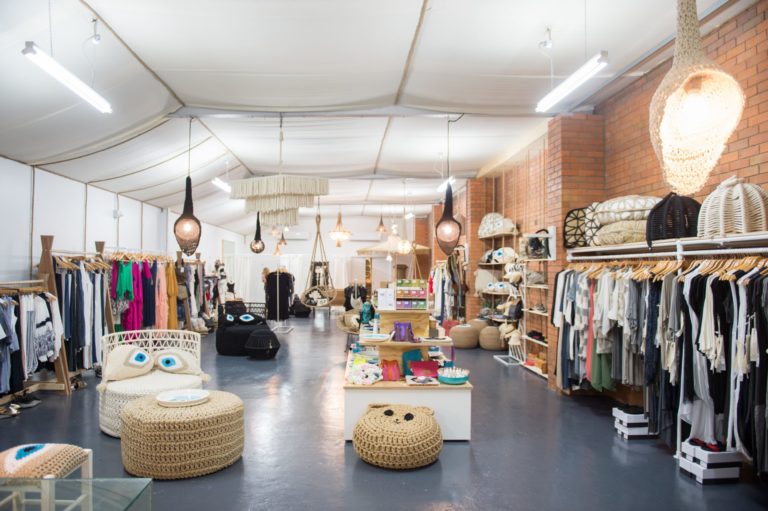 For more, visit AlexAndrea Living's Facebook page: https://www.facebook.com/alexandrealiving/ and Instagram @alexandrealiving.