Greek Australian businessman John Macris, infamous for a series of run-ins with the authorities in Sydney, was killed last night outside his home in Voula, a suburb in Athens' south.
According to the Police, the 46-year-old man was coming out his home in Troias Street at the Panorama area of Voula and was about to get into his Smart car, when he was shot in the chest and stomach. He was found dead in his car, with the door open.
The Police are looking for three gunmen.
According to some reports, the execution-style killing  has led the authorities to investigate the homicide as part of a gang war that is believed to be going on in the southern suburbs of Athens.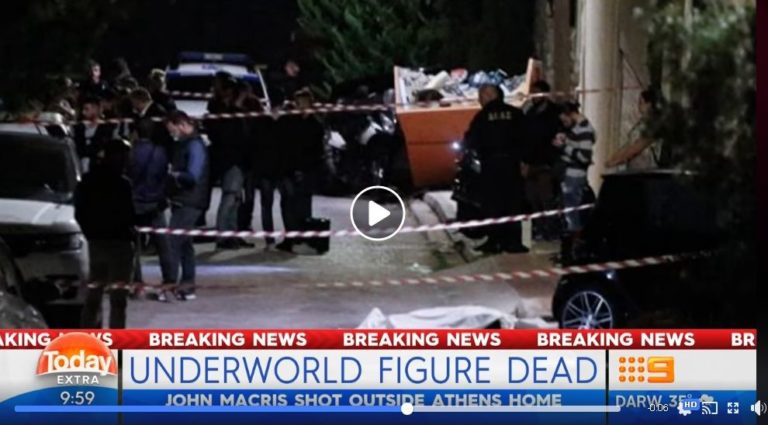 Macris had been sharing time between Australia and Greece for more than a decade, but he had made Athens in recent years.
He was married with model – and former playmate – Victoria Karida, who is currently participating in the popular reality TV show 'My Style Rocks'. The couple has two children who were reportedly inside the house at the time of the killing.
Macris' 82-year-old father, Stelios, was the first one to arrive at the scene of the crime, asking about his son.
The Macris family has had several run-ins with the authorities in the past; In 2011, Stelios Macris, a former singer in Sydney, had been arrested in 2011, after Police found 50 kg of meth oil in his car and house. He was acquitted, after his son Alex admitted that he had "duped" his father into moving the drugs, thinking that he would not attract suspicions.
John Macris, had also faced convictions for drug dealing in the past.
While in Sydney, he had owned an Oxford St nightclub. in partnership with John Ibrahim, of the notorious family in Sydney.
The two men had parted ways after a falling out in 2007.
Two years later he was blamed for the near-fatal shooting of John's brother Fadi Ibrahim. Fadi and Michael Ibrahim were accused of plotting to kill Macris in revenge for Fadi's shooting but were later cleared by a jury.
In 2010, the two former partners had a public brawl in Mykonos, were they found themselves in neighbouring tables at the VIP section of a popular seaside nightclub.
A warrant for John Macris' arrest was issued in 2013, seeing that he would be arrested as soon as he set foot in Australia, after he had failed to show up for sentencing for driving a, while his licence was disqualified until September 2018.
Ever since relocating in Athens, Macris was a partner in My Services, a company offering private security, but also hospitality and cleaning staff.