This month has been one of celebration for the St Anna Greek Orthodox Church in Gold Coast, Queensland, as Sunday 2 December marked the 30 years' milestone since the church was founded.
The day began with the Divine Liturgy officiated by His Grace Bishop Seraphim of Apollonias together with Rev. Father Romanos Stergiou (Parish Priest of St Anna) and Rev. Father Raymond Smith.
Among the special guests who attended the luncheon afterwards were Rev. Father Panayiotis Kapandritis (Parish Priest of St Paraskevi), Judge of the Court of Appeal in Queensland The Hon Anthe Philippides, Mayor of the City of Gold Coast Councillor Tom Tate and Mrs Tate, Honorary Consul of Greece in Queensland, Mr Jim Raptis and Mrs Raptis and Councillor for Division 7 of the Gold Coast City Council Mr Gary Baildon and Mrs Baildon.
President of the Parish-Community of St Anna, Mrs Sandra Voukelatos and Mr Jim Voukelatos along with founding benefactor of St Anna Community Mrs Stamatina Vaggelas as well as AHEPA and other parish and community representatives also attended the event.
Over 320 people were present at the function, where awards were presented by His Grace Bishop Seraphim to benefactors of St Anna church and community, namely Mr and Mrs Raptis, Mr Eric and Mrs Marika Palyaris, Mr Peter and Mrs Stamatina Vaggelas, Mr and Mrs Zerveas, Mr Alex Freelaeagus AO, Mr Constantinos Philippides AO, Mr George Pippos, Mrs Soula Cassimatis and family and Mr Chris Xanthopoulos.
A second group was honoured with Appreciation Awards for their contribution spanning many decades.
These people have offered distinguished service to the Parish-Community and have excelled either philanthropically or by volunteering, with assistance bcoming at times intergenerational.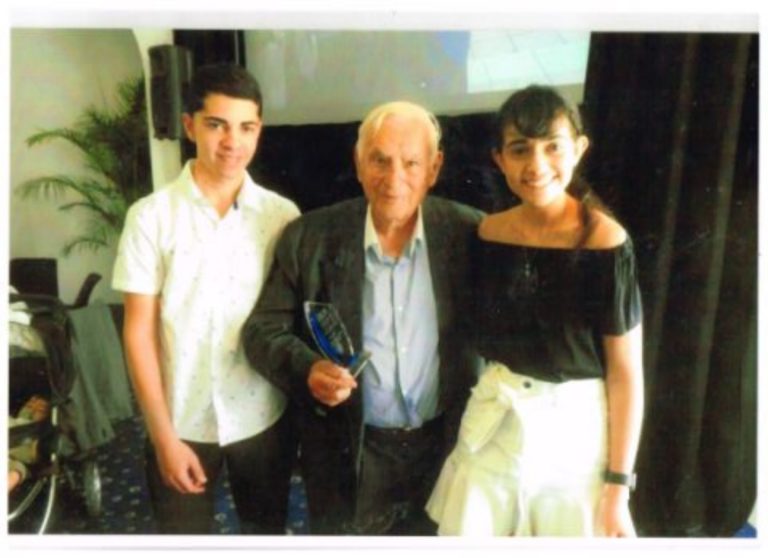 Among the recipients were Neos Kosmos correspondent John Carras, Chris Armenores, Maria Botes, Theophilos Gregory, Fani Grosdanis, Sotiris and Angela Manolopoulos, Anna Miteff, Nikiforides family, Marika Palyaris, Sophia Rafailides, George and Eleni Stavrinos, George Toparis, Theo and Dunya Vairaktaris, Dixie and Ketty Walker and family, late Victor Tahmindjis, late George Grosdanis, late Simon Symeou, AHEPA and Gold Coast City Council.
As part of the program, St Anna's Senior Dancers displayed their dancing skills and their love of maintaining their cultural heritage.
A beautiful book has been produced showing the life of the St Anna Parish-Community over the last 30 years. A soft-cover is available for $20 and a hard-covered version is available for $30. To order, phone (07)55740434 or email admin@gocstanna.org.