Before I met him, I always thought of Cretan fine dining restaurateur Nick Papazahariakis as being one of the most successful Greek businessmen in Australia, however, after a lengthy and very enjoyable chat about his life in Greece and Australia, his successful career and his life philosophy, I realised, he was so much more than that.
Hailing from Heraklion, Crete, the owner of one of South Australia's last remaining true fine dining restaurants, Chloe's Restaurant, is known as Australia's ZORBA and justifiably so.
Intelligent, sophisticated, charming and suave, the son of a Greek army officer was born in 1946 in Thessaloniki and was raised in a strict Greek family environment in Heraklion, before moving to Athens after his father Aristotle, a firm yet fair Cretan, demanded that the young man either join the army as an officer, take on full time work or leave the family home and find his own place in the world.
The young man had no interest in following in his father's military footsteps, therefore, he started working at a local shop selling antiquities just to keep the family patriarch happy but soon realised, that working full time seven days a week was not what he was destined to do.
"I was a curious young man who was intrigued by the world. I was thirsty to explore, meet new people and enjoy life and its offerings, but my father didn't share the same views as me and decided to give me one month's notice to either find a new job or leave the family home".
Young, stubborn and somewhat rebellious, the young man chose not to conform only to find a month later a packed suitcase waiting for him outside his bedroom door.
"At least he was true to his word," says the 72-year-old businessman who on this occasion obeyed his father, picked up his suitcase and left the family home.
16-year-old Nick spent the night on a bench at the Heraklion port awaiting to catch the ferry to Athens the next day.
With approximately 1300 drachmas in his pocket, the first few days were relatively easy for young Nick who found shelter at a friend's house. Unfortunately, it wasn't long before he found himself roaming the streets homeless, with no money and nowhere to go.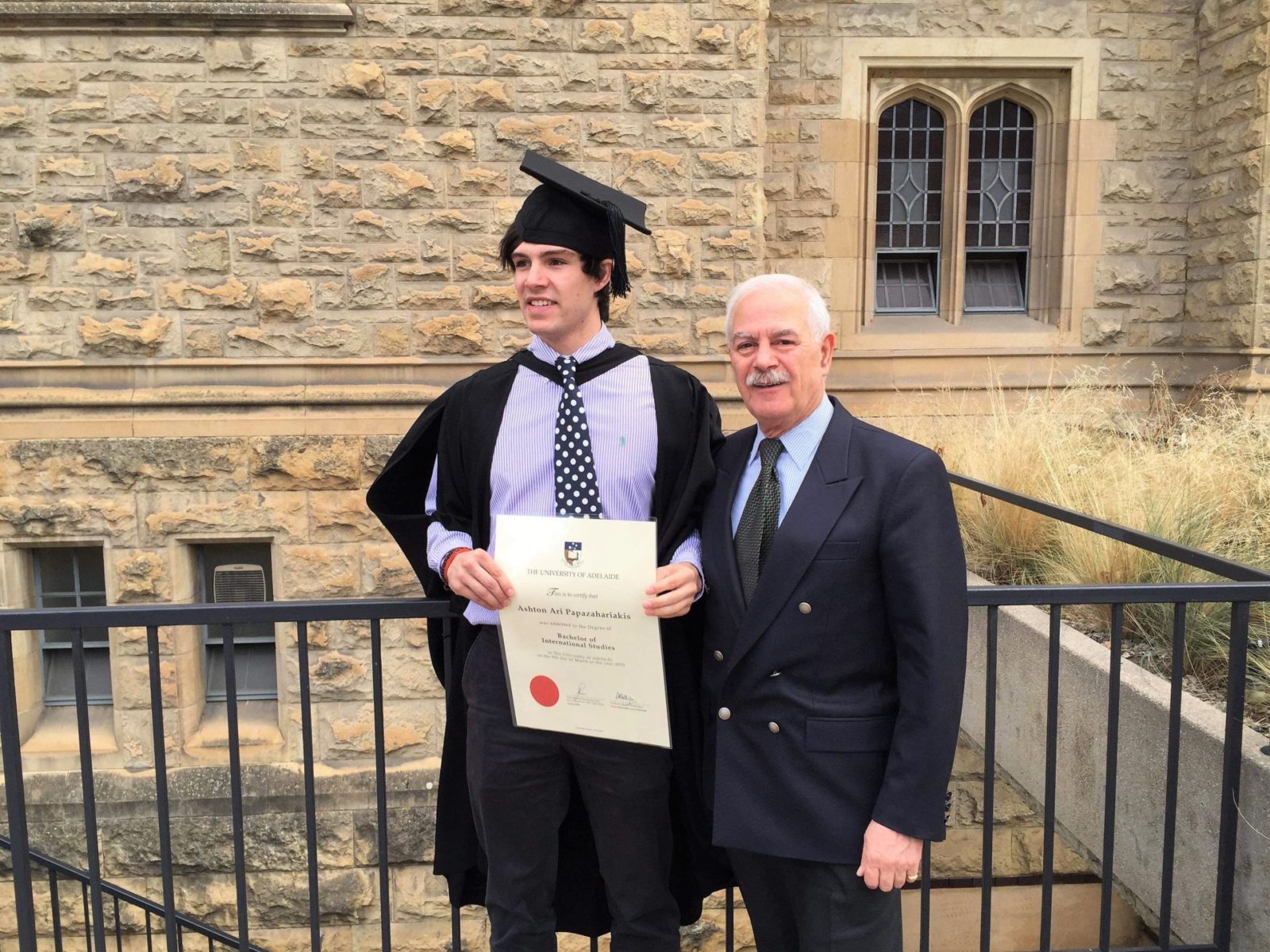 "We need to show the world that being Greek is something unique," he says
He spent three nights sleeping on a bench underneath the Acropolis and that's when reality hit.
"I came to realise that if I was going to make it in life, I would have to put my head down and work hard."
Doing a 180° turn, the determined young man who was also fluent in English and French, went back to school. He attended the 1st High School in Plaka during the day and worked in hotels and bars at night.
While studying hotel management, Nick also started working as a translator and landed his first job at a central hotel in Athens. It wasn't long after that he was offered the Assistant Manager position at one of Europe's most prestigious hotel chains, Club Mediterranee.
During this time, the hospitality industry in Greece was booming giving Nick the opportunity to excel, gain experience, travel the world and meet some of the most amazing people of that era.
"Looking back, we were blessed to have lived in Greece at a time when the country was booming, but we were also a different breed of people. We were revolutionaries. During those long warm summer nights, after we had finished work, we would just hang out at the bouzoukia, the μπουάτ (boîte) and ρεμπετάδικα with some of Greece's most incredible artists, poets, musicians and performers. We would dance, sing and enjoy life but also spend hours on end talking about politics, questioning the system, challenging the status quo and sharing our dreams and hopes on how to make the world a better place," says Mr Papazahariakis who to this day enjoys nothing more than a good chat about what's going on around the world whilst listening to his favourite Greek music.
Despite his parents' pleas, it took years before Nick returned home to Crete, yet he made sure he fulfilled his military service obligations.
He then travelled the world, became successful in his own right and not long after, met an Australian girl who convinced him to come to Australia.
"Maybe deep down I was disappointed with the way I was asked to leave the family home, but looking back now, I have come to realise that all my parents were trying to do was make me understand what life is all about and show me that one needs to find ways to survive and learn their life lessons along the way," says Mr Papazahariakis, the eldest of three children.
Having spent most of his life in Greece and Europe, young Nick didn't particularly like Australia and promised himself that he was only ever going to stay for a year.
Nevertheless, one thing led to another and within a month of his arrival the 24-year-old found himself married in Australia.
Crowned an Adelaide Food Legend in 2009, the award-wining restaurateur purchased a heritage-listed villa back in 1985 and opened Chloe's, what was to become one of South Australia's true fine dining restaurants, which he named after his daughter.
Despite the restaurant having shaped its own culture of excellence, the former President of the Restaurant Association of SA and Chairman of Food Tourism and Hospitality Association SA, has revealed new plans for a $5 million apartment and office building on the historic site, likely signifying the end of his award-winning business.
"It has been an incredible journey for us all and there's certainly lots of history here. I have been lucky over the years to meet some amazing people, witness marriage proposals, see business deals being closed and listen to some incredible stories, but I think I have given enough to the industry and it is now time to take a step back," says the food and wine connoisseur who has made the difficult, but conscious decision, to close a significant and very successful chapter in his life by lodging redevelopment plans for his Kent Town property and the 142-year-old building housing Chloe's Restaurant.
"I had a great time as a young man and professional in the industry, but now all I want to do is travel the world. I have decided that at the age of 72, I've done enough, and it is time to relax, spend time with my family, my three children and visit my 94-year-old mother who lives in Greece and who I haven't seen her in four and a half years."
After a long exciting journey, Australia's ZORBA says he doesn't regret migrating to Australia although he admits that he still feels a much stronger connection with Greece and its people.
"Australia has taught me many lessons, particularly how to be disciplined and work hard. It is certainly a beautiful country, but you just can't beat the Greek lifestyle and the people back home. For me, being Greek is something unique. We are unique around the world from the way we live our lives and structure our families, to the way we form strong relationships and long-lasting friendships.
"Australia was great, but we are only here for a limited time.
"The journey is not over," concludes Mr. Papazahariakis.