Last Friday after work, all I wanted was to board the first tram, go home and rest; potentially head out for a drink or two.
But I couldn't.
Most days I hop on the 75 and get off at Flinders to catch the 86 home, the same 86 tram that international student Aiia Maasarwe, 21, alighted before being attacked in the early hours of 16 January, less than a kilometre away from her campus in Bundoora. She was on the phone with her sister, Ruba, who heard the attack.
Aiia's brutal rape and murder was not the first that affected me, it was the first that affected me this deeply, perhaps because I could relate more to the victim.
From that Wednesday when the details of her death broke the news until last Friday, every time her father would speak to the media my heart would break.
I have lived 15 more years than Aiia did, and my heart still races when I get off the tram at night to walk home. Like too many other women, I too hold my keys in my fist; I share my Uber status with friends and family whenever I feel unsafe, which is most of the time); I video chat with my family that live overseas whilst walking, hoping that a potential attacker would be perturbed by the call. Re-enacting that wrongfully normalised behaviour that comes with the territory of being a woman, however, has not stopped me from adding a new name to the long list of femicides every other week. A few weeks ago the world was bracing at the news of one student being raped, tortured and killed by two fellow uni- and another young woman being murdered by her own father for falling in love with an Afghan man. Two days before Aiia's body was found the number of women that were violently murdered in Australia alone during 2018 was 69.
Her death proved that nothing a woman can think of doing can deter a man who either casually or with real intent is choosing to victimise her.
Aiia was with people she trusted for most of her ride back, she took public transport for that final strip to her home because she felt safe. She was taken for a ride…
She was not the first one and, sadly, will not be the last.
Her life as she knew it ended 50 metres from the tram stop.
That was Eurydice Dixon's and Jill Meagher's routine before they got assaulted and murdered a few months back.
This is my routine most nights, my friend's routine, your girlfriend's routine, your wife's routine, your daughter's routine; and if it is not yet, it one day will be.
With these thoughts burning through my mind I got off the 86 and followed the black clad crowd walking up Spring Street towards a vigil for Aiia organised by a Palestinian Muslim woman, just like Aiia, living in Melbourne. I sat at the steps of the Victorian parliament and took the silence in. It was one of those times when lack of sound speaks volumes; where looking at ashen faces and red, watery eyes is the only image that resonates. That deafening silence only broke when Aiia's father Saeed, walked up in tears to address the crowd.
He could barely stand, but did so in the most honourable way a parent that has lost their child would. He faced his predicament with such dignity it seemed surreal. Instead of pouring out anger, his speech spoke of love and light, calling for change and instilling hope in his daughter's name. With every crack in his voice, hundreds of people would break into tears in unison.
"She liked everything in Australia, she had a good time here. Really I appreciate all the people, the five months she was here. She enjoyed and had a good time here. But then this has come, the very worse. The most worse this can be," he said.
"When I see people here like this, huge people to support us and give us good feeling here about Australia and the community here in Australia.
"It's not good my feeling [about Australia]. But when I see people like this it makes me to feel, maybe change my mind."
"This is the message we want to send," he said, "we want to make the world more peace and more safety and more beautiful, and more smile; and more forgive each other. It's not from me, this is Aiia. I talk in my voice, but this is Aiia's mind. I wish people would see the light in the dark… and not be in the dark".
Indeed, there was hope everywhere around me at the vigil. There were as many men as women, equally or more devastated by this epidemic. Parents had brought their little boys to the vigil and were laying flowers on a memorial pile. Complete strangers would hug each other agreeing that Aiia's death should be the last one; Aiia's father wished the same.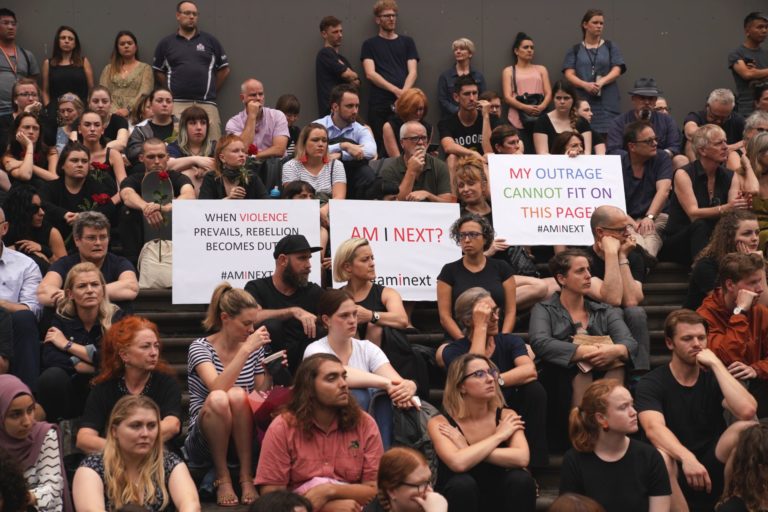 Yarra Trams offered three 86 trams to take the crowd to Bundoora, to lay the flowers where Aiia's body was found and hold a small ceremony in her memory.
Before carrying the flowers to the tram, however, fragments of the light Aiia's father's words had shone were again drawn into the darkness.
Two arguments broke out on the site. The first and most intense broke the silence to remind the organisers how "inappropriate" it is to call the deceased a "Palestinian Muslim of Israeli citizenship" insisting that the political weight of the vigil due to the extensive publicity it had received was "more important that a single woman's identity".
The other was started by a group of passersby quarrelling with attendees that "feminism has exposed women to danger and that these things were unheard of a few years ago". The woman that started it was holding her little girl's hand. Her teenage son was standing beside her. "I would not let my daughter go out that late. If she hadn't been walking alone she might have been alive and we wouldn't be waiting two hours for a tram on a Friday night".
As Aiia's sister Noor said, violence against women is not a women's issue, it is a men's issue.
Women are being told to do dozens of things in order to be safe, to be less provoking, less visible, less deserving of the same life men can enjoy without being questioned or afraid. But what do we tell men to do?
This time the killer was a 20-year-old Aboriginal man who Magistrate Jonathan Klestadt noted "may be vulnerable because of age and appearance".
It almost feels like women are riding a speeding, derailed tram, and ever so often someone will randomly pick one to be thrown off and the rest of world will try to justify it.
"Because she wore a skirt."
"Because she walked alone."
"Because she she said no."
"Because these things happen."
Who will it be next?