Traditional textbook teachings of history fail to truly get students to feel the connection with the subject matter, to visualise it and value it in the way it deserves. There are better ways to ensure the relevance of the lessons of the past, and the 10th Australian Hellenic Memorial Student Competition is proof of this.
Hellenic RSL President Steve Kyritsis OAM says the competition began as a one-off event but has grown with the participation of more than 3,000 students over the years, and it keeps getting bigger with 318 participants vying for 40 prizes this year alone.
The goal however is not for kids to be lured by the cash, but for kids to be drawn by the challenge posed to them – to create a work that tells of Greece and Australia's roles in modern wars.
"We began the art competition because we wanted the students to think a little about Greece's role in WWI and WWII," Mr Kyritsis told Neos Kosmos during the presentation at the Australian Hellenic Memorial next to Melbourne's Shrine of Remembrance. The purpose was for children to learn the events and history in Greece during the wars in their own way, and use art to honour the valour of the Australian and Greek men and women who fought and died serving their nation.
READ MORE: Victoria's State Government invites Australian high school students on free study tour of Greece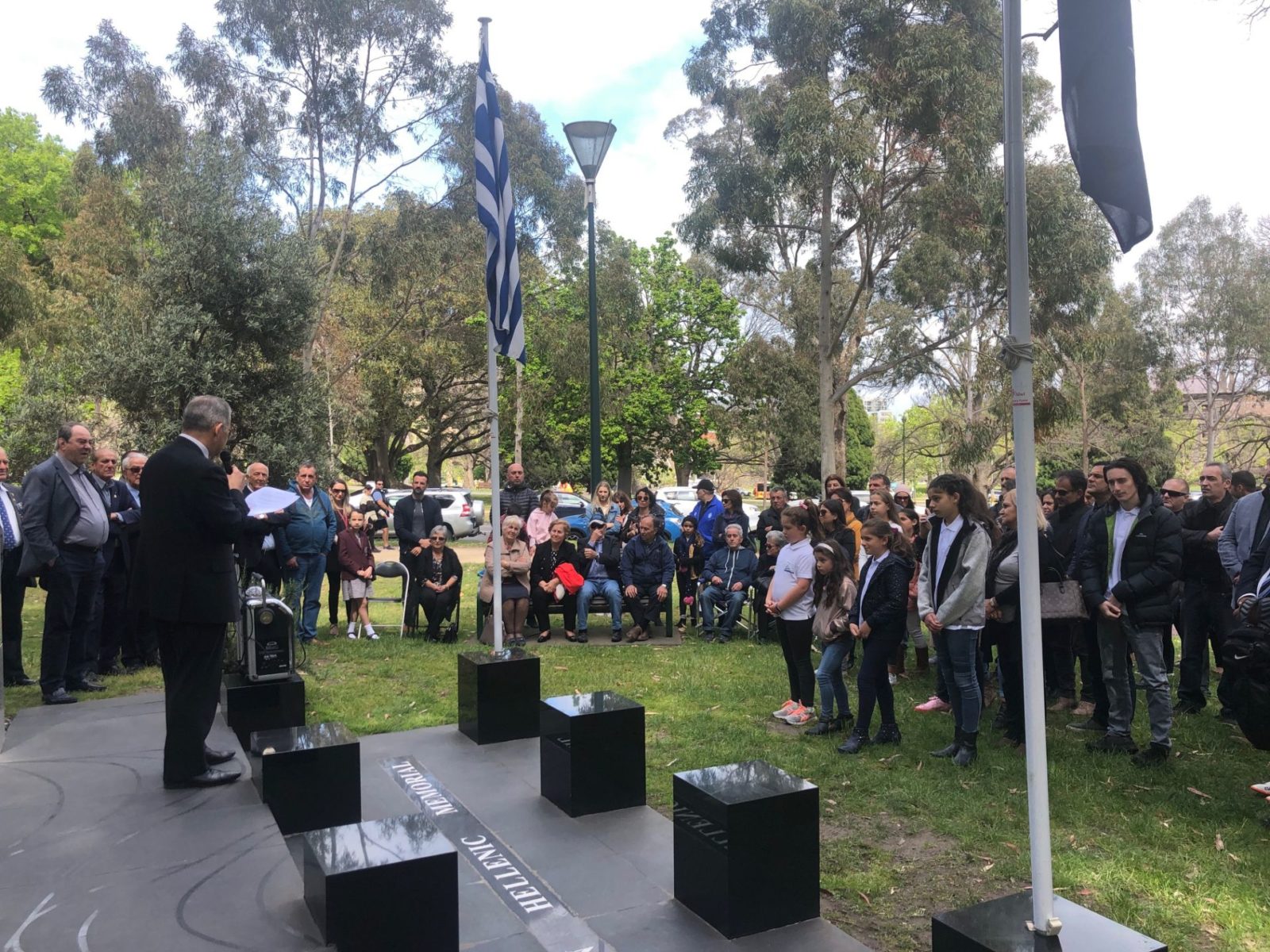 The fact that the prizes are given at the Hellenic Memorial, in the presence of ex-servicemen, further drives home the message of why the magnificent memorial was built – to honour the service and sacrifice of all the servicemen that served and died on Greek soil in 1940-1941.
Australian Hellenic Memorial Fund Secretary Peter Andrianopoulos, one of the judges, said that "the main thing for us is historical correctness" and a reflection of modern, not ancient heroism. "Having things from Ancient Spartans is not really first or second world war," he said, though all entries were valued. The ones that were given prizes however, were those that were accurate, well-researched and original.
READ MORE: Exploring the nostalgia of migration through art
Though the judges are ex-servicemen and history buffs, they never fail to get surprised by the children. "This year, we found out that one of the generals we knew had actually served in both the wars," Mr Adrianopoulos said. "One of the children presented this and we had to look it up to confirm."
Students from many different schools attended. Father Alexander from St Nicholas Greek School in Yarraville was pleased that six of the 76 participating students from the parish school won awards. "We congratulate the students for their outstanding work and hope they have learnt something new about the connection between Australia and Greece," he said.
WINNING ENTRIES
Year 1 – Year 3:
Gabriella Gianitsopoulos: Lalor North Primary (1st)
Amalia Zymantas: Lalor North Primary (2nd)
Natasha Panoutsos: Alpha Greek School (3rd)
Nicholas Babatsikos: Pedia Greek School (Encouragement)
Sophia Pourgoutzidis: St Nicholas Greek School Yarraville (Encouragement)
Leah Karanikas: Zenon Education Centre (Encouragement)
Natalie Pateras: Pedia Greek School (Encouragement)
Livia Lambou: Pedia Greek School (Encouragement)
Evan Angelopoulos: St Nicholas Greek School Yarraville (Encouragement)
Markella Tsatsakis: St Panteleimon Greek Orthodox Dandenong (Encouragement)
Konstantina Zavitsanou: Clarinda Primary School (Encouragement)
Year 4 – Year 6
Allegra Kourkoutzelos: Oakleigh Grammar (1st)
Gorjenna Kokonis: Zenon Education Centre (2nd)
Petros Perikleous: St Nicholas Greek School Yarraville (3rd)
Yianni Lambrou: 4 – 6 Alpha Greek School (Encouragement)
Christopher Lakrindis: VSL – South Oakleigh (Encouragement)
Angelique Boloutis: Pedia Greek School (Encouragement)
Achilles Smith: St Nicholas Greek School Yarraville (Encouragement)
Nikoleta Proromou: St Nicholas Greek School Yarraville (Encouragement)
Dimitra Stafylidou: Oakleigh Grammar (Encouragement)
Jasmine Micallef: Oakleigh Grammar (Encouragement)
Xenia Karagiannis: GOCMV – Melbourne (Encouragement)
Cassie Pappas: Lalor North Primary (Encouragement)
Stelliani Mademlis: VSL – Thornbury (Encouragement)
Angelique Boloutis: Clarinda Primary School (Encouragement)
Year 7 – Year 9
Emma Sideridis: Independent Entry (1st)
Ilena Stefanou: Alpha Greek School (2nd)
Nikitas Papapanagiotou: Lalor North Secondary 3rd
Ethan Karkanis: Oakleigh Grammar (Encouragement)
Dezi Kydas: Zenon Education Centre (Encouragement)
Vivian Tzavaras: St Nicholas Greek School Yarraville (Encouragement)
Stephanie Kokolios: GOGMV – Altona (Encouragement)
Zoe Radinisis: Lalor North Secondary (Encouragement)
Georgina Petridis: Oakleigh Grammar (Encouragement)
Year 10 – Year 12
James Xydias: Zenon Education Centre (1st)
Maria Aggelopoulou: St Catherines Greek Orthodox College (2nd)
Alexandros Vingos: St Catherines Greek Orthodox College (3rd)
Sam Hatziantoniou: Alpha Greek School (Encouragement)
Trifonas Charoulis: St Catherines Greek Orthodox College (Encouragement)