There were two Greek finalists at the Northern Multicultural Small Business Awards: Dewdrops Early Learning Centre and Westgarth Pharmacy.
Truth be told, Neos Kosmos was there in the hope that they would nail the awards, surpassing the other ten businesses of other ethnicities in the finals. But it soon became apparent that the awards were not for different cultures to antagonise – because, frankly, there's enough of that going on in other parts of the world. Rather, they are a chance for Australians of different backgrounds to network, share cultural perspectives, help each other succeed, while also celebrating their uniqueness.
They are a chance for Greeks to sit at the same table with Turks and break bread in friendship with Israelis and Lebanese, putting political differences aside, to celebrate their commonalities in a feast of multiculturalism. Because it's peace that makes the money roll, and the foundation of Australia's success as a nation.
For the businesses present – 12 of the best – multiculturalism is more than just a celebration; it is also a philosophy. Such is the case for Dewdrops Managing Director Dora Moses, winner of the Women's Small Business Champion Award, who has a Greek background from Carpenisi and Poros and is married to a Sri Lankan with whom she runs three early learning centres with 80 per cent of the staff being of a migrant mix. She can't even begin to fathom the number of countries her students are from and it has never occurred to her to count them because, frankly, ethnic blends are just an ordinary thing in her world.
"We identify ourselves as being Australians of mixed cultural backgrounds," Ms Moses told Neos Kosmos. "We celebrate everything in our service. We don't celebrate one particular culture but all of them. We look at ways to make the children feel included and strive to incorporate their community and culture in our teaching."
Ms Moses – a former Fronditha employee – sees opportunities for growth by embracing all forms of diversity from the centre's focus on intergenerational collaboration, projects with the disabled and of course the ELA program that brings Spanish, Japanese, Chinese and other different languages to the children. It's this real effort to serve multiculturalism in a genuine way; not just through lip service but as a philosophy of life that helped her leave the awards with a prize.
READ MORE: Two Greek Australian entrepreneurs ranked among nation's richest under 40
Community is also close to the hearts of Stephanie Miridakis and Claire Elovaris from Westgarth Pharmacy in Northcote, who manage the same business that brought them together as job-sharing colleagues so many years ago. After an overhaul of the pharmacy, they set to serving the needs of their multicultural clientele, even hiring a person to just sit and talk to customers most of the day while intermittently manning the register. And in between creating prescriptions and balancing figures, they help their customers in ad-hoc ways from giving them a ride home to filling out their NBN applications.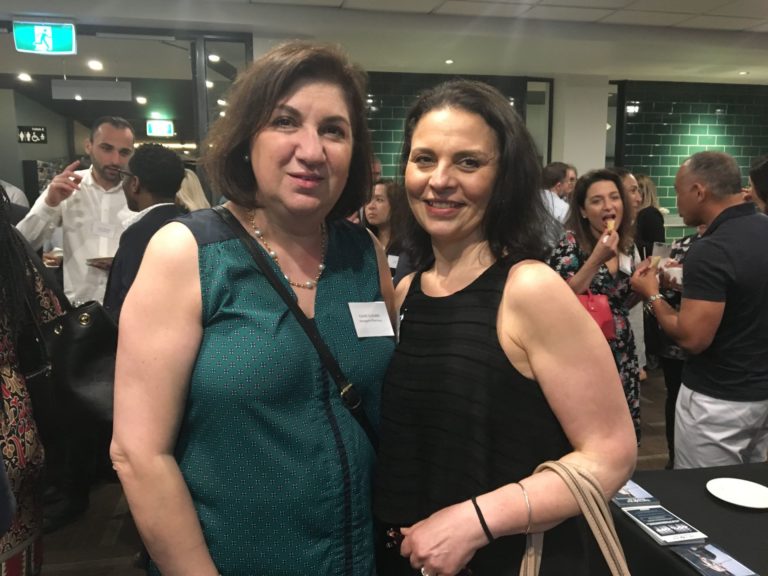 They did not walk away with a prize, but definitely left the room winners having met other business owners to observe what they are doing.
The importance of 'networking', 'building connections' and 'sharing experiences' were reinforced throughout the night. At its best, the awards bring together people like Ms Moses with the Saudi Arabian-Jordanian creators of Robofun, winner of the Most Promising New Business Award Category, and they might think – "Hey, wouldn't it be great if we worked together?" Just saying.
Panel speakers Mazen Hajjar from Hawkers Beer, Liliana Sanelli from Perfect Events Australia and George Hatzimanolis from Repurpose It gave advice. And it became obvious that regardless of ethnic backgrounds, small business owners are in a realm of their own as far as sleepless nights, cold mac-n-cheese dinners, maxed out credit cards and 70-hour work weeks are concerned. They're also courageous risk-takers. Mr Hatzimanolis went out on a limb when he created his business to treat residual waste and process it into materials suitable for the civil construction industry thus reducing the reliance on excavated materials. Millions of dollars later, he has partnered with Downer to launch Australia's first $8.5 million construction and demolition washing plant facility.
READ MORE: A Greek pioneer in the war on waste
"To make that initial investment on something that hasn't been done before did take an appetite for risk that everything I learnt in the corporate world was telling me not to do," he said.
Bearing in mind that migrants are natural risk-takers and visionaries, having left all that is familiar for a better life, small business is made for them. And the awards show that their extraordinary contributions are evident in the northern suburbs of Melbourne.
AWARD WINNERS
2019 Most Promising New Business Robofun 2019 – Multicultural Impact Award  Muradiye Selvi  at Selvi Psychological Services 2019 Business Excellence Otao Kitchen Cooking Classes and Food Events 2019 Stepping Stones Most Promising Graduate Award Inner Active Pelvic Physiotherapy 2019 Stepping Stones Most Promising Graduate Honourable Mention Ita Andehui Lopez Alonso 2019 Women's Small Business Champion Award Dora Moses – Dewdrops Early Learning