Each year over 600,000 backpackers make their way to Australia, and Lukas Giankintzis has found a way to stand out.
The 26-year-old from the island of Kos posted a job application on Facebook seeking farm work in Australia that has attracted media attention.
"Here I am full of energy, full of positive energy, full of work ethic and a very strong mindset to take on this adventure and begin my journey in Australia the proper way!" Lukas posted in the group Backpacker Jobs in Australia.
But it's not just his skills that have attracted attention, so much as his enthusiasm, and "maybe the pictures help as well," Lukas cheekily pointed out to Neos Kosmos of a photo he included of himself, posing topless in Singapore.
"I'm proud of myself; I worked out the past six months and I built up the body I have, and I'm open and honest to show it. I'm not going to do it everywhere, but there are so many pictures of you online nowadays, another picture of you shirtless in Singapore isn't going to change a thing," he said.
Lukas arrived in Sydney from Athens just last week, a lifelong dream, and says the Harbour city is living up to his expectation so far.
"It has been really, really amazing. A friend picked me up and brought me to really beautiful places. I had a big journey behind me, and immediately I forgot the tiredness, I forgot all the struggles I went through the two days of travelling and I was immediately full of energy and just enjoyed the big roads, the quietness, the calmness of people around, and the climate of course, it's really beautiful," he said.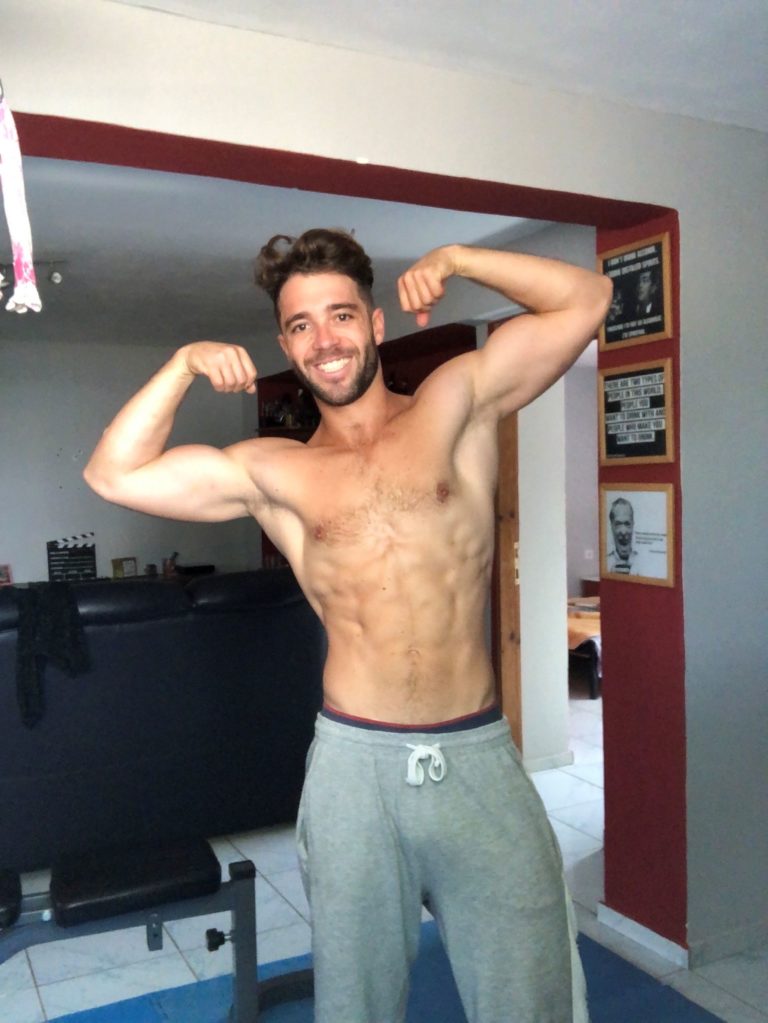 But first up, the backpacker is set on completing 88 days of farm work, the mandatory requirement to extend his one year working holiday visa by 12 months, to then pursue the next steps in his career, or his "life's purpose" as he puts it.
READ: The third generation pâtissier from Leros making authentic Greek sweets in Melbourne
Lukas, who is half Greek, half German and fluent in three languages, has promoted himself online as "fit, healthy and hard working always" with some farm experience from Greece, and is open to any work that provides "accommodation, positive vibes and a warm friendly environment".
"I'm actually looking into staying here longer, not as a backpacker, but as an Australian resident. To get to know the country, learn its ways, and just be apart of this amazing economy and lifestyle; big roads and big oceans and big beaches," he said.
There's no denying Lukas' enthusiasm and resourcefulness.
He studied at the School of Tourism in Rhodes, and from the age of 21 managed a hotel on Kos for three years. When the refugee crisis hit, the industry took a turn, and so he decided to venture to Amsterdam to try his luck. Eventually his path led him back to Greece, where he brought with him big goals and ideas, but says he faced a dead end.
"Greece is, in my opinion, one of the best countries in the world; it is just a magical country. But unfortunately at the moment it is not the easiest place for a young guy with dreams and with goals to achieve them," he says. "People are struggling; they're just fighting their own battles at the moment."
Once he has completed his farm work, Lukas is open-minded about his next steps, keen to try his hand at new things, with his eye on the health and fitness industries, as well as motivational speaking. One thing he's sure of is that he wants something "bigger than mediocre".
"Kos is a small place of like 30,000 people, so it is hard to do something there because you don't have the market, you don't have the capacity to try new things and find the people who will support it so you can actually go all the way. So I decided to come here and try as many different things as I can and fail as much as I can in order to see what I don't like and then at some point just follow my path, follow my passion; find my true purpose in life in a way," he said.
"I believe this is the place that will help me grow and develop and reach all my goals."
READ NEXT: Nick Kozakis: the Greek Aussie director behind the clip for record breaking song 'Dance Monkey'