Although the shops today are full of ready-made suits to choose from, it is not always easy to find the perfect fit, tailored to suit your measurements and style, and cut out from the finest material of your choice.
"The new generation is starting to discover us," tailor Nick Raftopoulos told Neos Kosmos.
In spite of the challenging times in this industry, he chose to continue running Denis Raftopoulos, the tailoring business his father started when he first arrived in Melbourne in 1950.
"Our customers value the difference in quality of a tailor-made suit, cut from the fabric of their choice. There is a rising number of them today who choose to make their grooms' suits here. They believe it is better than hiring a suit or getting one off-the-rack that will probably need altering anyway for a perfect fit."
Nick Raftopoulos spent a lot of his childhood in his father's tailoring workroom learning how to sew with his siblings.
"It all started during the school holidays. Back in those days, my siblings and I would spend that time in the workroom with the other tailors. It was our playground. Dad would give us fabrics to play with, and we would sew pockets out of them. We were very young. I was probably only seven years old when I already knew how to use a sewing machine. Back in those days that is how you learned. Although I got the tailoring bug from then, I couldn't decide, as my family had other plans for us. They sent us to private schools and I think my mum was always harbouring thoughts of me becoming a solicitor. And though I did have an interest in legal studies, I kept on going back to tailoring. Throughout high school I worked in my uncles' menswear stores and that is where I realised that menswear and tailoring was in my blood. When I was 26 years old, I took a long break from everything and travelled overseas for five months. When I got back to Australia I had finally decided to go into the tailoring world, to my mum's horror, though my dad was very happy that I took on the business," Nick laughs.
READ: From Karpathos to Canberra: The Greek dressmaker who has dressed over 8,000 brides
History
His father, Denis Raftopoulos was only 17 when he left his home and family in Ithaca. Being the oldest child he was the one who had to go.
"When he arrived in Melbourne, he sought work in the only trade he knew. He had learnt sewing by a twist of fate, when he was forced to stay home from school due to an accident. To keep him out of trouble, his mum made him go up the road and help out the local tailors," he said.
When he arrived in Melbourne there was a well-know tailor named Chris Anastasio, who was famous for dressing celebrities such as Graham Kennedy. Under his guidance he became a well-known tailor in his own right. He took a course in RMIT, he got himself an English tutor so he would learn the language, accumulating all the tools he needed to open his own tailoring business.
"From when it was first established, his tailoring business became known for its quality and its patterns. My dad was very good at making the patterns. It doesn't matter how good you are with the needle, you need to be able to make a good pattern too. There was also a time when he was famous for making women's horse-riding jackets," he said.
We can't help asking, what is the secret that makes Denis Raftopoulos Tailoring continue to thrive with a faithful clientele, when there are so many shops selling ready-made suits out there.
"Starting from scratch would have been difficult. Being established and having a name has helped us ride a lot of the downturns. Our history, and the fact that we are a second-generation business has helped us too as our credibility and experience reassures our customers, and they feel that they are in good hands. There was a time when I tried to re-brand the business as a way to reach out to the new generation, but I soon realised that history was our main advantage. You cannot buy history.. Also what we've done and what we try to maintain is the high quality of our fabrics".
Every three years Nick Raftopoulos travels to Italy and England to visit his suppliers and establish his contacts.
"There places are like the Yarra Valley of fabrics: Huddersfield in England and Biella in Italy. There are all these small fabric mills that will only supply to you if you make the effort to meet them. We carry a fabric out of Italy called Drago and they will only supply to me because I made the effort to go and see them. Even Zanier – the most famous brand of fabrics in the world, will supply me direct, which is wonderful".
READ: How fashion designer Effie Kats rose back to the top, smashing stereotypes on her way up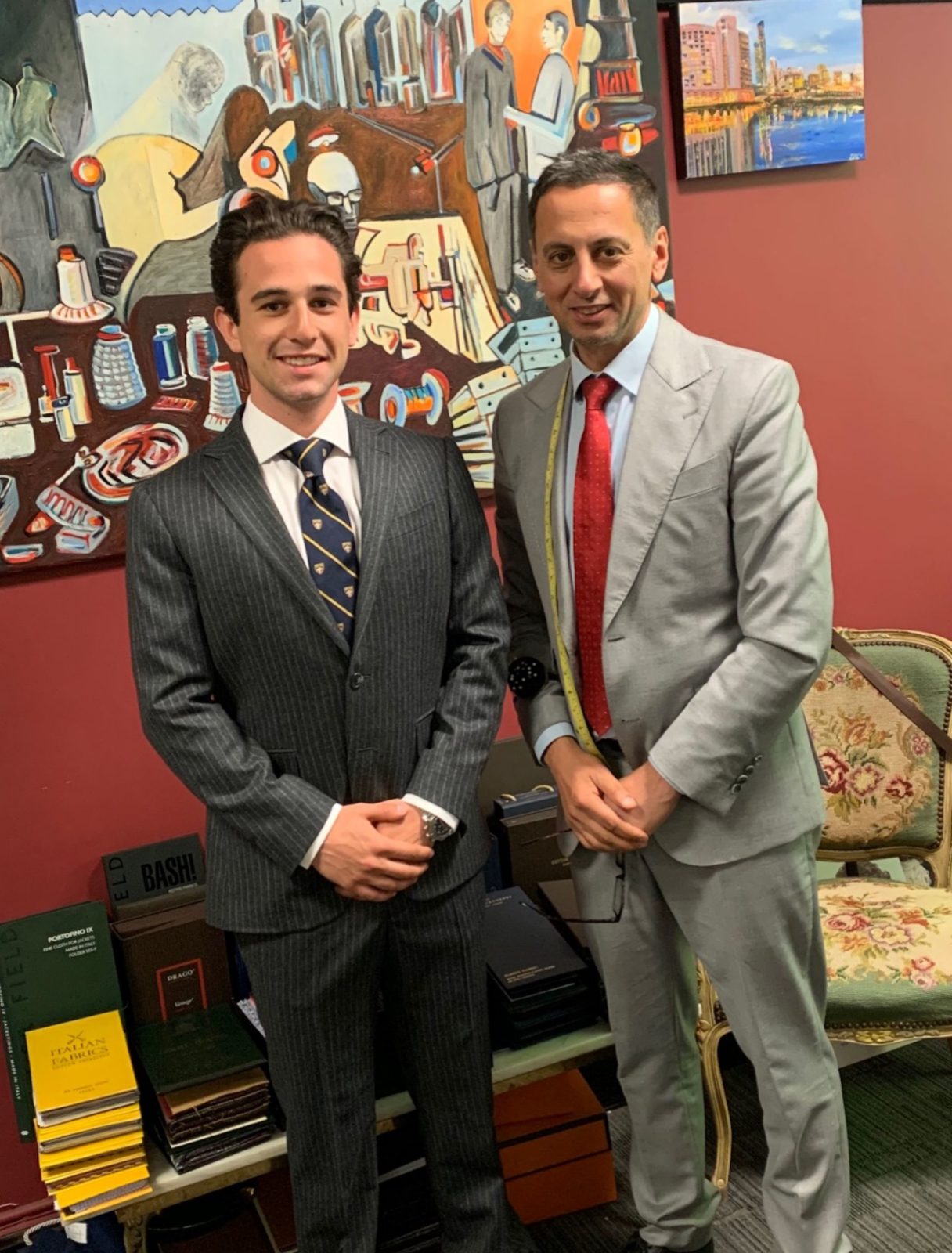 Denis Raftopoulos Tailoring, refuses to enter the competitive game that is starting now in China, where people can order suits to be made for them for 500-1,000 dollars. "It is an area we do not want to go into it because we won't be dealing with the kind of people that really appreciate the process and art of tailoring".
Nick is not, however, worried about the future. "There is an appreciation for what we do. The internet has helped people become more knowledgeable about the bespoke tailoring process. We take the measurements; we do the correct fitting stages, create the pattern and sew a mock-up suit. And only when we are sure, and the customer is happy, will we cut and construct the suit from the fabric he has selected".
Though Denis himself might have retired from the every-day running of the family business, he often visits his son in the workroom. "He was here yesterday", Nick tells us. "He likes to come in and overlook our work. And I am very happy when he visits. He still has a magnificent eye for detail and our customers just love him. He takes over and you can see how comfortable they feel with all the knowledge that he has… Though sometimes I worry a bit about the future, there are new customers coming all the time and we gain new supporters and friends. I am confident that tailoring has a very good future here in Melbourne".
For more information visit https://www.drtailoring.com.au/