In 2017, 30 million arrivals entered Greece – a record year!
For the first time, a record-breaking 300,000 arrivals came to Greece from Australia, and by 2019, the number had risen to 340,000 and growth seemed imminent. During the first quarter of 2020, there was a 37 per cent increase in arrivals. And then COVID-19 struck.
Dimitris Fragakis, Secretary General of the Greek National Tourism Organisation, met with members of the Greek diaspora on Monday as part of the Dialogue series organised by Paul Nicolaou, Director of the Australian Chamber Business Leaders Council.
Katia Gkikiza, Trade Commissioner of the Office of Economic and Commercial Affairs of the Consulate General of Greece in Sydney, pointed out reasons which make Australians "ideal visitors" to Greece. "They travel a lot, they have long stays and have high per capita expenditure," she said.
Mr Fragakis, in his first meeting with diaspora members from Australia, expressed the importance of Australian tourists to Greece.
"Australia is a big market for us, not because of the diaspora, but also because it is a big tourism market. We are very interested in the Australian market for Greek tourism for a lot of reason," he said. "There were 11.3 million people from Australia who travelled abroad in 2019. We want to take a part of this market."
To stress the importance of tourism for Greece, he said that there are 700,000 employees in tourism which accounts for 25 per cent increase in the GDP which accounted to 23.5 billion euros last year. When everything shut down on 15 March for two and a half months Greece showed the world that it could be a shining example when it comes to health practices.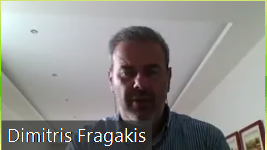 There were difficult decisions which needed to be made. "We had to restart tourism in Greece, it was a difficult effort," he said.
READ MORE: COVID-19 damage to tourism has not hurt Greece's credit rating: Moody's
There were three initiatives taken: 1) the imposition of health protocols were implemented around the tourism industry, hotels, restaurants, transport, airlines, everything, etc; 2) the strengthening of health infrastructure and private health care in regions; 3) strict controls and health guidelines were implemented.
Mr Frangakis said that it wasn't easy to ensure the implementation of safe practices with receptionists sitting at hotel desks, wearing masks, eight hours a day, and waiters serving people in the heat with masks and gloves all day. "I think we managed to show the world that we could be disciplined and as proper as we could to keep our visitors safe," he said, adding that the safety of Greece this year was a huge asset which will put it in good steed in the future.
He reiterated the viewpoint promoted in the past by former tourism minister Eleni Kountoura who touted the concept of Greece for all seasons. Olga Kefalogianni, visiting Melbourne in 2014, had talked about the promotion of ecotourism. Like her, Mr Frangakis stressed the need to ensure that tourists understand that Greece isn't just sea and sun, adding "it's civilisation, it's culture, it's gastronomy, it's extreme sports, it's things to do throughout the year," he said. "It's not so easy to make a legislative framework for alternative tourism."
"Yes, let's promote Greece. Not just a couple of party islands. Show them the mountains of Helmos, the beaches of Akrata the town squares of our fathers and mothers. I can go on," George Giovas wrote in the chat section of the webinar, causing a spontaneous combustion of other travel memories. "The point is show them the real Greece and watch how things begin to change."
He pointed to a map being created to showcase the experiences a visitor can have from the gastronomy and hiking in Crete to rock climbing festival of Kalymnos.
The diaspora was willing to help, focusing on issues from all angles – including trade.
Greek Community of Melbourne (GCM) President Bill Papastergiadis mentioned the "economic development of Greece as well".
"I suspect Greece just doesn't want tourists coming across to Greece as the only form of financial investment by us, it would also be looking at us Australians as being investors in the Greek tourism infrastructure," he said. "Now for that to happen, you should put it on your agenda to negotiate, as quickly as possible, a bilateral agreement on taxation with the Australian Government. Greece and Australia are one of the few countries, in regards to the European Union, that don't have a bilateral agreement on taxation.
"It's vital, because those of us who do invest in infrastructure in Greece are taxed in Greece and the money we bring to Australia is taxed again," he said, adding that the problem rests with Australia, not Greece.
He urged for a hub relationship to be created between the Greek and Australian governments so that travel would be allowed when possible.
READ MORE: Greece launches unique 'Health First' tourism campaign
Mr Papastergiadis once again invited the Greek National Tourism Office (GNTO) to operate in Australia, with a furnished office at the 15-storey Greek cultural centre, waiting for a Greek representative. There are already 17 offices around the world, and Melbourne – given its high population of diaspora Greeks – should be included in the fold.
"We are open to discussing it," Mr Frangakis said.
"It will be useful for us to connect Greece and the central offices of GNTO (in Athens) with Greece and the Greek people of the diaspora."
Other ideas were outlined from the importance of Greece opening up its film industry, using high profile Australian philhellenes to promote Greek destinations, to the challenges faced by Greek society following COVID-19 in the wake of a tough economic crisis. Tourism is 80 per cent down and "almost 50 billion of national income has been lost," Mr Frangakis said, pointing to hard-hit areas like Chalkidiki, the Peloponnese, and the island of Southern Aegean.
Intralot HR Manager Marios Mitromaras asked what the back-up plan was should the situation with COVID-19 continue.
"We are not sure what is going to happen in the future. That's the biggest problem for our strategy," Mr Fragakis said, adding that they are looking at scenarios preparing for the worst and hoping for the best.