Melburnians began to feel that pinch of traffic this week. It  felt reassuring to see services slowly ease following restrictions.
Ali Sadiku, manager of Grand Wash Auto, which serves a large Greek clientele from Thornbury and Northcote, could barely keep up as huge queues of dirty cars were cleaned back-to-back.
"It was hard to make ends meet (during lockdown)," Mr Sadiku told Neos Kosmos.
"We were lucky that we don't pay rent and we were a healthy business beforehand. Over the quiet months we had an opportunity to reflect, to look at aspects of our business and make improvements we would not otherwise had time to make."
At least that's the optimistic way he views things. Truth is, the "boys stayed home and got paid for it," he said.
On Monday, cars were being pulled into bays, drying up, with free vacuums also being offered to celebrate the return. The upswing in turnover was welcome. There was celebration amid the soap suds.
Splitting hairs
It was just as crazy for hairdressers, with queues outside every salon at Waverly Gardens on Monday morning – particularly men wanting to get a snip after months of growth.
Evelyn Trapouzanlis of Baxter Melbourne in Elsternwick told Neos Kosmos that it has been crazy with calls and messages coming through the phone, the salon and Instagram, and they are still being inundated with requests for an appointment. "If we could've started working from midnight, we would have," she said.
Dorothy Gambas, who manages a hairdressing salon in Mulgrave, has had her phone ring off the hook since Sunday. Lockdown had been particularly hard though she had a few people "ringing in asking if I was doing a hair 'shifty', like on the sly," Ms Gambas told Neos Kosmos. She said no hair cut is worth five or ten grand, especially for a registered business.
"I walked into Coles and I thought the announcement was at 11.30, so I thought I'd quickly go and get my stuff. I think I was walking out of Coles at around 11:27am and I go 'oh is that my phone?' and I grabbed my phone and I looked at it and there were around 15 messages on it. And that's not with the phone calls! That's how desperate everyone is. And again today, still more. My husband saw an interview from someone working at Rokk Ebony and they're booked out for five weeks. I'm working on my own and I'm already booked out for two weeks. Then you have to social distance, which is okay because I was doing that before but yeah just getting everyone in. Everything's all good, it's just trying to get everyone in at a normal time. I'm only doing one person at a time because the salon isn't massive and to allow time in between to clean, it's going to be a bit chaotic for the next few weeks."
READ MORE: Is vanity more important than safety? Hairdressers' open letter to ministers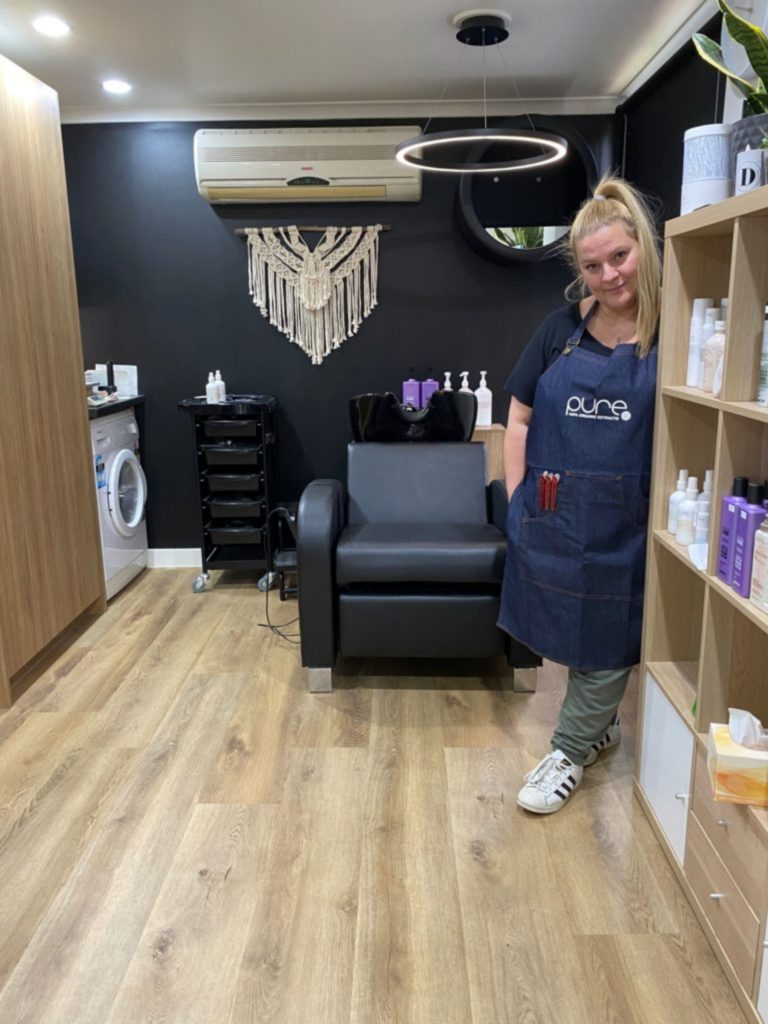 This week all hairdressers have been working extra days to meet demand as phone calls have been unstoppable, adding to waiting lists already created during COVID-19. "It's a bit chaotic and then there's also the pricing too because people are coming with three months worth of regrowth, well that's not the same, because you have to go through three or four times the amount of product, but it's just a matter of figuring that stuff out," she said, adding that it is still cheaper even if she charges an extra $50 for three times more the amount of colour. "I think they understand that I shouldn't have to wear the cost of the lockdown."
Ms Trapouzanlis said her salon was keeping prices the same. Even so, they've been "copping a lot of abuse because people aren't happy that we're not getting back to them as quickly as we could, for not being able to book in, while we have others booked in and they can't get the appointment they want and that we should be able to get them in because there's so many people that are working."
Furthermore, there's the issue of space as COVID-19 regulations only allow a certain amount of people in the facilities at any given time. "It makes things difficult because you can't do as many people as you'd like," she says, adding that by Monday they had already been booked three and a half weeks in advance.
"We're happy we're back, but it's rough. I would've preferred next week because I was more mentally prepared for next week because it all happened really quickly, or even Tuesday so that we had a day to organise everything properly, but yesterday we all ran into the salon and called everyone last minute to organise everything, so it was a bit all over the place," she said.
Disappointed diners
Melburnian restaurateurs are fuming that the city's indoor and outdoor dining won't return until 2 November, despite that the original roadmap had planned they would open on 26 October.
For business owners, waiting another two weeks is yet another blow.
Helen Glynatsis of Aegean Tavern in Brunswick said the easing of lockdown measures announced by Victoria's Premier Daniel Andrews on Sunday were not enough to tempt the big tavern on Brunswick Street in Fitzroy to reopen.
"We will not be be able to open until they allow dancing again. We are a big venue for private and corporate functions that can take in 400 people, an average night is 200 people and we need to operate heating air conditioning and lighting (for each function) so it is not worth our while to open as things are," she said, pointing to the weather and the limited outdoor capacity as obstacles.
"Unless we put cross every 1.5m on the dance floor and people can hold towels out to dance, we will not be able to do much," Ms Glynatsis wryly said, adding that she did not expect the situation to improve before Christmas, usually a busy time for the venue.
Nikos Tavern has been able to survive with take-aways and deliveries, but eased restrictions would allow the tavern to serve people within the premises again by soon allowing 20 people inside and 50 outdoors.
"We will have to make an outside area in the car park but it will take a bit of work to do it," Nikos Diakopanagiotis told Neos Kosmos, adding that Melbourne is a month behind regional Victoria. He fears that the usually busy Christmas and New Year would be a write-off this year.
READ MORE: Greek community leaders call for easing of Melbourne lockdown measures
"I know we have to be careful in this current situation but the state government needs to organize the contact tracing properly, it is the main reason why are opening up so slowly," he said. "We cannot open too soon but people do need to get back to work," he said.
Degani Northcote's Tammy Missailidis is optimistic that an opening, even a small one, would be positive compared to the last two months.
"It is giving us a bit of hope and more of our staff will be able to work. It is the best outcome in a bad situation as the summer months and Christmas are our best times. It is also good for our customers to be able to come out and socialize and get some relief from being stuck at home all the time. I am excited to be working again and have already seen people whom I have not seen for a while," she said.
Real estate moves
Stavros Ambatzidis of OBrien Real Estate said that the property market in Melbourne has been very busy since the lifting of restrictions at the beginning of October which have allowed for prospective customers to visit properties in person.
"For the past two weeks private inspections have been allowed and this has been a real game changer," Mr Ambatzidis told Neos Kosmos. "We have done 400 private inspections in that time."
"The market is hot but we are still hamstrung. We cannot work from our offices but from home. In the past we could do one inspection with 10 people present. Now it is one inspection per person, so it takes 10 times longer than it used to.
He said the one major change as a result of the COVID-19 pandemic, is that with more people allowed to work from home, there has been less demand for properties in inner-city Melbourne. He said home office facilities are very big consideration for buyers at present and this accounted for increased demand for properties outside Melbourne to including in the Mornington Peninsula and regional cities.
He added that there was an internal migration to Queensland and Western Australia where COVID-19 restrictions were much milder than in Victoria.
"I keep hearing that people are disillusioned with the government of Victoria," he said.
He said another major change as a result of the easing of restrictions on visits to properties for sale has been ashift of holding auctions to Tuesdays and Wednesdays instead of weekends.
"Saturdays are now prime days for viewing properties," he said.
Mr Ambatzidis said that it was ironic that while the real estate industry had been hit hard by the lockdown measures of the past two months there had been no reported cases of COVID from real estate activities.
"We (as an industry) have always been very careful to sanitise everything and to take everyone's contact details," he said.
READ MORE: Australian house property market surprisingly immune to COVID-19
Tradies
Electrician Nikos Floros has been working throughout lockdown and considers himself luckier than many of his counterparts. "Work looks different these days," he said. "We wear masks hand have temperature checks."
He has given up his side gig of home visits however, and already has a waiting list of clients for when restrictions ease. "At the moment, I can only visit homes where there are emergencies," he said.