Speaking to Comote Sport, Giannis Antetokounmpo touched on heading to Sepolia to distribute food, his return to Greece as a father and the national team, emphasising that he will not stop playing with the blue and white team.
On where he sees himself in seven years:  "To be healthy and to be an NBA champion. The future worries me so I will try to work constantly. I live in the present. I will try to be myself, to work constantly, to listen, to do everything in my power to help my team win."
About what he expected from Santa Claus as a child:  "There was no Santa Claus in our house. There was mum, dad, us… I have never missed anything in the family. I have not missed the cars or the PlayStation. The most important thing I will give to Liam besides the gifts, is love."
On his return as a father to Greece: "It's strange that I have come to Greece as a dad. I usually come alone, with my girlfriend and my siblings. It feels good! We went to the Acropolis, we did things. The first words I would like Liam to understand are 'sit down!' It never stops! 'Sit down calmly'. As he gets older, he will understand who his dad is."
READ MORE: Giannis Antetokounmpo wins NBA Defensive Player of the Year
On the love of the people: "As long as I'm in Milwaukee, I feel the love of the people on the court, in the games, everywhere but here I feel it more. They stop me and say: 'Gianni, we love you, we are proud of you'. It's very beautiful".
On his return to Sepolia and sharing food to those in need:  "I returned to Greece, I gambled on shots and I lost (laughs). I paid for a Coca Cola and a skewer! What happened in Sepolia is food for the soul, I feel better when I give and offer to my fellow man."
On whether he is tired of fame: "I am tired, but it is part of my job. There are times when I'm tired, I do not want to take a picture but to stay home, watch a movie, play with my son. I went to Sweden, saw my teammate Philathlitikos and nobody knew me. I do things for myself, for my family and I feel good. I have not changed, I remember my neighborhood, I have tried to add my little stone to my neighborhood too! I am not Giannis the superstar, the MVP but Giannis from Sepolia who plays basketball."
On whether he has changed as a person:  "It is difficult for people to enter my circle. The more famous you become, the more they want to take advantage of you. My circle is my family."
About what he would do if he did not play basketball: "I would have my own real estate company."
About his friendship with Stefanos Tsitsipas: "Stefanos is a incredible person, he is very smart, we talked and he told me how to become better. He asked me how one could be the best in the world and I told him to pay attention to the details. You do not improve without paying attention to the details."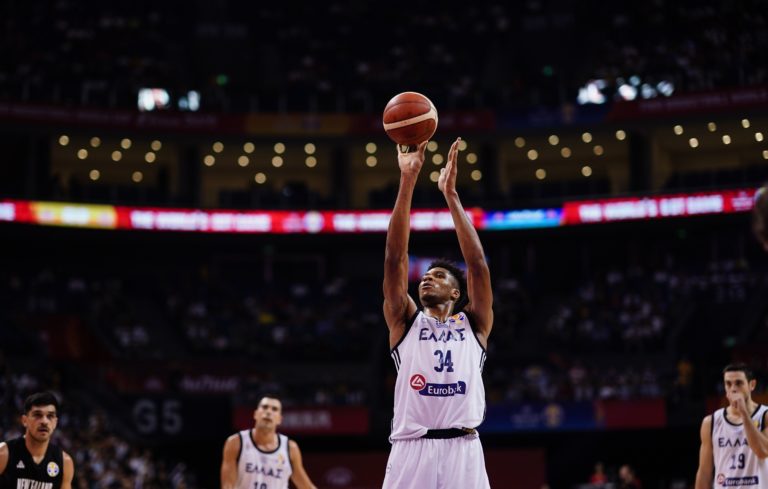 On the advice of Vassilis Spanoulis: "The advice given to me by Vassilis seemed strange to me, but it makes sense. It has to do with winning. I can't reveal it to the camera but it makes sense to me."
Regarding his role in the national team and whether he should participate in decision-making: "I am not the leader of the National Team. My job is to play basketball, not give advice. I will try to stay in this position. The Bucks trust me, but I do not want to take part in decisions. I focus on improving as a player, I do not want to say who will stay and who will leave. I do not want to change people's lives."
On his presence in the national team: "I will not stop playing on the national team until I win. As long as I am healthy and well, I will be on the national team ".
On Black Lives Matter:  "No match had been cancelled since the assassination of Martin Luther King. It is great that we all did it together and believed in each other. I will always remember that and I have nothing to regret. Many say that we were not focused on the playoffs but I am proud of what we achieved as a team."
On whether he lives in Milwaukee because he is the only 'star' on the team:  "If Durant, LeBron and Davis came to Milwaukee I would be fine. I do not care who is number one, number two or three. I do not care at all."
On what he wants to improve in his game: "I want to improve my shots and play more on the periphery. There are many things I want to improve. I work a lot and I believe in myself."