This year's 106th anniversary of the Armenian genocide is a landmark one due to the recognition of the 1915 killings as a 'genocide' by a US President for the first time.
Closer to home, Saturday 24 April was of particular importance too. It was the first time the Armenian, Assyrian and Greek communities marched in complete unison for recognition of the genocides of their people in Sydney and Melbourne.
Community groups have always attended each other's events in solidarity, but the demonstrations of Saturday 24 April were a testament to the common vision of the Australian Hellenic Council, The Federation of Pontian Associations of Australia, the Armenian National Committee and the Assyrian National Council of Australia.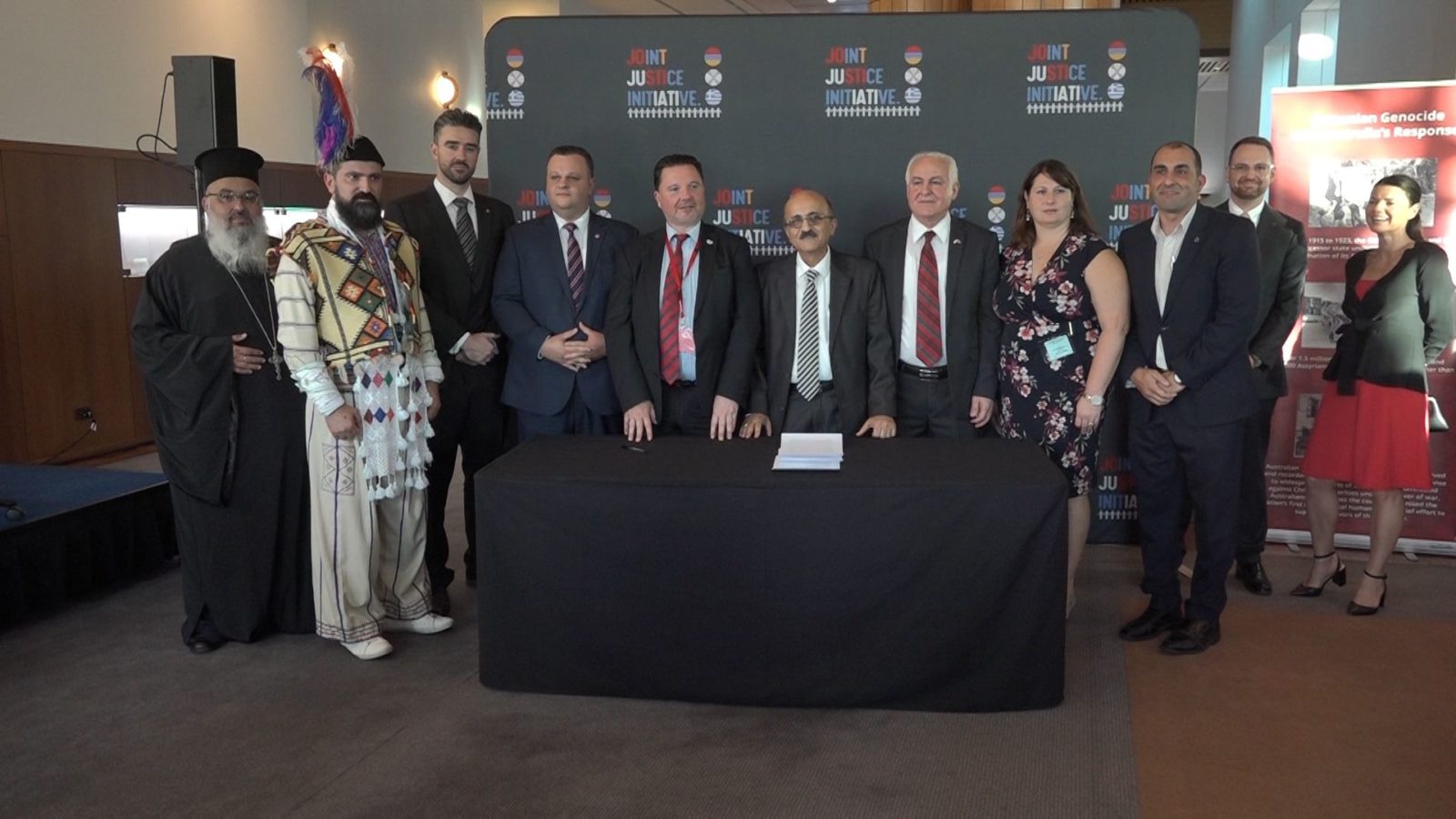 Organised clubs that took part in the rallies include: Australian Hellenic Council NSW, Federation of Pontian Association of Australia,Pan Macedonian Association of NSW, Ahepa NSW Inc, Pan-Epirotic Federation of Australia, UNSW Hellenic Studies Foundation, Mytilenian Brotherhood of Society, Cretan Association of Sydney, Pontian Society of Sydney, Panagia Soumela, Pontoxeniteas NSW, Pontic Educational and Cultural Association of Victoria "Akrites Tou Pontou", Greek Pontian Society of Wollongong NSW "Diogenis", Pontian Community of Melbourne, Euxinos Pontos Melbourne.
In Sydney, speaker for the Greek community was Dr Panayiotis Diamandis, while in Melbourne speaking on behalf of the Greek Community was Kostantinos Kalymniou from the "Pan-Epirotic Federation of Australia" and Peter Stefanidis President of the "Federation of Pontian Associations of Australia.
Armenian, Assyrian and Greek flags were all on display at the rallies.
The three communities have worked together for years, with their advocacy work taken to the next level in March 2020, with the formation of the 'Joint Justice Initiative'.
READ MORE: Australia's Greek, Armenian and Assyrian communities push for recognition of Turkish-committed Genocide
More than 40 members of Federal Parliament have signed the pledge for the recognition of the genocides.
The joint efforts by the three communities are encapsulated in the call for action to Australian Prime Minister Scott Morrison, as addressed by Peter Stefanidis, President of the Federation of Pontian Associations of Australia.. in his speech at the Melbourne March.
Read the call for action addressed to PM Morrison
Mr Prime Minister, its time!
Generations have come and gone since the genocide of the Armenian, Assyrian and Greek people. Traumatised by what they endured, many had chosen to forget, to not burden their children and move on.
In less than 2 decades, the ugly face of Genocide came to Europe once again starting in Nazi Germany.
Leaders with strong Moral convictions are the ones who make their mark for the better on humanity's history.
Mr Prime Minister, In March of 2020, the Armenian, Assyrian and Greek communities came together and formed the Joint Justice Initiative. As President of the Pontian Federation, it was my proudest moment.
For years our individual voices were not heard. In less than a year, members of Parliament in Canberra, your Parliament Mr Prime minister, on both sides are taking action, joining the pledge and demanding recognition.
It is now time for you to take the lead so many of your colleagues have been begging you to take and call what happened to the Armenian, Assyrian and Greek people over 100 years ago what it was, a GENOCIDE. Not because it demonises anyone but because it is a fundamental truth. GENOCIDE is the most deplorable act that humanity has ever inflicted on itself.
If we fail to even recognise it, how can we ever hope to eradicate it!
Mr Prime Minister, we know that you are a man of faith. The victims that continue to be dishonoured were so because of their faith. When I asked our very own Bishop Silouan of Sinope "why do we fight so hard Your Grace? Why did we sacrifice so much for our faith and indentity?" His Grace smiled, gave me his bible and right there, in the book of Isiah Chapter 1 verse 17 it said
"Learn to do good; seek justice, correct oppression; bring justice to the fatherless, plead the widow's cause."
His Grace then said "This is not only a Christian obligation, but one of humanity. We have no choice but to remind people of our obligation to each other."
We hope you do the same Prime Minister.
Good health and God Bless.