Greeks Down Under celebrated Easter last night with more excitement than other years. Following last year's limited or non-existent celebrations due to Covid-19 restrictions keeping the faithful away from churches, this year's Anastasi will be one to remember.
Australia's biggest cities saw hundreds of Greek Australians light up the streets carrying the Holy Light back home after the Easter liturgy.
The night of the Resurrection is a night the entire community comes together, garnering Greeks that do not normally attend Church. Even the Australian Prime Minister, Scott Morrison, joined attended the celebrations and the Holy Liturgy performed by Archbishop Makarios alongside his wife Jenny, Minister of Multicultural Affairs Geoff Lee and hundreds of faithful in Kogarah, Sydney.
Before the liturgy, the Archbishop and the PM had a private conversation about issues of common interest. Mr Morrison addressed the crowd and lit a candle on his way in.
Mr Makarios, in his message following the Resurrection, told the congregation "Do not fret"; what the Angel of God told the woman in black bringing the Myrrh to Jesus's tomb after the crucifixion.
The Archbishop wanted to remind people to not live in fear, in a time that pushes us to be silent, shy and live without the will or the desire to investigate. His message was a message of hope and courage.
Mr Mark Coure, the High Commissioner of the Republic of Cyprus in Australia, Martha Mavromatis, Consul General of Greece in Sydney Chris Karras with his wife Economic Affairs Adviser at the Consulate General in Sydney, Katia Gikiza also attended the night liturgy.
An impressive and joyful celebratory liturgy took place in Melbourne's Red Hill Church with hundreds of Greek Australians lighting up the suburb.
St Panteleimon in Dandenong was also packed with people waiting to receive the Holy Light spilling into neighbouring streets according to Mr Kostas Alaveras who forwarded Neos Kosmos the images below.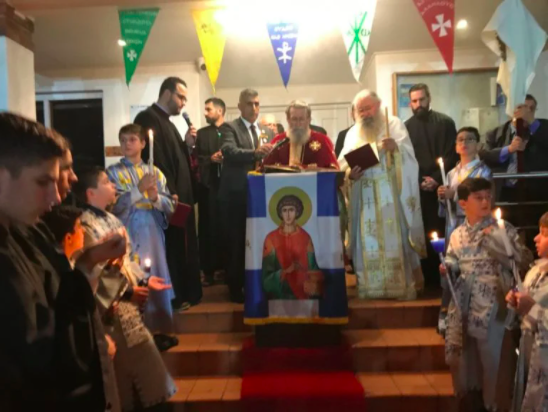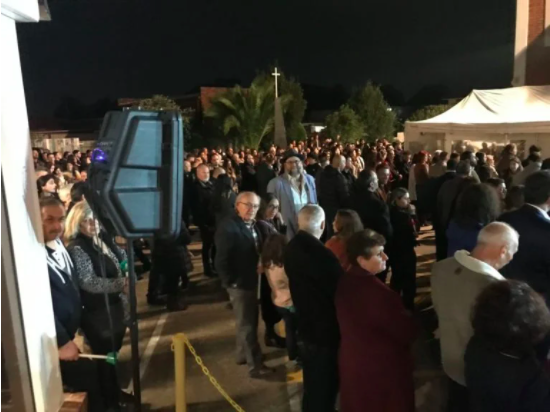 Today, Greeks everywhere are celebrating the Resurrection of Christ with feasts and traditional flavours. Australia's Greek hubs ooze aromas from oven baked pies and potatoes, lamb on the spit and grilled offal.