It was early in her career that Varvara Ioannou, founder of the women's Food For Thought Network, had the opportunity to work for an organisation that employed the largest number of Indigenous women. The experience is one she cherishes, and since then says she has wanted to do something to help raise the profile of Indigenous women and awareness of the challenges they face, while also bringing attention to their many achievements.
With the release of the Australian government's Closing the Gap 2018 Report this month, she says the timing couldn't be more right, and has decided to give Indigenous women a platform at this year's annual International Women's Day dinner on 8 March.
"Our focus was always to raise awareness of what helps and prevents women to succeed. When we say women, it's not just Greek women, it's women in general and when you look at the research you find that Indigenous women encounter the greater levels of disadvantage and adversity across the most social and economic indicators," Ioannou tells Neos Kosmos.
"But the research also says that when Indigenous women have been able to organise, consult and direct attention to the areas in their community, they have been able to improve outcomes. So we hope this International Women's Day will raise awareness of our Indigenous sisters and support their development."
Guest speaking at the FFTN's event will be Nova Peris AM. A fitting choice, Ms Peris has achieved many firsts among the Indigenous community, paving the way for others, among them becoming Australia's first Indigenous woman elected to Federal Parliament, the first Aboriginal Australian and Northern Territorian to win an Olympic gold medal – and one of very few athletes to have represented their country in two different sports, hockey and athletics at the Olympic and Commonwealth Games.
MC for the evening will be one of Australia's leading media personalities, Jo Pearson.
This year the women's network's theme is #Pressforprogress. While women in the Western world have long been pushing for gender equality and parity, Ioannou says that it is important to recognise that progress has different meanings for women depending on their circumstances.
"The National Aboriginal and Torres Strait Islander survey in 2009 found that 21.2 per cent of Indigenous people reported family violence as a problem within their community, 8.1 per cent reported sexual assault in their community, 18.3 per cent of Indigenous women experienced physical or threatened abuse in the past 12 months compared with 7 per cent of non-Indigenous women. So due to this disadvantage, these women are underrepresented in the work force as almost half are unemployed," says Ioannou.
"#Pressforprogress means different things for different women depending on their circumstances. For women like our Aboriginal sisters, getting a foot in the door and getting a job, and getting out of their domestic violence scenarios is a priority. You have women in war-stricken countries like Syria, Afghanistan and asylum seekers; for those women #Pressforprogress is to survive. I think we need to be mindful of that."
Each year the FFTN selects an ambitious woman to sponsor as part of the event, and for 2018 has selected Christiana Aloneftis. The talented Greek Australian aims to make an international career as a soprano, and the financial support she will receive will be invaluable in advancing her career as an opera singer.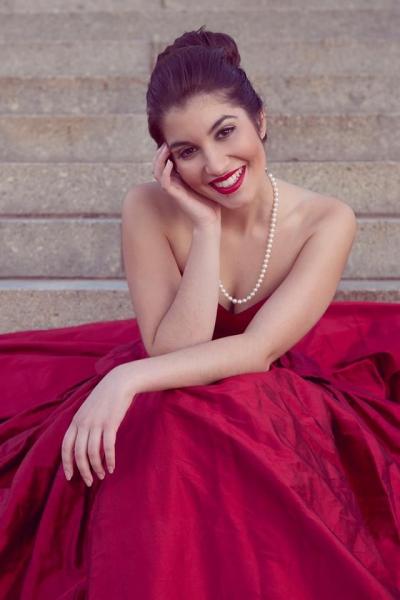 Ioannou has been helping to raise awareness about gender equality for close to two decades. While she acknowledges that women are in a much better position now than they were over 100 years ago, she says we still have a way to go.
"The women's movement has achieved a lot together; women didn't have the vote, we've had women prime ministers, we've had women CEOs, recently we had same-sex marriage – they're some of the things we have achieved. Have we progressed far enough? Of course not," she says.
"The important thing is, on International Women's Day we need to celebrate all women in all their diversity and we need to embrace the many facets and identities and intersections of faith, race, ethnicity, gender or sexual identity, and disability. We need to celebrate those that came before us, those than stand beside us, and those that will come after."
She encourages members of the Greek and other CALD communities to attend the event and open themselves up to understanding the various plights of women, of those that are Indigenous in particular, and to offer a helping hand.
"We can all become mentors to these women, and also learn from them; about their culture and their resilience that they have displayed all these years."
Hosted together with the Manningham City Council, the FFTN's International Women's Day event will take place on Thursday 8 March from 7.00 – 10.00 pm at Manningham Function Centre (699 Doncaster Rd, Doncaster, VIC). Tickets include a two-course meal; on sale until Thursday 1 March at eventbrite.com.au/e/international-womens-day-tickets-42188421705