It was in 2013 at the foothills of Meteora, one of the largest complexes of Eastern Orthodox monasteries, that Chris Vlahonasios, a longtime cinephile, was first struck with the idea of creating a film festival with an Orthodox Christian focus. He quickly brushed the idea aside however, convinced it was a little too ambitious and that it could wait for another time, further cemented by a shocking discovery upon returning home to Melbourne.
"My mum actually had advanced breast cancer and of course I just focused on helping her with her treatment," Chris told Neos Kosmos.
During that trying time, he started to feel a little hollow inside. Then one day while at the Olivia Newton-John Cancer Wellness & Research Centre, he started to take note of the emphasis placed on the connection between health and creativity for patients. While he himself was not going through the treatment, he was certainly affected by his mother's diagnosis.
In need of an outlet, he found himself return to the idea of the film festival, which led to the creation of Byzanfest, the world's first web-based film festival dedicated to Orthodox Christian short films.
READ MORE: How to talk to your kids about Byzantium
COMBINING FAITH & CREATIVITY
Chris has always been passionate about film and creativity in general. While a student he dabbled in making short films, and later at university founded the Queen Street Film Festival, named after the law campus he attended.
But as a devout Orthodox Christian, Chris found himself time again being driven by his faith-based values. Sure that there would be others like himself out there, and in a bid to connect with those more like-minded, in 2008 he created Transfigure Media, an indie-Orthodox Christian online media-house.
From there Byzanfest stemmed, the name an homage to the Byzantine Empire, launching in 2014, and is now back in 2019 with the plan to continue as an annual event.
The premier screening will take place on 21 July at St Haralambos Greek Orthodox Church in Templestowe, and at the conclusion all films will be made accessible online, free to view around the world.
People are encouraged to watch the films and engage with them and other viewers by sharing their thoughts via social media.
READ MORE: Letter to the Editor: All was not right in the Byzantium
BYZANFEST 2019
Twelve short films have been shortlisted for this year's Byzanfest, ranging from three to 25 minutes long, with entries from Orthodox filmmakers across Australia, Greece, the USA, Canada, Georgia, Romania and Serbia.
Films are not required to have an 'Orthodox' subject-matter, but rather created by an Orthodox Christian filmmaker who has remained faithful to their Christian values during the creative process.
Titles include 'Christmas Anti-fable' a Greek sci fi/noir film by Efthimious Hatzis, 'The Gloater of Notre Dame' from Serbian director Bojan Teodosijevic, along with sci-fi/comedy 'M.A.R.C' and comedy 'The Lonely Scientist' by American Nick Shaheen.
In the Drama category there is 'The Alternate', the only Australian film, by brothers Stephen and Andrew Robinson, and 'A Cup and Bread' by American director Nicholas Loper.
The line-up also features a number of documentaries, including from Canada 'Fr. Tanase's Sanctuary for the Hurt' and 'The Making of Orthodox Wooden Icons' both by director Andrei Russu, and 'The Middle Way' by Luca Tarantini; as well as 'Icons' by American director Craig DiRienzo, and 'Under the Archangels' Wings' by Dinu Cristian from Romania.
The festival founder says he has been impressed by the calibre of entries, the majority of which are by experienced filmmakers.
"But I have one I need to make special mention of," he says, highlighting documentary 'The Throne of Saint Sava' by 14-year-old Serbian filmmaker Jakov Popov.
"He's been making claymation films since the age of 10. His father's an iconographer so maybe that's where he gets his inspiration," says Chris. "But he's made an exceptional film which is in celebration of the 800th anniversary of the Serbian Orthodox Church's Autocephaly, so I think that's going to be quite a popular one. But remarkable work and I can only imagine what he's going to do in the future."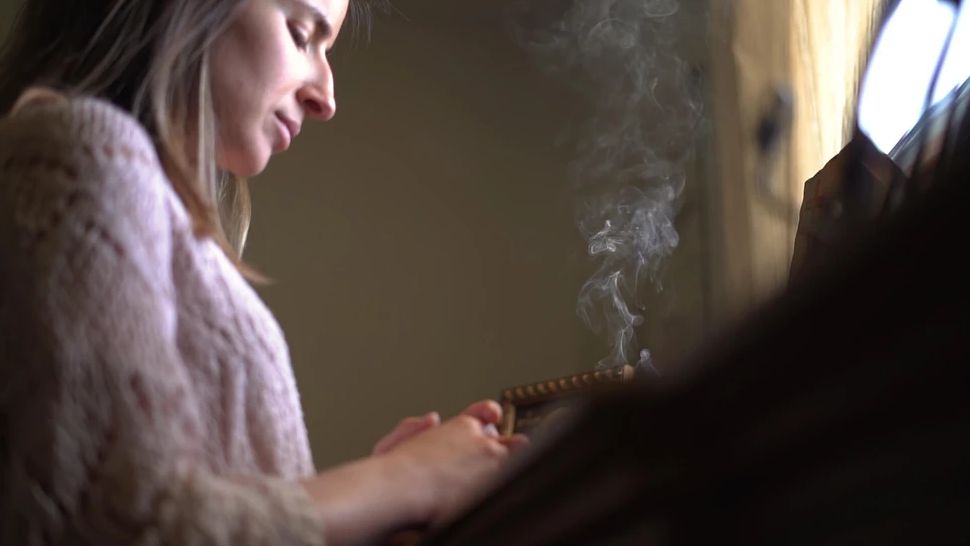 WHAT'S UNIQUE ABOUT ORTHODOX FILM?
Chris has always been a spiritual person. Having grown up in a Greek Orthodox household, he says that while his family did not attend church every Sunday, the times that they did, he felt an undeniable connection.
It was after graduating from high school, that he started to further explore his faith.
"I just had more of that freedom to learn and get more deeper into it, and of course it's all about engaging and showing what we can do," he says.
"I believe that it's not something that needs to be forced; I'm not doing this to force or brainwash anybody, it's just simply expressing what's already there for me and so many other people that I've met. It's not like a political message they've trying to strategically interweave through; it just comes very natural."
While each film he has come across is very different, Chris says there is an undeniable commonality among the work of Orthodox Christian filmmakers, which he describes as "honest".
"One thing I've learnt from examining especially Orthodox feature film with, and I'm not trying to cause any conflict, but other Christian filmmakers is how there is a real honest approach to portraying the characters and showing them as being like us, really flawed, and they're trying to work on getting better. Whilst I sometimes find with other Christian or spiritual filmmakers, they tend to try and create this one character that's almost perfect and at times it feels very forged and not very natural," he explains.
Chris puts this down to phronema, the mindset of the filmmaker, which he believes is guided by one's faith-based morals and identity and subsequently reflected in their work whether it has an explicitly spiritual message or not.
CREATING CONNECTION
So far, Byzanfest has been well received, especially by the Orthodox Church. In 2018 Chris was invited to speak in Crete at the 2nd International Conference on Digital Media and Orthodox Pastoral.
"It was a fantastic experience," he says. "There were a lot of networking opportunities; I met the Byzanfest judges through there, and also just learning about what the future will be with the digital sphere. Basically it's going to become more and more integrated," with Byzanfest being an example of that.
But aside from using technology to promote filmmakers and there work, for Chris there is a much bigger picture; it's about creating an opportunity for human connection, which is in large part why aside from bringing people together online, he is set on holding screenings at venues around the world. The festival has grown to include 11 screening partners in Australia, the US, Canada, and Serbia.
"I think we live in an age now where a lot of people are searching for that sense of belonging and fitting in, and I've always felt that it's through faith that I have been able to experience that strong community.
"With the global screening partners, it's about giving churches and also individual organisations the opportunity to actually get together with their local people and create an actual social physical event.
"I guess that's what I've always liked about Byzanfest; more people will get a better appreciation of Orthodox visual storytelling, but also discover new people."
Byzanfest 2019
When + Where: 21 July-4 August, 2019
Sunday 21 July: PREMIERE NIGHT
St Haralambos Greek Orthodox Church (Templestowe, VIC)
Monday 22 July:
St John the Baptist Serbian Orthodox Church (Wollongong, NSW)
Friday 26 July:
Sts Constantine & Helen Greek Orthodox Church (South Yarra, VIC)
Saturday 3 August:
Dormition of the Theotokos Greek Orthodox Church (Mt Gravatt, QLD)
The Transfiguration of our Lord Greek Orthodox Church (Thomastown, VIC)
Sunday 4 August:
St George Greek Orthodox Church (Rose Bay, NSW)
St Nicolas Greek Orthodox Church/Hellenic Club (Canberra, ACT)
Byzanfest Awards Night
When: 4 August, 6.00-9.00 pm
Where: Greek Orthodox Church of North Altona & Districts
Specific details can be found at https://www.transfiguremedia.com/byzanfest