Migrants move with the future in mind, but their journeys inevitably involve excising part of their past. Moving forth for a better life, little by little, they discard parts of themselves and leave the skins of their old identity behind. And it's these skins, shards from moments suspended in history, that have been carefully collected and positioned through the different halls of the Dardalis Archives at La Trobe University.
On first appearance, there's the feeling of being in an old Greek classroom with walls packed with projects, photos and nostalgia. And the images captured by the 40,000-50,000 photographs of the collection look somewhat familiar, not just because many of them feature once-prominent members of the diaspora but also because they look like photos any diasporan might have in their family album capturing Greek school events, weddings, baptisms, and other special moments.
As one image leads to another, memories are evoked, and you may even catch a waft from the aromas of yiayia's disinfected house that makes you look for doilies and half expect yiayia herself to appear. If you grew up Greek, you may, while visiting the archives, remember a version of yourself when you had a yiayia. It's natural to want to well up a little when encountering a disappearing world of a people in transit as they move from one land to another.
Even Michael Protopapa, caretaker of this project and our guide through the archives, chokes up a little from time to time.
"Everything here reminds me of my childhood," he tells Neos Kosmos.
"I got involved by accident. I wanted to find out which films Stathis Raftopoulos had given to La Trobe University from his collection. I rang them and asked to see what they had and they told me that a basic listing was being done. I offered to do a condition report of the films because these deteriorate over time. I didn't want to be paid for this, but did it for the love of the project. It took me around four weeks to complete, and, at the end, they said, 'Do you mind if you stay for a few years and be involved with the collection?'"
READ MORE: Delving into the archives, one box at a time
Now involved in a professional capacity, Mr Protopapa has been working as part of a team involved in resurrecting the archives. Carefully scrutinising every document, photo, film that is part of the vast collection – one of the largest in Australia – Mr Protopapa says he feels a sense of wonderment as he sifts through the stories.
Migrant stories
Established in 1997 by Greek Australian businessman Zisis Dardalis at the former National Centre for Hellenic Studies and Research (NCHSR-EKEME) at La Trobe University, the material was put into storage after the Centre closed down in 2008. It saw the light of day again in March 2013, when La Trobe's University Library undertook the task of assessing and listing the material stored in 76 pallets and thousands of archive boxes along with 80 linear metres of bound newspapers, newsreels, films, artefacts, photographs and other materials that were either donated by families or paid for due to their historic significance in documenting the migrant story.
Mr Protopapa, along with Maria Ammazzalorso and Leonidas Veikos, were tasked with listing the Greek Archives material from 2012 until the end of 2015. It was a Herculean task that required great perseverance and creativity as they organised the archives into a wide variety of subjects related to Greek Australian migration, history, religion and culture.
Heroic stories that would otherwise be lost are documented: a letter of gratitude by British prime minister Winston Churchill's private secretary to Greek fishmonger Marmaras, known as the father of Australian soccer after he went to Switzerland to successfully negotiate Australia's return back into FIFA; documentation showing Anthony JJ Lucas' (Antonios Lekatsas) involvement in the creation of Melbourne's iconic Capitol Theatre; and material donated by the family of Alfred Kouris, the businessman who championed the 'retail revolution' that resulted in late night shopping on Friday nights. And many more migrant tales ooze from photos, old Neos Kosmos newspapers dating back to 1958 and faded club newsletters.
READ MORE: The Greek tale behind Melbourne's iconic Capitol Theatre
Newsreels of history
The film room holds special significance for Mr Protopapa as it marks the reason he got involved in the first place.
"I did it because I just love films. I studied films. I grew up with films. My uncle (Panagiotis Yiannoudes), when he first came to Australia, started his business importing films here, and I grew up with this," he says, pointing to the 90 films of the collection donated by his uncle's partner, Stathis Raftopoulos.
"He not only donated the films but also the newsreels sent by the Greek government every week from the 1960s to the mid-eighties, machines, typesetters and blocks for printing.
"Community cinemas were forced to screen these by the Greek consulate in Australia, and there were issues with these being screened as a lot of people didn't want to see the colonels before the films. Today, these are interesting because they feature how the dictatorship wanted to portray itself. The newsreels, a historical documentation of Greece's development, all ran in Greek cinemas during my childhood in the 60s and 70s, have a special place in my heart, and weren't just about politics but also about new roads and fashions etc."
There were 1,200 Greek films commercially released in Australia to help keep Greeks connected to their homeland. They would swarm to community halls screening films such as 'I Thyela Perase' (The Storm is Over, 1942), one of only two Greek films created during the German Occupation of Greece.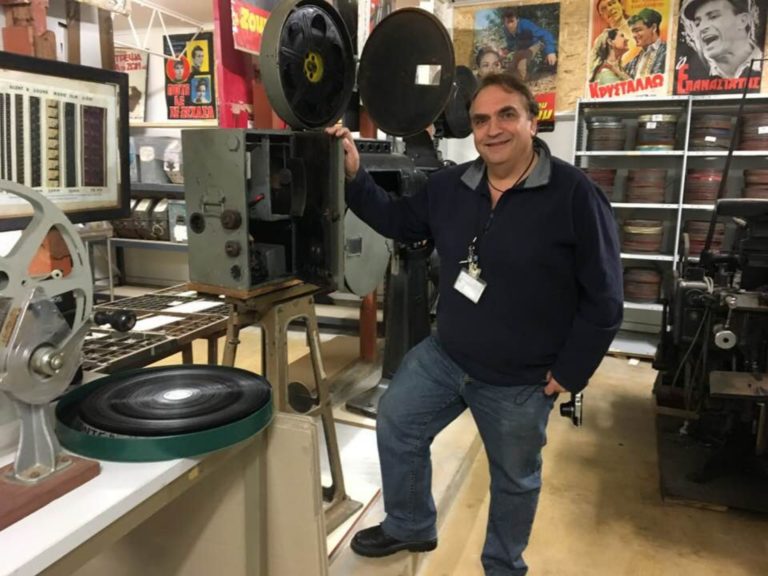 There are plans underway for movie nights, and there is already a seminar series that runs through to 6 November, bringing to life research material from the archives.
READ MORE: Opinion: A parallel universe – Growing up Greek in the 50s and 60s
"The idea is to rekindle people's interest," Mr Protopapa says. "We hope to also digitise the photographs we have so that they don't deteriorate and to ensure they are an important research facility for historians."
At a time when the Immigration Museum is looking to change its role, the archives are of increasing importance for educational research and to ensure that the contribution that migrants have made does not fade over time.
The next lectures of the seminar series take place at the Greek Centre (168 Lonsdale St, Melbourne VIC) on 18 September (Dr Dimitri Gonis: Three Greek pioneers – Mick Adams, Vlase Zanalis and Harry Corones); 2 October (Peter Yiannoudes: History of the Greek Cinema in Australia, Greek); 6 November (Dr Toula Nicolacopoulos and Dr George Vassilacopoulos: Post-60s Greek-Australian Youth Activism).
The Dardalis Archives are located at La Trobe University and are housed at the corner of Kingsbury Drive and Waterdale Road, Bundoora VIC. Email in advance to visit.