Sydney-based singer Efi Karra has come a long way from putting on shows standing on top of a trunk in her childhood home.
Building her career on home soil and abroad she has sung in some of Greece's biggest nightclubs and worked with the likes of Dimitris Mitropanos, Katerina Stanisi and many others.
Her passion for Greek music is evident with every excitable word she uses to speak of her singing experiences over many years.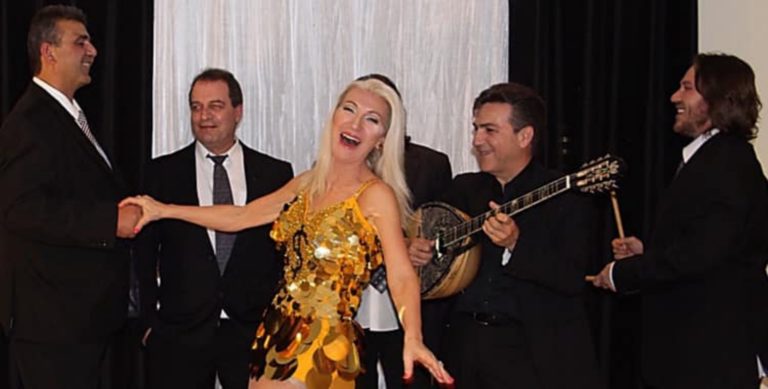 "I just love the Greek language. The Greek language, when it comes to love songs and break up songs, can describe pain really well. When I have one of those nights where I want to listen to something really sad, its always Greek," she laughs.
Videos of her singing live posted on Facebook page Greek Music to the Max have amassed thousands of views with one even hitting over 250 thousand hits.
With the help of producers and songwriters Giannis Rellis and Petros Kostopoulos, Efi released her debut single, Kleo, ponao, matono earlier this year.
The song found its way to her in what she describes as a "serendipitous lucky moment."
"My friend was uploading videos of me singing live on Facebook and Giannis Rellis saw them and approached me and said 'I've heard your voice, I've got a song that's actually quite beautiful and I would like for you to hear it and if you love it as much as I do I think you'd be great to sing it.'"
Efi was so blown away by the song that she packed her bags and made her way to Thessaloniki to get recording.
"I've had people offer songs to me before but I didn't really like them. They didn't speak to me, but this particular one I loved. I'm a sucker for love songs!"
When it came to the video clip, she insisted on filming in Sydney, bringing together her artistic vision of expressing her Greek heritage and her life in Sydney.
The music video was featured on MAD TV, making Efi the first singer based outside of Greece to be aired.
"Being accepted on that platform is an amazing thing and I'm so humbled by that…It means a lot to me that I've come on that level and there's no reason that their eyes can't be opened to doing this for other artists in the future."
Looking to the future Efi plans to do more recording and song writing of her own, blending old and new styles of music.
"I want to do a follow up song to 'Kleo, ponao, matono', but the next one will be more of an uplifting song, more fun and light-hearted. And I'll be doing some appearances on Greek television as well."
You can find more information about Efi Karra and her music on her official Facebook page.