Vassy Petros, Antipodean Palette Co-ordinator (2013-2015) & Art Team Member (2018-current):
BEFORE ISOLATION: The'Antipodean Palette was to celebrate its 10th year as a special event titled Connection. Facilitated by the GACL and SongLines Music Aboriginal Corporation, it was to be a unique collaboration between First Nations People and Greek Australian artists, through a sharing connection and celebration of two cultures
IN ISOLATION: we are all becoming aware of the dilemma faced by artists due to the pandemic. It has immensely damaged the Art industry with the cancellation of numerous art events world-wide. However, it is during this time in isolation that many of us have unexpectedly been inspired to take on new challenges.
To many, isolation has provided a rare opportunity to focus on one's self through art, expressing, sharing emotions and inspiring others, thereby amplifying the fact that creativity is both a need and a therapy in times of stress. We all witness how the art world comes together daily using art as the vehicle of expression and social media, driving it forward.
Our exhibition co-ordinating team, faced a real challenge converting the Antipodean Palette, a highly social annual event, from a gallery setting to an online platform. In doing so, we called for submissions relating to the theme, 'In Isolation'.
This year we have presented 15 Greek Australian artists who have offered intimate thoughts and emotions through their work in a new online format, the first of its kind to be hosted by the GACL, proving that artistic expression and innovation can arise from any challenge.
BEYOND ISOLATION: The GACL will continue to support the community in the Arts and Literature as it has done so for the past 50 years. The unexpected challenges we have faced, have only ignited a new and exciting way forward.
READ MORE: Tenth edition of Antipodean Palette goes online to reflect isolation of COVID-19
The GACL is currently in discussion with a proposal to introduce more online events, workshops and a new platform to support artists in what will be the first 'Greek Australian Artist Directory'. This is to be established as a directory database introducing individual artists, art organisations as well as Greek Australian writers and poets. It will be made available as an online, digital resource to be utilized for research and education by artists, curators, teachers, students as well as the general public.
The GACL hopes that in time, the 'Greek Australian Artist Directory' will become an important community resource and an archive of Greek Australian art and literature practice in Australia.
The online In Isolation art exhibition can be viewed: www.gacl.com.au
---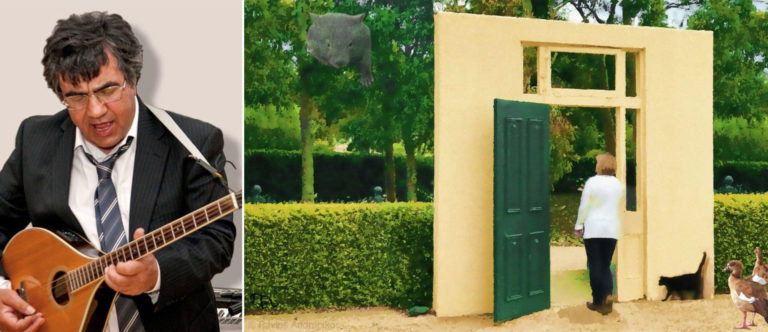 Pavlos Andronikos, The Door in the Wall is the title of his work appearing in the Antipodean Palette online:
The pandemic affects me in various ways. Given my age and health, my chances of surviving the virus in its more virulent manifestation are slim. Shopping has become a game of Russian roulette, where just touching a package touched by someone with the virus could lead to an untimely death. Then there is the financial aspect. As a retiree I am dependent on my superannuation, and the value of that is dependent on the financial markets. How much will my superannuation be worth by the time this is all over? The threat of poverty is very real. And not just for me. What will a world where every other person is a pauper be like? I think back to the financial ills of the 1930s, and how they fed into the 2nd World War, and I worry for the younger generations and for my children and grandchildren.
As an artist who creates pictures at his computer, the lockdown could be considered beneficial—lots of time to spend at my desk—but an artist needs input, the breath of fresh experiences, interaction with other artists and the world at large. I am missing my regular get-togethers with my artist friends. Thank heaven for Facebook and video calls.
Isolation can be beneficial for an artist in small doses, but too much can drive one a bit bonkers. The line between reality and imagination begins to dissolve. I find I am retreating into memory, and spending much time resurrecting my childhood in words and pictures. I don't want the people and things I have known and loved to just disappear.
♦ Pavlos Andronikos is an academic, writer, artist and composer), is a former president of the GACL and editor of Antipodes magazine.
---
James Josephides, Life:
Although there are some strengths I have found through this time, the cons are that we are not given the same freedom we had before. Less access to facilities and the outside world has given a sour mood for everyone, resulting in a questionable nature. COVID-19 has not only given us trouble, but it has also brought upon a sense of change that has gone unseen. We have taken granted what we always had. The sense of belonging, freedom, connection, security, and well-being. Our concerns go out to the people in the forefront of the crisis and for the control that is needed to contain such a challenge for the world. It is not only up to our leaders but also up to us, the individual to make a change.
As a designer and artist, I can work remotely and quite easily in that position. Although I have not primarily been affected in that area, the way I view my work is a lot different than before. We no longer can provide experiences outside of technology. It has pushed me to go further into the digital realm and try to aid those adapting into the same world. My work is mostly digital and so I am lucky in that response.
COVID-19has however given such an impact that we realise we have taken every-day activities and people for granted. The things that we always had have now halted, forcing us to adapt to a new routine. I largely promote myself online and have done so pre COVID-19.
From what I understand is that I truly miss the in-person experiences of exhibitions, interactions with peers, friends, and family. Art can be displayed digitally, although it is not the same feeling for when you perceive it in the flesh.
Putting yourself out there online is a great way to bring back the connection that has halted. It is more important that the art community must look into new opportunities and help those within their groups, to promote each other and guide us through the current climate, supporting us with the ability to share our views, ideas and perceptions that inspire us each day.
www.jamesjosephides.com.au
---
Christos Avramoudas. Η ΚΑΘΟΔΟΣ 1:
A big thank you, Antipodean Palette exhibition and the hard work in promoting and supporting the work of Greek artists in Melbourne. It is a pleasure to be part of such an inspiring group of individuals who offer outputs revisions and thoughts showing different aspects of the same reality making the world more colourful and likeable and a little bit less threatening.
I can see that through this period of isolation that my art has become more than a hobby. It has become a consistently growing preoccupation. If this isolation is prolonged, it means more time for me to stand on my art.
It is usually in troubled times that art becomes a lifeline for many artists offering us a place where we can direct our thoughts, anxieties impulses to create something we can share with others. I wish you all good health and all the best in these uncertain times.
---
Tracey Yannopoulos, The Approaching Storm:
I miss the stimulus of the outside world, especially as I usually travel a lot. I need isolation to create my artwork, but not this much! At the outset of COVID, I was using my art to still the panic and uncertainty I felt about this new world. Now I am using it as an opportunity to be braver and more experimental.
The bushfires and now COVID have highlighted our vulnerability, the disharmony between humanity and nature. I hope we can emerge from this less selfish and more united, caring for the whole planet and not just our part in it. As an artist you have to spend time on your own, maybe humanity can recalibrate and emerge from isolation more creative and thoughtful.
I am trying to stay more connected via social media, find new connections in the art world. I promote my work via social media – Instagram, Facebook, my website and entering on-line exhibitions such as the Antipodean Palette or ones being conducted by the art groups to which I belong, such as the current Winter exhibition at the Victorian Artists Society.
In The Approaching Storm, I am exploring the new world in which we find ourselves – the strange disharmony between humanity and nature – through the metaphor of a storm. Recent events have made many of us feel a pervading sense of isolation, an awareness of the constantly changing environment, and the impending threat of danger. We are now reminded that we are no match for Mother Nature, we wait out the impending storm together yet apart, fearing and hoping that it passes quickly, leaving minimal damage in its wake. The Approaching Storm highlights every human being's vulnerability in the natural world—and our modern alienation from it.
This painting depicts the coastal region in which I found myself at the start of this pandemic, as the perfect holiday suddenly became a nightmare, and this artwork reflects the sudden tumult of the whole world. When the realisation of how life would change and how quickly, I needed to convey how I felt in an expressive style rather than my usual realistic manner. The seascape, so familiar and comfortable until that day, became unpredictable and violent – hence the contrast of dark and light colours, of the beautiful in the midst of the challenging and foreboding.
We should never underestimate the power and the untameable force of the natural world.
---
Theo Papathomas, Sparkling Diamonds:
Being in Isolation due to COVID-19 I have being watching through my window the seasons changing and I tried to capture the outdoor landscape onto my canvas.
Since COVID -19, I have been creating a lot more artworks because of the lockdown and being restricted to go out.
Over the past few months, I have learned to depend on online tools to run my art business and market my artwork. Now, more than ever, it's time to harness and tap into the power of the internet to make connections and readapt my business to a changing landscape.
Using online galleries to sell my artwork and I also get commissions to create particular artworks for clients.
---
Heidi Seraphim, Ghost Town 3:
I will describe this phase of our lives with only three  words. "Can not wait" :  Cannot wait for my camera to leave its dusty lockdown habits and start capturing vivid moments again.
Cannot wait to go outside again and hug the trees and the rivers and wanderlust in the streets with no restrictions or my breath fogging my sunglasses under the mask.
Cannot wait to write without having to pull back my drifting thoughts from all the things I can't control.
The last weeks I manage to focus on the positive side: I read more, I write more, I take photos in my house and I use my creativity with new ways. Now… I can see that only good things can emerge from here…
And all I can do is wait …