Lockdown 2.0 has made Greece look like the set of a "dystopian, post-apocalyptic movie" say expats Neos Kosmos spoke to.
Calm but complacent, expats living in the country tell us that the spirit which made Greece a poster child for lockdown when it was first imposed in March is still evident in Lockdown 2.0.
Elly Symons, Vice President of the Australian Parthenon Committee, made the decision to leave Melbourne and live in Greece when she became an empty nester. She arrived in Athens just as the first round of lockdown measures were lifted and was impressed by the professional way in which the protocols were being followed over summer as she visited Santorini, Aegina, Hydra and Ioannina.
"They certainly wanted to have the season," Ms Symons said. "But the numbers started to climb from 300 to 500, 1,000 and then 2,000 new cases a day, growing exponentially. The rate of the increase was alarming and everyone realised that they would have to shut down because the hospital system was in overload."
Having missed Melbourne's strict lockdown, she is now experiencing the second round of measures in Greece. "People were traumatised from the economic crisis and were just getting back on track, but now businesses have closed again," she said, adding that one of the "biggest stresses" of COVID-19 has to do with the blow to the economy.
"Mental health issues also definitely exist. People here live in apartments and the living arrangements are much smaller than in Australia. People are confined in smaller spaces. In Melbourne, lockdown was severe but people have their backyards."
She points to the resilience of Greeks. "Everyone goes out with a mask for an hour to exercise, to get their shopping – and everyone is relatively careful. People are just going about their business, and leaving the house by sending an SMS to go out for one of six reasons. There are no angry protests. People are resigned that they are going to be doing this for a while," she said.
READ MORE: Greece's socioeconomic crisis shown from a different point of view
It's this resignation which concerns journalist Christos Catopodis, originally from Brunswick Melbourne, who lives with his elderly father. "People are rightfully expressing their concerns about the effects on their social and economic way of life, they are gradually getting used to lockdown measures and curfew laws, overall complying," he said, adding that "police here do enforce movement restrictions, too, but not as forcefully" as their counterparts in Australia.
Elle Rekas grew up in Katoomba and Sydney but is raising her family in Athens. "People are going their business with some resounding sad acceptance that this is going to last a while and that things are unlikely to ever get back to normal," she said.
"This is a hard pill to swallow as we are social people and it completely challenges our lifestyle and way of life, the way we engage with neighbours, greet each other – it's now impersonal and at a distance. There is an increased fear of infection, and the impact on everyone socially, emotionally and financially is frightening, daunting and depressing."
Ms Rekas points to the initial hope that Greeks had, believing they would manage to emerge unscathed from the pandemic following strict adherence to measures during the first COVID-19 wave. "With the second wave, many of us have had COVID tests, know of individuals that have tested positive, many have lost jobs and are really experiencing financial challenges. In terms of impact on our daily lifestyle, many of us have accepted the new normal, we never leave home without a mask (and back up mask), antibacterial gel and / or gloves. The minute we get home, we rip off our clothes, shoes and change. We all order online or via telephone," she said.
A working mother with two young girls, she finds online learning to be a challenge. "Online learning is difficult because it is not as interactive, and the children miss the social element that is so incredibly important to them. The additional challenge is technology. With three of us online simultaneously, it is a load on connectivity. This, combined with every child getting online for one class is a challenge. Its assumed that a household with two children have enough laptops/notepads available for each child and it's not the cause in some households," she said.
"We know children doing their lessons on mobile phones. Imagine hours in front of a small screen! The public school system requires the children to log in to different classes using a link and to watch particular educational programs on TV. For those that are not technically apt, it's a little difficult for younger students where parents need to supervise when a lesson has started and ended, and when the next one starts to ensure that their child is logged in. The TV learning is seen as novelty as my girls raise their hands to ask questions, knowing that it is not at all interactive, and they find this hilarious. It makes the learning day a little longer – and this is tiring. Being in front of a screen all day is not fun. With more than one child at home, and working remotely fulltime – it's difficult to juggle. The upside however is that there is genuinely some collegiality taking place amongst the parents, we all communicate everyday to determine who has managed to log in, who has audio or video working. We communicate send messages to the teachers on each other's behalf, we exchange information. This no doubt trickles down to the children in various ways. They play online games with each other, do video group calls and try to have some form of contact online/via phone/mobile."
READ MORE: Hellenic Initiative Australia launches Winter Appeal for Greece to help the most vulnerable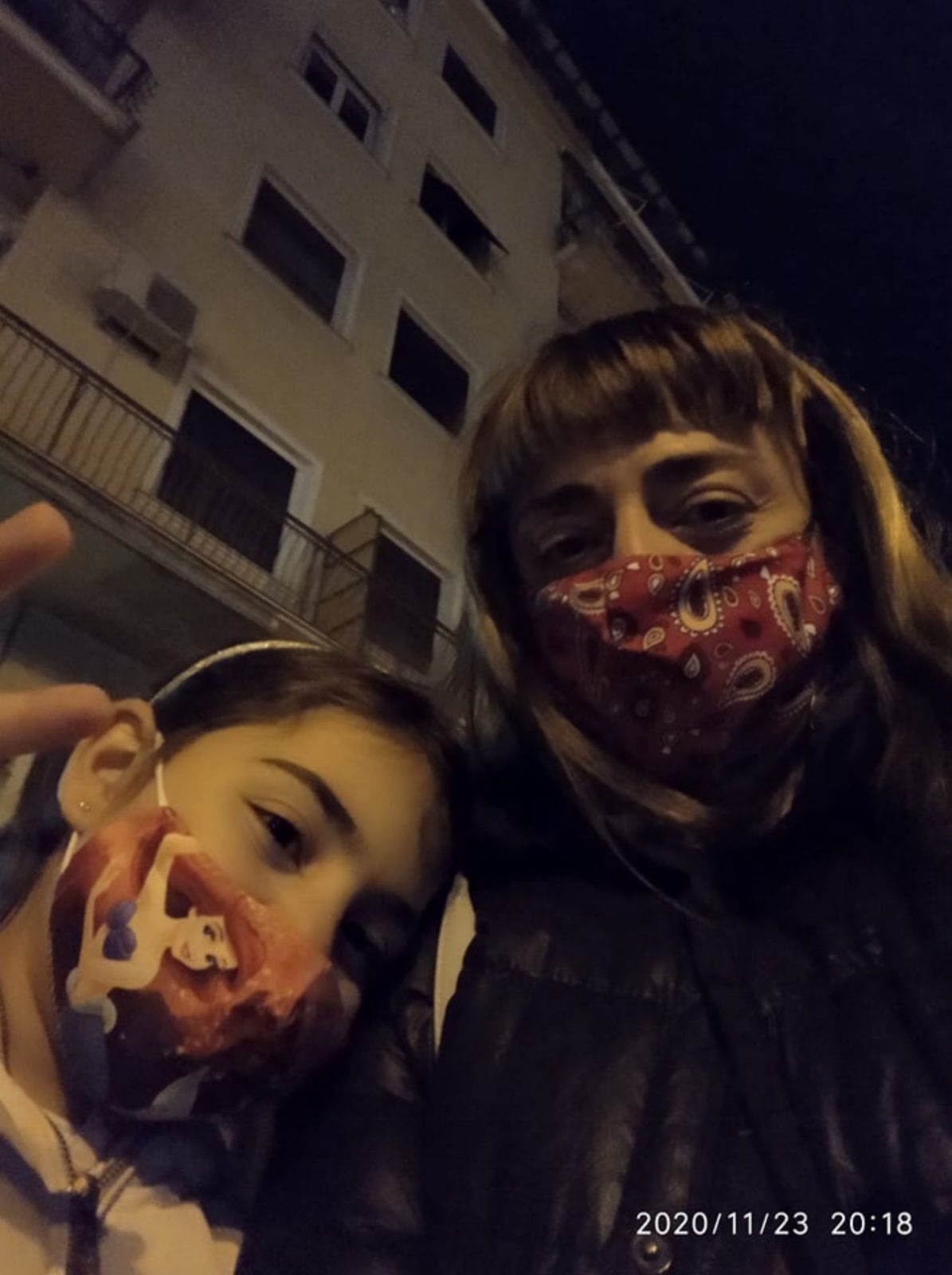 Sydney-born Angela Petrinolis is the principal of an English language institute on Astypalea, a remote island in the south-eastern Aegean belonging to the Dodecanese cluster. As an English teacher, she has encountered "poor signal, difficult connection, not being able to hear each other".
"Families with more than one child, not having the means for each child to have a laptop or tablet to be able to follow the lesson," she said. "As a teacher, having to sit in front of a computer all day, has made my life difficult. Primary schools have lessons from 2-5pm which meant having to reschedule my lessons, therefore I have morning and afternoon lessons. We all need our private time, however this has also been restricted."
Despite not having recorded any cases of COVID-19, the islanders are still concerned. "Whenever somebody feels ill or has serious health problems, they usually have to leave the island and go to Athens for their check-up or treatment. This, too, has become restricted as you are not allowed to leave the island unless there is a serious health problem. And here is the question: 'Do I have the flu or coronavirus?'" Ms Petrinolis asked.
"We have the ability to have the test here on the island, however results take days to get back to you as the sample is sent to Athens (10 hours by boat). If we are lucky enough the test can be sent by plane."
"One may ask, how can you get COVID-19 on the island if there are no cases to date? We do have visitors to the island either for business or personal reasons, and there are also those who have been to Athens and returned without being in quarantine for the required time. Therefore, there is always the fear!"
Creative by nature, Ms Petrinolis has found that COVID-19 has bought out the creativity in her. "Jewellery making has become my form of pleasure," she said.
Writer Tania Kollias has, thankfully, not found her income affected much by COVID-19, and is working online. She feels lucky as "many people are really suffering with the economic fall-out". She has always found joy with her own company, and the pandemic has not been an exception. "I'm doing pretty much what I always do. I have hobbies and obsessions. I got a sewing machine in February 2019, didn't start sewing till 24 December as I was writing a book on my dad's life ('Asyrmatos to Canada: An 80-year journey', published in February this year), got another sewing machine in February and have been taking Craftsy courses since April. I've taken loads, learnt a lot, and made a few things which is very satisfying!" she said, adding that her sewing hobby coincided with the need for mask-making.
READ MORE: Experts opinions on the chaos which COVID-19 is causing to our mental health
"I've got plenty of hobbies set up inside the apartment – sewing and online courses, bought a keyboard for Clio (daughter) and I to practise, set up an easel with art supplies ready in the dining room, book shelves full of books, a big mixer for bulk baking, and all the food shops close by. The downside is very superficial. Not being able to go to the shops that sell the things I want – supplies for sewing projects, Christmas lights so I can finish decorating the tree. Of course I can order but I'd rather just go to the place and get it."
She also misses her family, visiting her sister and seeing loved ones. "And also my parents didn't come this year and I didn't go there. That was and is hard, because they're both over 80. We miss each other. Their plans, to move here, are on hold. They're in Vancouver, Canada," she said.
Saving Christmastime
After a lonely Easter, residents of Greece are wondering what Christmas will bring. With case numbers still in their thousands, the initial 30 November end-of-lockdown date will more likely be extended.
People are decorating for Christmas a little earlier. "As this time is a little more depressing – When will this end? – many of us have pulled out our Christmas decorations early to add some festivity and cheer in the house," Ms Rekas said.
"With Christmas and New Year fast approaching, many individuals living on their own are fearful that they will celebrate these milestones without friends and family. I wanted to fly back to see my family earlier this year. We had hoped to to fly out over Christmas, as Greece was originally doing really well, but of course the quarantine costs, the second wave and inability to get flights out with ease has put a damper on that. That has really impacted us emotionally, as my parents are aging and I am desperate to see them."
As the days get shorter, lockdown is adding its own dark clouds over people's Christmas. "Restrictions may ease just for the holiday to give us a break," Ms Symons said, hopefully.
Unfortunately, with case numbers still high, Greece's government and health authorities expect the country's second lockdown to continue into December, adding that it was too early to lift containment measures as COVID-19 is still spreading fast.
Greece's government spokesperson Stelios Petsas confirmed that the initial prognostics to ease current lockdown measures on 1 December was unrealistic given the current figures.