If Dean (Konstantine) Karnazes, 58, were a car and you had one look at his odometer, you would probably balk at the mileage – by his estimate, it would over 160,000 km- but you would also marvel at how well that engine is literally running.
The world-famous ultra-marathon athlete, a Californian of Greek descent, is in Australia to run in the Kayo 1000 Miles to Light ultra-race between a team of four US runners, of which Mr Karnazes is a member, and team of Australian runners to raise awareness and funds for ReachOut Australia, the online mental health service for young people and their parents.
Initially the race was set to be run across Australia, starting in Perth and fishing in Sydney, but Mr Karnazes told Neos Kosmos that the latest COVID outbreaks had drastically altered race plans.
"Two months back, we were told it would be run across New South Wales only, but just a week into my quarantine (in Sydney) and the route has been altered again and will be confined to the Singleton Military Area in the Hunter Valley," said Mr Karnazes.
"Each day we will be running a 160km over 10 different courses. We will be running head-to-head against an Australian team," said Mr Karnazes.
So far 2,500 people had registered online to join in the "virtual run" that will complement the event that begins on Saturday, 14 August and ends 1,000 miles later (1,600km) on 24 August.
Each person who registers can run their set distance each day and upload their data onto the race website and be part of the event.
"Every day we will be updating the website with footage of the course run on the day. A film crew is making a documentary of the event and will submit some of their footage on to the website each day.
"COVID has accelerated virtual race participation. We will have a Zoom finishing party for all the participants," said Mr Karnazes.
An ultra-marathon is a distance that is greater than the 42.195km that is the traditional marathon race. Ultra-marathons range anything from 50km to 160km and much more. Mr Karnazes has pushed well past that. In 2005, for example, he ran 560km in just under 81 hours without sleep.
He has twice run outlandishly long events on earth's seven continents, from the ice fields of Antarctica to the burning sands of the Sahara and beyond. It is no exaggeration to say that running has been the vehicle that has defined the Greek Californian in the eyes of the world for much of this century. TIME magazine has included him among its Top 100 Most influential People in the World. He has written a number of books and his latest, A Runner's High, is out and now a bestseller. He has for years been a popular figure in the media and the lecture circuit, and is a businessman in his own right.
In 2006, he ran 50 marathons in the 50 states of the US in 50 consecutive days. His children, Alexandria and Nicholas were with him for many of those races and were home schooled during that time. His met his wife, Julie, at San Clemente High School in Southern California, where they were students.
"Julie is not a runner but Alenxandria and Nicholas enjoy running. They are not competitive runners but they do enjoy it.
"Outside of my running and business commitments, I enjoy gardening had have an extensive array of Greek herbs that I grow. I add them to almost every meal," said Mr Karnazes.
Mr Karnazes grandfather, Konstantine, was 14 when he left the Peloponnese to migrate to America. He left behind his five-year-old sister, Helen, who subsequently moved to Sydney and was to lose contact with her brother.
Mr Karnazes began his association with Australia when in 1977 when he came to Sydney as part of an American Field Service (AFS) Program that was publicised in the Sydney Morning Herald.
"Helen, now Mrs Zounis, saw the article and recognised the name. She sought permission from the AFS to see me.
"We were having lunch when she asked about my grandfather and I had to tell her that he died, she broke down when she heard the news. We became very close. I have cousins in Sydney and in Melbourne," said Mr Karnazes who wrote of that encounter in his 2016 book The Road to Sparta.
"This is maybe my 10th trip to Australia," said Mr Karnazes who has, of course, run a number of ultra-distance races in this country.
His next destination, COVID permitting, will be the Run Messinia ultra marathon which this year has a particularly powerful resonance as the 421km course run over 10 days will take in key centres in Peloponissos that were central to the Greek Revolution 200 years ago.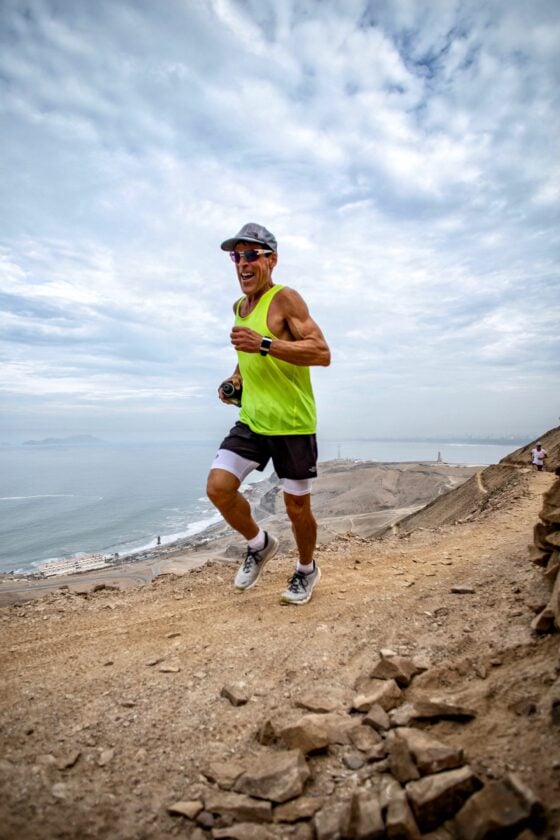 The region not only resonates with Mr Karnazes' family background, but is also witness to the greatest and most ancient ultra-marathon feat of all time, the great run of the Athenian Pheidippidis and an inspiration to his 21st century heir.
"Pheidippidis was a Hemerodrome, a professional dispatch runner for Athens and they could outrun horses," said Mr Karnazes who proved this when he outran a horse over a 160km course, beating it by "a couple of hours."
He recounted Pheidippidis' achievement of running 240km to Sparta in two days to call for help when the first Persian invasion force landed in 490BC., the running ran back to Athens with the message that the Spartans would not be coming. He then ran the 42.195km to Marathon where the great battle was fought and ran back to Athens to announce the news of the victory. He died on delivering that message.
While the story has greatly inspired him, Pheidippidis' ultimate fate has not deterred Mr Karnares who says the pain experienced in ultra-marathon running is "worse than any pain, even the tip of the nose can radiate pain."
"I have been able to push my tolerance to pain over time to the point where I do not take any painkiller when I go to the dentist.
Getting older has not dented his drive: "You will have noticed during the Olympics, the longer the distance, the older the winner of the race. Endurance improves with age."
There is no sign that Mr Karnazes' motor is going to run out of puff any time soon.
♦ To find out more about the race in Australia clink on this Kayo 1000 Miles to Light link.
For more about Dean Karnazes click on his ultramarathonman link.