Ancient Olympia is home to institutions and ideals that have shaped the world as we know it.
Visitors from around the world flock every year to this archaeological site to get a glimpse of its "ruins," and of what has remained of its glorious past.
Now, as a result of a new collaboration, entititled "Common Grounds", between the Hellenic Ministry of Culture and Sports and Microsoft, this historic site has come to life in all its past magnificence, with the tools of Artificial Intelligence, so that people from anywhere in the globe can visit and discover its structures and cultural impact, preserved and restored for future generations, as well.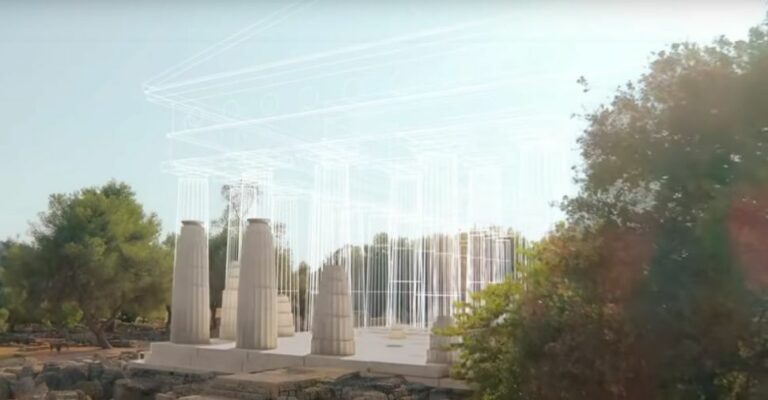 Visitors can now walk the paths of Ancient Olympia during one of the most important periods of history – through this new form of digital revival that provides a "gateway" to another era, allowing us to understand what humanity has achieved in the past and reminding us of what we can achieve today.
Ancient Olympia has 27 major monuments and many minor ones. Among them, the original Olympic Stadium, the Gymnasium where the athletes trained, the temples of Zeus and Hera where a grand sculpture created by Phidias stood as one of the seven wonders of the ancient world, the workshop of the renowned sculptor Phidias.
These have all been recreated in lifelike detail after extensive research by the Hellenic Ministry's expert archaeologists to be as true as possible to their original forms. Visitors can also get a glimpse of the daily life, where citizens gathered, socialised, and conducted business during the five days of the ancient Olympic Games.
"Common Grounds is a unique way of experiencing Greece's proud cultural heritage. Visitors around the world can virtually visit the ancient site of Olympia and experience history firsthand using augmented reality technology," said Prime Minister of Greece, Kyriakos Mitsotakis.
These monuments survived thousands of years of weather, war, earthquakes, and modernization. They are conserved and restored by the Hellenic Ministry of Culture and Sports. But it was important to preserve them digitally as well, to ensure that all the evidence of the rich history and civil common ground values that the site was built upon is handed over to future generations.
"The project to digitally revive Ancient Olympia is a stunning achievement in cultural heritage, bringing together humanity and cutting-edge technology to benefit the world and empower coming generations with new ways to explore our past," Brad Smith, President and Vice Chair of Microsoft stated.
You can explore the history, structures in Ancient Olympia by downloading the app on Google Play or App Store, whether you're onsite in Olympia, visiting the new Athens Olympic Museum, or halfway around the world at home.
♦ For more information visit https://inculture.microsoft.com/arts/ancient-olympia-common-grounds.