It is no secret that Greeks have made their mark in Australia's multicultural make-up, with the state of Victoria in particular accounting for one of the densest Hellenic strongholds globally.
You have probably heard of Melbourne's reputation as the largest Greek settlement in the world outside Greece.
From past to present: Victorian Greek community stats at a glance
Victoria's documented Greek migration history reaches as far back as the gold rush of the 1850s.
By 1871, there were only 19 Greece-born women living in the state, and 127 men.
The Greek Orthodox Community of Melbourne and Victoria was established in 1897.
Between 1925 and 1929, Greeks were subject to the quota system for non-British immigrants, allowing only 100 to arrive Down Under each month.
Arrivals of Greeks in Victoria, along with the rest of Australia, started picking up post-WWII and peaked following a bilateral agreement between the two countries in 1952 for the recruitment of workers from Greece. Over 160,000 settled Down Under around that time, mostly in Victoria.
While we await for the release of the 2021 census data, we resort to the most recent stats, according to which as of 2016 some 47,000 Victorians were born in Greece. Far more are those who have Greek heritage.
Since 2011, at least 600 people from Greece have migrated to Victoria.
But how often do we think about the bigger picture? That the journey Down Under which peaked in the 1950s and 60s is a latest addition in the centuries-long history of Greek mobility and migration.
A new international exhibition to be hosted by Museums Victoria promises to join the dots of this timeline.
The collaborative initiative will explore Ancient Greek journeys and cultural connections linking past to present.
And the most exciting bit? Victoria's Greek community is invited to be part of it.
Are you a Greek Australian living in VIC? Keep reading.
Museums Victoria extends an invitation for a snapshot that is dear to you and your family to be showcased in the international exhibition expected in early 2022.
Participants can be of any generation, and the call-out is open to both families who first settled in Australia decades ago, as well as recently arrived migrants.
I'm interested. Tell me more!
Images can be as diverse as Victoria's Greek community.
Snapshots of arrivals can range from photos of yiayia and pappou on the Patris ship to those that record your recent migration journey from Greece on a plane. You might want to share treasured visual records of important life events in your family, like a wedding or a christening, or a memorable snap from a community gathering or a sporting event.
It could be everyday moments like a Sunday meal with a trapezi flooded with food, or shots of particular importance to you like a family business.
Museums Victoria welcomes any image celebrating Greek Australian migration, settlement, life and community according to your own experience.
How do I take part?
Photos can be submitted online via the dedicated website for the call-out: museumsvictoria.com.au/ask-us/calling-greek-victorians/
Upload your photo of choice with a less than 50 words statement explaining why this photo is special to you, and your contact details.
Looking for snapshot ideas? We revisit a sample selection from past Neos Kosmos community stories, to inspire you.
– Heading to the park for a picnic under the sun has been a staple outing for Greek Australians.
"I have the fondest memories of those legendary picnics[…]It was our parents that wanted us to all stay together and have a sense of belonging here in xenitia[…] It was a ritual. My mother would get up extra early to prepare food," recounts Doris, a South Australian Greek in an interview with NK.
For Victorian Greeks, Mornington Peninsula has remained a popular destination for the purpose especially on public holidays.
– Anyone who doesn't remember seeing a baoulo, the glory box for the dowry collection?
Some younger generations have carried on the tradition giving it their own take.
Back in the day, many would rely on merchants like 'Sympetheros' who were trading manchester items and other goods door-to-door with a van.
– You might have heard the story of the Begona brides.
"I was anxiously awaiting to meet my bride holding a bunch of flowers and her photo in my hands," Greek groom of that era Charalambos remembers in a past interview.
In 1957, 900 young Greek single women known as nyfes (brides), left their families and homes embarking on the journey to Australia in quest for a better future.
Greek migration has come a long way since then.
This 2021 Australian Open snap of a toddler holding a Greek flag is testament to that.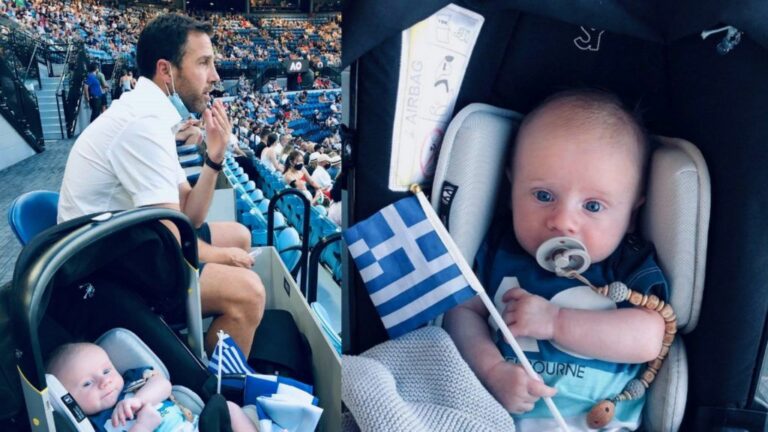 Little George was born in Melbourne with his parents having recently settled in Australia from Greece.