Greece has enjoyed a tourism boon for its 2022 summer – the best season in years.
Pent-up demand after two years of Covid's global border closures has resulted in 35 million tourists visiting the eastern Mediterranean nation.
Katerina Evanglidou is the founder and owner of Kartousa (Καρτούσα) – a unique jewellery and fine craft business.
She's a survivor and a pioneer in Athens' inner city suburb of Psiri.
Katerina and her husband, Konstantinos Yiogos, are parents to a 15 year old daughter, they opened Kartousa in 2001.
Since then they have worked assiduously and damned hard to survive the vicissitudes of Greece's economy, politics and regional uncertainty to make Kartousa a mainstay of Psiri's cultural cluster.
"Since we opened we faced major storms but we are still here; we had the financial crisis and then Covid," Katerina says.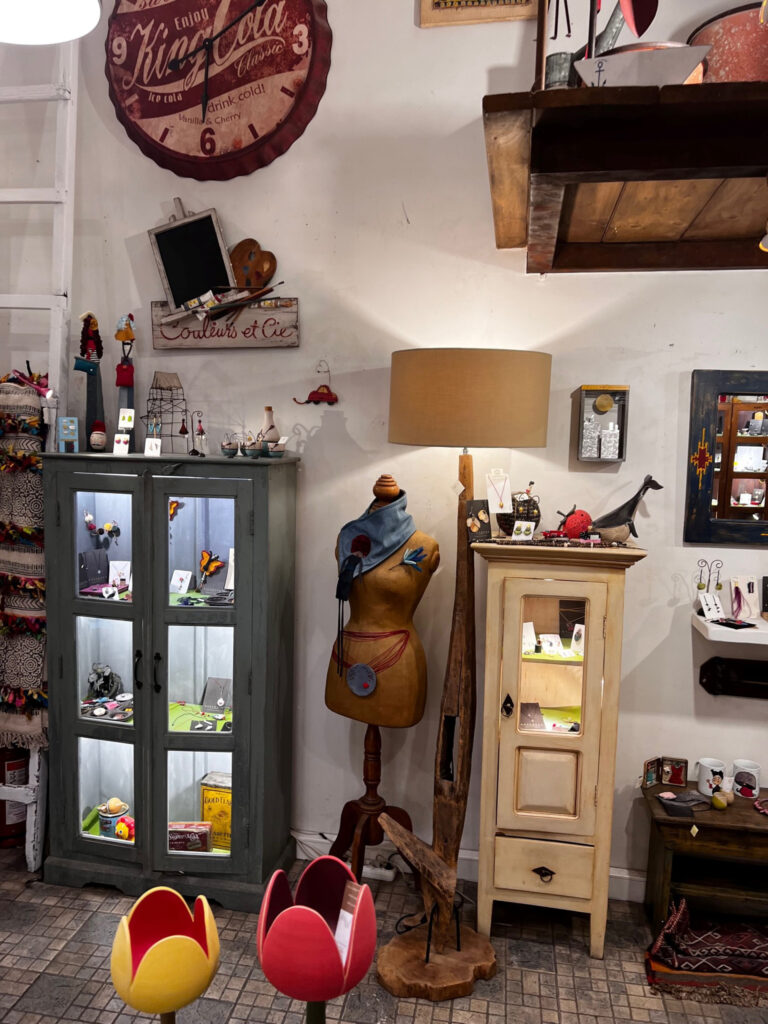 "As a woman, and as a mother, I have survived because I love the job, and I can say we have done so with a passion and a tenacious commitment to quality and uniqueness," Katerina says.
Psiri, shows no evidence of the financial crisis that befell Greece in 2014 – 2016. Nor, the lockdowns and border closures that impacted on the world.
Yet, most of the the areas' small enterprises -many reliant on entertainment, tourism and retail, suffered as did tourism, one of Greece's core income streams. Greece has often been described as a nation of small enterprises, artisans and shopkeepers.
Katerina stresses that she and her Konstantinos were pioneers in the regentrification of Psiri.
"I opened Kartousa as one of the first arts and jewellery spaces in Psiri, long before the neighbourhood became trendy."
Psiri was once a working class area reeked of urine used in leather tanning. It was clustered with bric-a-brac shops and small service industries like brass welders to basket weavers.
Like many other inner city burbs across the world, Psiri started to gentrify in the 1990s.
It is now lined with farm-to-table restaurants, clubs, bars, taverns, live music venues, designers, tattooist, and galleries.
"My father was a restorer of neoclassical buildings all over Athens, and it was his work that inspired us," says Katerina
"My knowledge and experience comes from my father."
Konstantinos and Katerina designed and built the shop from bottom up.
"We rebuilt the whole front of the shop, that's why we called it Kartousa (cartouche). The neoclassical Kartousa above the entrance is emblematic of our personal history and Athens."
Konstantinos' uncle ran a workshop for years before the metamorphosis. Katerina says Kosta worked in it when he was young.
Kartousa has unique pieces by Greek jewellers who work with mixed materials.
"All the creations by Greek artists, and jewellers we select – we are very committed to Greek artists."
"The space houses feelings, creations, imagination, and dreams."
Kartousa, (Cartouche) has meaning for Katerina. Kartousa, is the carved tablet used since Ancient Egypt, a stone emblem with rolled-up ends, bearing an inscription.
"It was used on many of Athens' neo-classical buildings, this building which now houses contemporary art but is still linked to its heritage."
"My farther restored kartousas on the exterior doors of Athens' neoclassical buildings, or in the interior decoration of ceilings, to denote who lived in there or the function of a building" she says.
Her father, a restorer of Athens' neo-classical built heritage, is referenced in what Katerina and Konstantinos established.
"It's about distinctive works by jewellers and and makers."
"In the 1950s, it was a beautiful courtyard of a detached house and later, from the 1970s, a motorcycle workshop," she says.
Katerina sifts around a draw and finds a faded colour photograph of the [motorbike] workshop. She keeps it as an artefact and a memory map to highlight the transformation.
"I keep it to remind myself of all the hard work we did in transforming this place."
For more information go to www.kartousa.gr/en/