Politics to Greeks is oxygen. Democracy is our baby and we're having a democracy festival this weekend in Victoria.
There are Greeks in the two major parties, Labor and Coalition, and the Greens, and there is a gaggle running as independents, Animal Justice Party, Freedom Party, and the Transport Matters Party.
There is a record number of Greek women running as Greens and as independents in this election which may reflect a more jaded view of the main Labor and Coalition parties.
Neos Kosmos sought statements of values, or key issues from the majority of Greek candidates. Some responded, others did not.
For those that did not respond we trolled though their social media and went to past reports in Neos Kosmos. We do not have responses or comments from all the candidates.
Australian Labor Party (ALP)
Steve Dimopoulos PM represents Oakleigh a Greek hub in Melbourne's southeast. Dimopoulos was made Minister for Tourism, Sport, and Major Events for Creative Industries in June, as one of the new faces in cabinet after a spate of post-pandemic ministerial resignations.
Oakleigh is Dimopoulos' home ground, "I grew up here. I live here," he said.
"Imagine counting all the time we have all wasted waiting for trains to pass. The absolute frustration of waiting in traffic – stuck – thinking you are about to get through and then seeing those boom gates go down again."
"Next year our whole area will be level-crossing free. So many years of waiting, we will have achieved this all in eight.
"We promised 50 by 2022. [and] We've done 67. All up we will remove 110.
"When we say Labor is doing what matters – this is probably as good an example as you could get.
Dimopoulos said, "only a Labor Government will deliver for the Greek community in Victoria".
He emphasised $400,000 over the next four years as a commitment to the Oakleigh Glendi. "You know it. You love it. And so do we. Labor will back our Glendi support a strong and vibrant multicultural and multifaith Victoria."
"Our multiculturalism. It's why we've supported festivals across Victoria."
Kat Theophanous MP is the member for Northcote, who took back the suburb from the Greens in the 2018 state election is fighting to keep it. Northcote, the inner north community was a traditional working class, Labor seat settled many Greek, Italian, former-Yugoslav and other post-war immigrants. It is now a trendy and vibrant area, increasingly colonised by progressive professionals with few links to the traditional diversity of the area. Theophanous told Neos Kosmos in a recent interview that there is still a very high level of diversity in the area which the Greens tend to sidestep in their policies.
In a Facebook video Theophanous said, "The inner north is my home that's where I raised my family."
"Before politics, I spent years working to deliver family violence reform. "Now I'm getting on with delivering real action for Northcote. We've upgraded local schools, made kinder free, removed level crossings, and finished the Chandler Highway Bridge.
"Labor is making studying nursing free, hiring more nurses and paramedics. And we've opened new public health services and we're leading the nation to reduce emissions and protect our climate. Labor is doing what matters."
Theophanous said that the Chandler Highway Bridge has been turned into a beautiful pedestrian and cycling path.
She added that one of Melbourne's worst bottlenecks became a new six lane bridge for the thousands of people who travel this route every day.
She also focused on Labor's promise to build an Early Parenting Centre in Northcote.
"It will be a safe place to come, stay the night if needed, rest and recover and know your baby is in helping hands."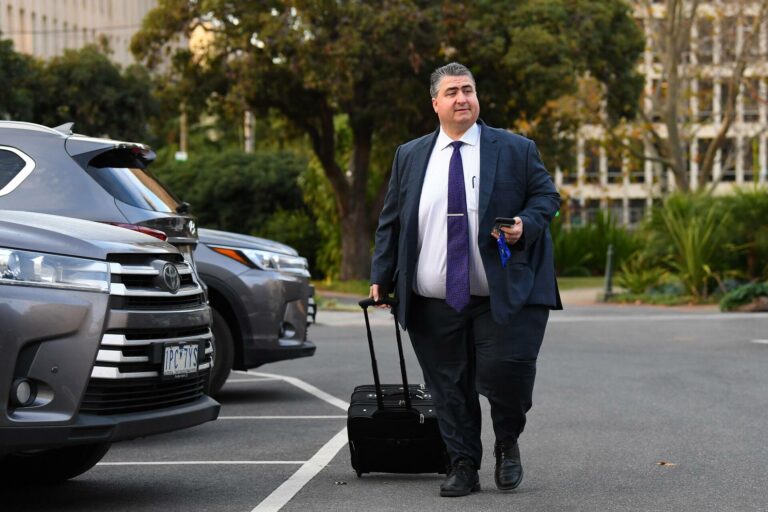 Lee Tarlamis the Member for Southeastern Metropolitan Region. Tarlamis focused on the new TAFE campuses and "record investments to upgrade existing facilities – including state of the art facilities at Frankston and Dandenong."
"We've made over 70 courses available in Free TAFE, which has led to record enrolments in courses directly connected to growing industries with secure, well-paid jobs."
Tarlamis said that Labor will open "Free TAFE to every single Victorian – even if you've already got a higher qualification."
He said that a re-elected Labor Government "will invest $500,000 towards a state-wide 'world cup' tournament for men and women. Our All Nations Football Cup."
"It'll kick goals for local clubs, multiculturalism, and our economy.
Inspired by the Knox City Football Club's – All Nations Cup tournament the winning teams will be going home with $50,000 in prize money, Tarlamis said, adding that it "will be a celebration of our diversity" and a big event.
He also emphasised tailored services for the diverse communities living in the Southeastern Metropolitan Region across health, welfare, and mental health services.
Nick Staikos MP is the incumbent in Bentleigh and in a statement he said that if re-elected, an Andrews Labor government will "deliver a safer pedestrian crossing on Centre Road for parishioners of Saints Raphael, Nicholas & Irene Greek Orthodox Church in Bentleigh."
"Saints Raphael, Nicholas & Irene Greek Orthodox Church has been the centre of Bentleigh's Greek community for many years. It's my local church where I have enjoyed many special occasions with my family."
"We're making it easier and safer for pedestrians to cross Centre Road by creating a new pedestrian crossing – keeping families safe."
Stella Zigouras is running for Labor in Mildura. In her online statement she writes that "Victorians will get home sooner and safer by delivering road safety upgrades for communities in every corner of our state."
Zigouras said that her life has been dominated by two things – a commitment to a 'fair go all round' and to singing.
She has experience working in a small family business, singing opera and classical music and fighting for disadvantaged people and injured people.
"I have a deep love for Mildura and I'm the granddaughter of a pioneer Merbein fruit farmer." Her mother grew up in Merbein and also taught at the Mildura High School.
She said that she values hard work, social justice and her love of learning can be attributed to her family, residents of Sunraysia for 100 years.
"Thanks to Labor, Mildura Base Hospital is once again a public hospital."
Coalition
Andrew Katos (Liberal) in South Barwon is running again to snatch back the seat off incumbent Labor member Darren Cheeseman. Katos, held the electorate for eight years before being beaten at the 2018 election, when the Coalition lost 18 seats.
Katos told the Geelong Times that his "deep passion" for the South Barwon electorate stems from his "life-time connection to this community, having grown up here, and now raising my family in the same community."
Katos in a Facebook post attacked the Andrews Labor government over Victoria's health system which is in "a very poor state."
"Our ambulance system, our 000 system, our emergency department's hospital beds, [the] record waiting lists are all on their [Labor] shoulders."
Katos said that if elected the Liberals will reprioritise the construction of the Box Hill to Cheltenham rail line, estimated to cost $35 billion and "reinvest that money into Victoria's entire health system."
He hit at Labor over the commitment made by Daniel Andrews to build that Geelong women's and Children's Hospital four years ago.
"We still haven't even seen a set of drawings, much less a physical building, and staff to provide that important service for the Geelong community."
Nick Stavrou (Liberal) is running for the Legislative Council (Upper House) seat representing Southern Metropolitan. Stavrou has had extensive experience in local government but is throwing his hat in the ring for the cut and thrust of state politics.
Stavrou told Neos Kosmos that the pandemic had a "massive impact and Labor's management of it was bad, it was too heavy handed."
"Hotel quarantine was badly handled" he said, then asked, "How did they [Labor] precure the people that were managing that?"
"We were locked in for the longest in the world, that's not a sign of good management," Stavrou told Neos Kosmos.
He said that Victoria's "underfunded health system" was under extreme pressure not just because of the last two years, "19 years of the last 22 years Victoria has been under Labor."
Stavrou said that state debt is a major issue saying that Victoria's debt is greater than the combined NSW and Queensland debt.
"The proposed Suburban Rail Loop, is going to cost $35 billion, Infrastructure Australia has not approved it, and Professor Michael Buxton said the Suburban Rail Loop, will become the greatest public transport infrastructure failure in Australia unless substantially altered."
Emeritus Professor Michael Buxton is head of Environment and Planning at the School of Global, Urban and Social Studies at RMIT.
Stavrou said that the Liberals are a "multicultural group with the leader himself being of migrant background, we are going forward with significant gender and multicultural diversity."
Stavrou is a bouzouki player and said he'll play win or lose.
Jim Grivokostopoulos (Liberal) is taking on the incumbent Steve Dimopoulos in Oakleigh and told Neos Kosmos that, "This is the most important election for Victoria in more than 30 years."
He said Daniel Andrews put Victorians through the "world's longest lockdown and has no plan to tackle the health and cost of living pressures."
"Another term of Daniel Andrews will mean he will continue to damage every family's future through higher taxes, record debt and a healthcare crisis."
Grivokostopoulos said the Liberals have a "Long-Term Economic Plan to reward hardworking families who have sacrificed so much, particularly over the past three years through the COVID pandemic."
He said that the Liberals "guarantee that, if elected, there will be no more lockdowns and no more mandates."
"As a friend of and advocate for our Orthodox communities including our Greek community, I ask you to please consider voting Liberal at this election.
"As a proud Australian from a Greek background, and a person of Orthodox faith, I am with you and our community."
Greens
Kim Samiotis is the Greens' candidate in Albert Park taking on Labor's Nina Taylor, who is running for the former health minister Martin Foley's seat. Samiotis told Neos Kosmos that as a Greek Australian, she knows "the importance of planning for the future of our families and protecting our connection to land and sea."
She hit out at "the influence of big donors in politics" and told Neos Kosmos that "our democracy is under threat from gambling, fossil fuels and big developers who all pay millions to the major parties to influence their policy that affects us all."
Samiotis said she is standing "for greater integrity and transparency in our state parliament and wants real action on climate change and more affordable housing."
"I would represent the people of Albert Park with the strength, equity and determination that my family has always inspired. "
Angelica Panopoulos is a candidate for the Greens in Pascoe Vale and is a local Moreland Councillor. She told Neos Kosmos that she has seen "how much more can be done by the state government to address the rising cost of living, housing affordability, and the climate crisis."
She also asked the Greek community to support her so that "we can push for meaningful change that supports our local community."
The councillor was a volunteer at Legal Aid and is "dedicated to standing up" for local community and demanding "accountability, and transparency from the government."
Panopoulos said she was proud of her achievements during her time as a councillor.
"It has shown me how much more can be done at the state level to support the needs of the electorate, especially with the lack of transport infrastructure, rising cost of living and housing affordability becoming major issues for many locals and their families."
Panopoulos told Neos Kosmos that the Greens are "committed to pushing the government to do more to tackle the climate crisis, by preserving and rejuvenating our green spaces and reducing our reliance on coal and gas, replacing it with 100 percent renewable energy by 2030."
Independents
Georgia Diamantopoulos who is representing Transport Matters Party candidate for Northern Metropolitan told Neos Kosmos that she is "fighting for what is fair."
"We need independent voices in parliament that care about working families, because the major parties have turned their backs on us."
Diamantopoulos relayed her own experience to Neos Kosmos of when in 1994, her late husband purchased a taxi licence and began work as a taxi driver.
"He continued to work in the industry until he fell ill. This taxi licence was his superannuation and the legacy he wanted to leave for his children."
"That was until the Andrews Government took it away and gave us a fraction of the value in return. Our superannuation, our plan for our children… was ripped away from us by this government."
Diamantopoulos said that the government's "decision to take away our taxi licences, disproportionately affected families in the Greek community."
"The Transport Matters Party have been fighting to correct this wrong," Diamantopoulos told Neos Kosmos.
She said she also wants to "address homelessness, support kids with incarcerated parents and fix the transport disadvantage that exists in rural and regional Victoria."
She said that through what her family has been through, she has learnt what it means to be "ignored and treated unfairly."
Fotini Theodossopoulou is running as an independent in Mulgrave. She told Neos Kosmos that our "democratic foundations in Victoria are collapsing before our eyes." She said that it's time to "implement pillars of support to ensure the sustainability of our voice and our rights."
Theodossopoulou says that, if elected, she will work "to promote the idea and implementation of direct democracy."
"Direct democracy allows the members of our community to vote directly on important policies as opposed to voting on individuals in the hope that they will represent us accurately and fairly."
She told Neos Kosmos that direct democracy will "contribute to the minimisation of corruption we are currently witnessing."
"It will also allow for the filtering of external influences and memberships that may not necessarily be in the best interest of our local communities."
Theodossopoulou said that she will work to ensure a more "sustainable and cleaner physical environment for our children and grandchildren."
Jason Caracassis is representing the Animal Justice Party in St. Albans. He was born and raised in St Albans and told Neos Kosmos that his father was involved in the ALP alongside Theo Theophanous. He told Neos Kosmos that his duty and conviction is to be a voice to those with no voice."
"Voting for me will assist the campaign for ethically moral reform needed in stopping animal trauma and cruelty to animals in the supply chain of food and other animal bi products."
Caracassis said that we need to have a "proper body of authorities that will keep all industries accountable."
"In relation to non-animal policies I would like to be a national advocate for auditing NDIS providers ensuring clients are maximising their opportunities."
Steve Stefanopoulos OAM is running for Malvern and told Neos Kosmos that as a resident and Mayor of the City of Stonnington for three consecutive years, he was the "only independent running for the seat of Malvern." The recent Order of Australia recipient is also a strong advocate for diversity and LGBTIQ rights.
Stefanopoulos wants the state government to invest in "building a new synthetic sports ground and pavilion for the Malvern City Football Club, and to upgrade our aging historic primary school buildings."
Stefanopoulos also said that it was "about time the state government properly funded our highly valued school crossing supervisors."
The candidate told Neos Kosmos that he wants to make it "easier to install solar panels on our homes, build new bicycle infrastructure and sports pavilions, and wants to install energy saving LED lights on all main roads."
He wants to get the state government "to extend the tram system to meet our train stations and remove the level crossings at Kooyong, Tooronga and Glen Iris."
Georgie (Tasoulis) Dragwidge is an independent in Albert Park. The stall holder at the South Melbourne Market is known by her moniker, 'potato lady'. Her stall, Georgie's Harvest was a centre of discussion, and exchange, during the two years of Melbourne's Covid lockdowns. Dragwidge told Neos Kosmos that she spent "nearly three years" listening to people.
"People felt they had no say in what was going on, they were really removed from the decisions that are being made, they didn't feel the process was consultative."
Dragwidge said that the reasoning behind the lockdowns wasn't "explained well enough."
"Small business suffered as there was no reasoning, or consultation about when it was going to be shut down, and when it wasn't."
"I'm not an anti-lockdown person, I'm not a big anti anything, I am not anti-Dan or anti-Guy, but it all felt there was a lack of control, and the two-party system is very frustrating," she told Neos Kosmos.
The 45-year-old widow and single mother of 15-year-old twins, is running on a platform of integrity in politics, climate action and support for small business.
Dragwidge said that the "vaccination roll out was terrible" even though as she recognises, "it was not all a state issue." The 'potato lady' stressed that she is "not anti-vax" nor "anti-lockdown" but she does want to re-emphasise the "need for consultation."
If elected she said that she will work hard for small business and all others, telling Neos Kosmos that she is "socially progressive."
"It's not just unions and it's not just big business, a lot of us are in small business, sometimes you need to know what it feels like to be a small businessperson to decide for them."
Other Greek Australian candidates include:
Voula Patrikios, Freedom Party, Bulleen District
Georgia Erevnidis, Freedom Party, Carrum District
Con Bouroutzis, Freedom Party, Yan Yean District
Andrew Filippopulos, Freedom Party, Mill Park District
Georgia, Grammenos, New Democrats, Niddrie District
Amanda Paliouras, Liberals, Preston District
Constantine Lazoz, Health Australia Party, Western Victoria Region
Parashos Kioupelis, Independent, Oakleigh District
Virginia Tachos, Independent, St Albans District
Georgia Grammenos: New Democrats Niddrie District
Ethan Constantinou: Shooters, Fishers and Farmers Party Victoria, Northern Metropolitan Region
Ken Triantafillis, Family First Victoria, Hawthorn District
Ben Mihail, Pauline Hanson's One Nation, Bendigo East District
Frank Vrionis: Pauline Hanson's One Nation, Western Metropolitan Region