Sydney restaurateur and proprietor Peter Petroulas' start up business WizButler has been awarded a US patent with an estimated value of AUD$275 million. Based on an algorithm the technology dynamically reallocates tables in real time while reallocating every booking to optimise space and reservation capacity on the dining floor.
Focusing on space instead of a fixed number of restaurant tables, Petroulias' app creates a system of so-called "dancing tables" promising to take 50 per cent more bookings online in real time during a busy service than any other booking system. The Greek Australian wiz, previously managed the awarded GPO Grand Group of restaurants and bars in Sydney's 1 Martin Place, which included the highly respected venues of Prime Steak Restaurant, Intermezzo Italian Restaurant, Postales Spanish Restaurant, GPO Cheese and Wine Room, Sosumi Sushi Train and Crystal Boudoir Cabaret. The precinct closed in June 2020 after 18 years as a result of the COVID-19 pandemic. Seeing what the industry suffered through a period of crisis, motivated him to work harder towards perfecting an idea that had long been brewing in his mind.
"I have a long background in aviation," Petroulas tells Neos Kosmos. "Picture the way we we choose our seats at the cinema online. Similarly, but differently, on the airplane, the system gives passengers a window seat or by the aisle. With that in mind I pictured people choosing their tables at a restaurant."
SOLVING THE PROBLEM
A restaurant room, Petroulas explains, is actually far more complicated than that. And this is where people for the last 20 years didn't know what to do. Mathematicians from MIT, Cornell University and technology companies like Apple, Amazon and Oracle have been aware of the inefficiencies of existing systems, have failed to find a solution.
The issue, WizButler founder and CEO Peter Petroulas said, was that all prior attempts to solve the problem fell into the trap of trying to improve the existing process by trying to develop more advanced mathematical search algorithms, while still allocating bookings to a fixed pool of tables and table combinations, Inspired by the "think different" approach of Apple founder Steve Jobs, Petroulas reimagined the problem.
"Let's say you're the last person or group of people allowed to choose their seats on the aircraft. A family of six people. What happens? You get separated. But you still get to travel. You can't do that in a restaurant," he stresses. "Every person within a booking has to sit on the one table. A restaurant inventory has to be more flexible than an airplane's or you lose bookings."
What if you could rearrange the tables, reseat the existing bookings moving the tables in the space to ensure people can both seat at their preferred spots and seats can be allocated in a way that the staff can work around tables and based on the time of the booking you can ensure people who want to stay longer are not bothered while other bookings alternate till the venue closes? This process also allows VIPs to be seated to their favourite tables or to re-allocate bookings to the best available tables.
MAXIMISING POTENTIAL
"I can try and describe this abstract scenario. You have three tables of two. In a row. Which you can actually push together to make a table of four and a table of two or a table of six. And then you have another table that's in the corner by itself. There's technically four tables of two, so when the search algorithm says that the table still available, potentially because it's doing it at random, they can put the the booking in for two on one of those three tables, which can give you more seating options. WizButler's thinking algorithm makes sure that it books the table for two in the corner first to leave the window of a different layout open," Petroulias explains, highlighting that all operators know that the only time they have an opportunity to make money is on their busiest days.
The model also introduced the ability for a restaurant to let diners and patrons to personalise their experiences by doing things like being able to select a special space, like a space that offered a water view in the restaurant as well as extended durations, dynamic menus and bespoke services.
"The system allows the venue to charge a customer an extra $10 per person for a table with a window view or to allocate a person selecting a three course menu to a window table while a person selecting a one course menu would be – allocated the best available table. Alternatively, WizButler allows for a discount for a person allocated at the back of the room, next to the kitchen.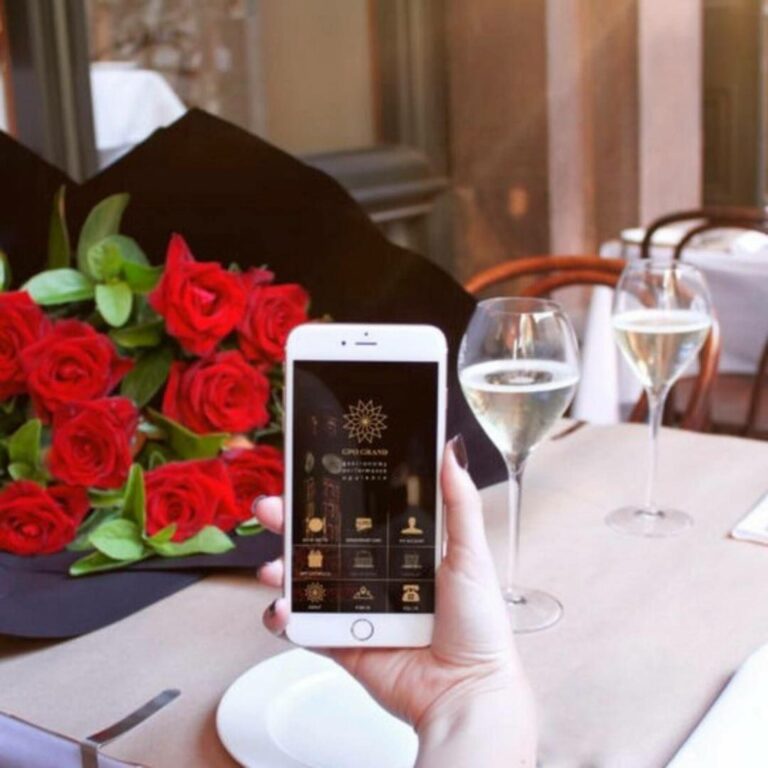 HOW DOES IT WORK?
"You can go to our website and send us a message or give us a call. I you have a council approved floor plan that's got all the dimensions we can work off that. Otherwise we would need to send a draftsperson to measure up the restaurant and tables and cartograph where very usable space is. That's a straightforward process," Petroulas says.
"From there we upload the data to the system and and schedule to spend one day with the restaurant manager or the restaurant owner to understand how they want their venue to operate ideally. Then we make that happen."
WizButler's space management system is completely configurable and can be customised to a restaurant's style of operation, whether it be a cafe, bar, casual dining or formal restaurant, including the level of automation and personalisation they wish to adopt.
THE FUTURE OF DINING
Petroulas points to Keenon Robotics, a company specialising in "dinerbots", intelligent robots that hotels and big capacity restaurants use to deliver orders to tables without involving human staff. The robots keep the food at an ideal temperature, without delays.
"Our system is the only one that could work perfectly with that technology," Petroulas says, highlighting the need to implement faster and more cost effective solutions for busy days and times of crisis.
"It's evident that this is genuinely disruptive technology and that space management and dynamic allocation will form the basis and framework of a new era in hospitality booking systems and the existing 2D systems will struggle to remain relevant.
According to Petroulas, cafes, wineries, hotels, bars and casual dining restaurants can completely automate processes to reduce costs.
Even though WizButler is still in an initial phase the smart restaurant booking system can become available to venues for $99 per month plus 5 cents per customer. Restaurants like 8 at Trinity have been using the system since opening in October 2019 and currently receive 95 per cent of all their bookings through it, including waitlists, while introducing extra tables and removing tables or rearranging tables to maximise the bookings taken.
Director of Left Bank Melbourne, Stan Delimitrou, who has been using the system for the last year, has seen bookings on busy Saturday nights increase from 220 people to 300 people, plus the WizButler mobile seating app helps seat all 300 people within 15 minutes.
"Venues won't need to find more customers to fill in empty tables while customers finish their meals and leave. They don't need to find more staff running around to rearrange the space and reallocate tables and chairs while others are still dining, run to clean and make sure that the kitchen is able to produce and deliver the orders without working overtime. Those delays anyone in hospitality is well aware of increase costs to the point there is no profit."
"This is a lot more than what could be done manually. Plus, it allows staff to focus on what matters most, ensuring the customer has amazing food and an amazing experience".