Rather than a sexy performance, belly dance is an ancient art form that celebrates movement, expression, and culture. With its roots in the Middle East, North Africa, Asia Minor, Cyprus and Greece, belly dance, also known as Raqs Sharqi, has become popular around the world, expressed with different styles and interpretations.
At its core a ritual that aims to connect the dancer with their body, exploring different rhythms and movements, inspired by the snake, through its origins it symbolises empowerment, especially for the woman. This is exactly how second generation Australian belly dancer Joanna Angelidis feels after immersing herself in this art form that has freed her soul and body.
"For the last 25 years, I have danced in numerous different forms – from ballet, to jazz, to musical theatre – until belly dance captured my heart. It was a match made in heaven because I'd been surrounded by its culture since young, as I am of Greek descent. I felt it in my blood," Joanna Angelidis tells Neos Kosmos.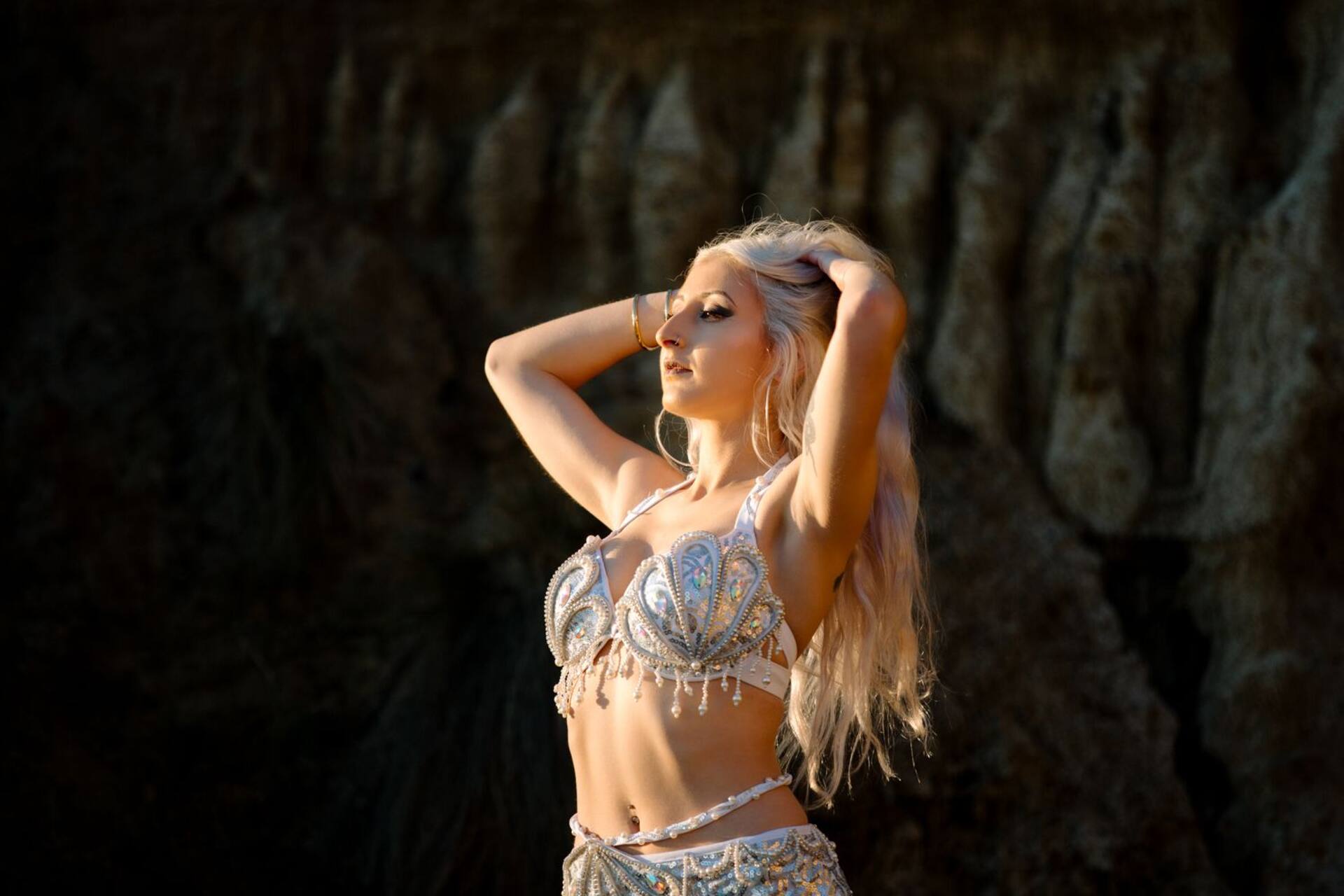 "I'm blessed that my experience in ballet, jazz and musical theatre gave me a unique take on my belly dance style, as I love incorporating theatrics and drama into my dance! The beauty of being a belly dancer is being able to work for yourself and choose which opportunities suit you best. I currently work with a number of clients of various heritages and backgrounds performing at birthdays, weddings, cabaret and stage shows, restaurant appearances, christenings, hens parties, and other familial celebrations."
The popular Greek-Aussie belly dancer explains that the practice in itself can be quite complex and versatile, going from slow and sensual to fast and energetic, depending on the music and the dancer's interpretation. Belly dance also incorporates elements of improvisation, allowing the artist to connect with the music and audience in the moment.
The movements in belly dance are varied and intricate, Joanna explains, with a focus on isolating different parts of the body, including the hips, torso, arms, and hands. The dance also involves shimmies, undulations, and accents, all of which contribute to the rich and dynamic vocabulary of the dance.
The use of props like veils, swords, and zills (finger cymbals) can add yet another layer of complexity and creativity to the dance while it incorporates elements of folk dance, traditional clothing and music.
"Even simple props like silk veils have special techniques that require practicing," she explains. "My go-to props for shows are my swords. I also love performing special shows with my LED ostrich fans, which have taken a very long time to perfect."
Beyond the physical aspects of the dance, belly dance also celebrates culture and tradition. Different styles of belly dance have emerged from various regions, each with its unique flavor and influences. For example, Egyptian belly dance is characterised by its fluid and sinuous movements, while Turkish belly dance or our own 'tsifteteli' is more energetic and features fast turns and footwork.
"As we all do in the Greek community, I was raised learning 'tsifteteli' from my mother. She is always the first person out onto the dance floor, and I'm grateful that she instilled that tradition within me," Joanna tells Neos Kosmos.
"My grandparents, who were originally from Thessaloniki before moving to Kalamata, loved to take me to events in the Greek community where there was always an abundance of kefi, which is where I fell in love with Greek music. My mother also loved belly dancing throughout my childhood, and even took me to a few classes with her when I was nine years old. Whilst still trying to find myself, I dabbled in various other dance forms, however I returned to belly dancing when I was 20 years old. I was very lost in life at that point, and felt that what I needed was to return to my roots."
Joanna describes this period as a "very full-circle moment".
After a year of learning, researching and obsessing, she decided to let go, throw herself into this art form and make it a career. After about six years and a pandemic later, here she is performing and teaching weekly, and ready to travel overseas to showcase her unique style.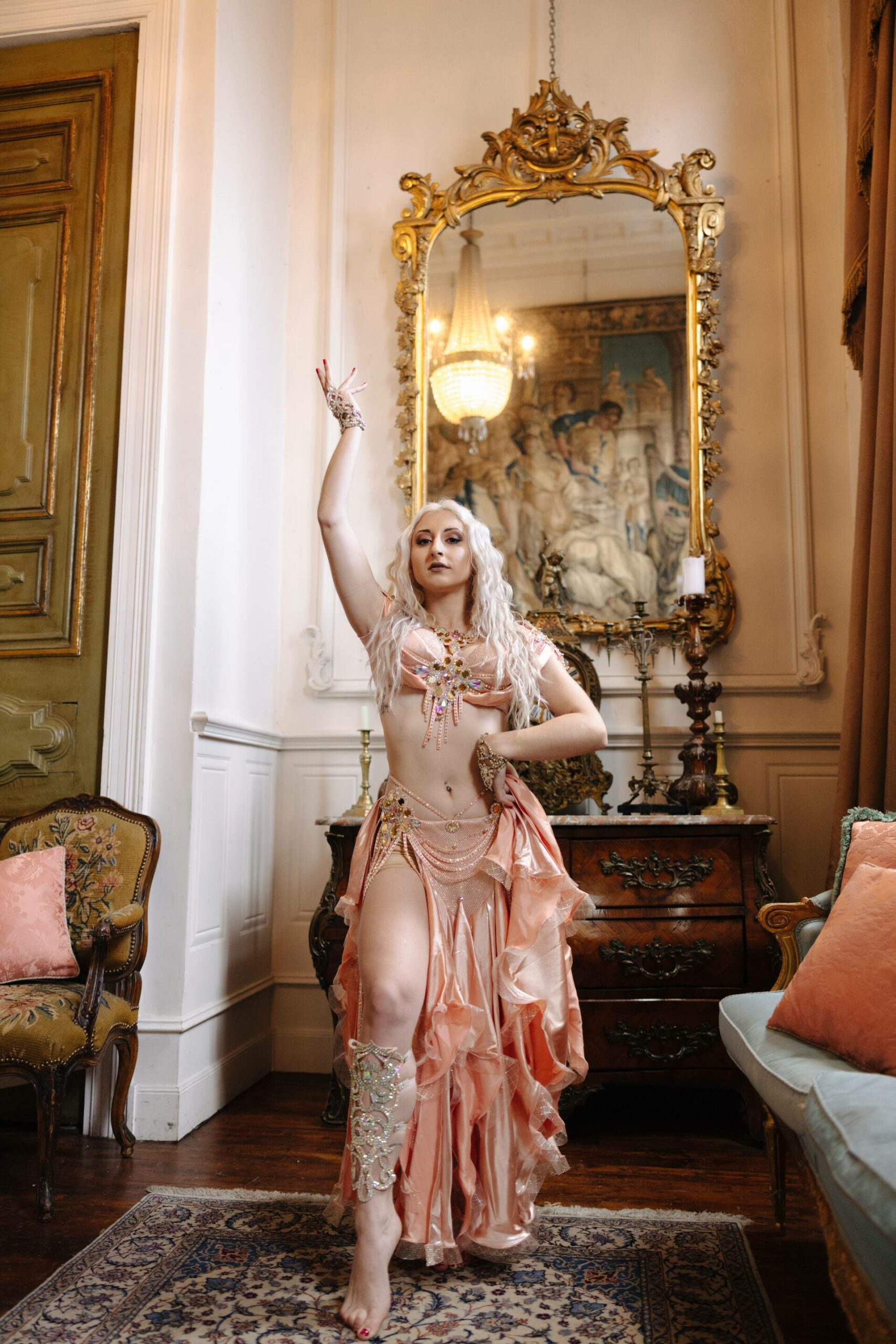 Joanna's belly dancing style relies on a mix of Traditional Oriental, as well as Cabaret. She performs with theatrics, and her overall goal at the end of the day is to leave her audience filled with joy and adrenaline after every performance. Using exclusively customised choreography, she performs in intricate events but also teaches belly dancing.
"From May to July, I will be travelling Europe and performing at three international belly dance festivals in France, Spain and Greece. Last year I performed in Greece, and will be back again to perform at the internationally acclaimed Venus Oriental Festival in Volos on July 1. I'll also be performing at France's 'Oriental Marathon Festival' World Gala event on May 29, and Barcelona's 'Leyla Raqs BCN Festival' Rubi Raqs Gala Show on June 3."
At Maison Burlesque in Richmond, Melbourne, she runs a weekly technique class called 'Bellydance Essentials', where each week she takes her students on a journey into the movements, history and a choreography dedicated to different themes, such as Tsifteteli, Romantic style, Drum Solos and Shakira style belly dance.
Joanna who has performed in a variety of dance and spiritual festivals across Australia, also runs a weekly showcase course called 'Drum Solo Deities' which as of March 30 will be renamed to 'Belly Dance Deities'.
"Belly-dance has different meanings and interpretations in various cultures and spiritual practices. In some contexts, it is viewed as a celebration of femininity and an embodiment of the divine feminine. It may also be seen as a way to connect with the body and express emotions, or as a form of worship and offering to deities in certain religious traditions. Ultimately, the spiritual meaning of belly-dance will depend on the individual's beliefs and intentions."
In addition to being a beautiful and expressive dance form, belly dance also offers many health benefits. The movement can help improve posture, flexibility, and core strength, and can also be a fun and engaging form of exercise. Belly dance has also been shown to improve body image and self-confidence, as dancers learn to embrace their bodies and movements.
For Joanna, passion doesn't rely on your heritage, age, gender, body type or life history.
"I actually received a message the other day from somebody telling me that they would love to start belly dancing classes but felt they were too old to begin learning," she enthuses, stressing that "The only person that was stopping them from taking that first step was them!"
"I believe many of my students come to learn new ways to move their body that aren't typical of western culture, learn about the history surrounding multiple aspects of this dance, and explore how empowered they can feel through this music and these dances."
Throughout the years she has been performing and teaching, Joanna has come to the realisation that the biggest challenge for belly dancers is the judgement projected by Western societies, mainly surrounding the common misconception is that it is primarily a form of entertainment for men.
Through her art and classes she wants to see the cultural and historical roots of belly-dance recognised and appreciated as a legitimate art form rather than it being reduced to a sexual stereotype with the intention to provoke owing to its sensual movements.
"When I began performing, I quickly discovered the character I wanted to embody to bring people closer. At the end of the day, our job as belly dancers is to enhance the audience's evening, not make the evening all about us. It's why I like to focus on the women in the audience, respectfully welcome anybody who wants to join me on stage, and show children that there's magic in this art," she says.
"It's so rewarding when audience members and patrons feel comfortable enough with me to join in on the fun. That's what all of this is truly about – making people smile, sharing happiness, and creating precious memories."