Brisbane journalist Penelope Pelecas had a typical Greek Australian upbringing with the lot.
"I went to Sunday school, Greek school, did Greek dancing and things like perform at the yearly Paniyiri […] constantly being at my grandparents' houses, surrounded by cousins and family, always eating something delicious that yiayia made," Pelecas tells Neos Kosmos.
"But I'm also incredibly proud to be Australian and I love how many different cultures there are here."
While she grew up with friends "from all walks of life/nationalities", when she met her now husband, Lorenzo, at 18, she had already been exposed to the 'marry a Greek' mantra.
"I feel like only a Greek-Australian can understand this and not think it's weird.
"I was probably one of the first in my immediate family to be with a non-Greek and it was a big deal at the time. And yes, it was very similar to the movie My Big Fat Greek Wedding in some ways, although my husband is Italian, so he comes from a big, European family as well."
When five years into their relationship Lorenzo proposed, he knew that for Penelope, dream wedding meant getting married at the Greek church.
"I always pictured getting married at St George, and having my reception at The Greek Club, so for me it was a no-brainer. The day we landed in Brisbane after the proposal, I called up the church office and The Greek Club and booked the wedding."
For the dream to become reality, there were some prerequisites, including Lorenzo's baptism in the Greek Orthodox Church, some lessons by the parish priest and the couple striking a 'deal'.
"In all honesty, Lorenzo did it for me, and the deal we made, which is kind of funny when you think about it now was, we always said if we had kids I would like them to be Greek Orthodox and Lorenzo said then they'll have to have Italian names, which I was/am cool with."
We asked Pelecas to share some insights from the experience to help other couples in a similar position.
Why was it important for you to have a Greek Orthodox wedding?
Growing up all I knew were 'Greek' weddings, it just wouldn't have felt right for me not getting married in the church. It was special to me that my sister got married in that church, and her and my parents both had their wedding receptions at The Greek Club. […] My parents got married in the Greek Orthodox Church of the Dormition of Our Lady in Mt Gravatt, but they had their reception in The Greek Club like me and my older sister.
Did you have to convince Lorenzo to get baptised?
Not really, I mean he wouldn't have done it if it wasn't for me, but he didn't need too much convincing. I think for anyone else in a similar situation you have to be upfront and honest from the get-go, but like you always need to remember that you don't want to change the person, and that was really important to Lorenzo and me, that he did it on his own terms. And Father Stavros was fantastic, and supportive and was really like 'you're still you after this', which I think made it easier for Lorenzo.
What would you advise a person talking their partner into getting baptised as a prerequisite for a Greek Orthodox wedding? Any tips on what to not include in the conversation?
Haha maybe don't tell them about the whole strip down in your bathrobe and boardies situation first up haha, I would ease into that. I think what helped with Lorenzo and I the most…we're both so open and communicative with each other and If I knew this wasn't something Lorenzo was comfortable with, then maybe things would've been different. But just keep it super light-hearted, crack a joke, watch My Big Fat Greek Wedding, that's what we did.
What were you taught in the lessons?
We had about 3-4 lessons with Father Stavros, first one was just a chat, why Lorenzo wanted to be baptised, we then learnt about the history of the church, the sacraments and learnt the creed. It was a requirement for me to come with Lorenzo to the lessons and it was fun, and a nice little refresher for me. Soon after that we booked in for his baptism, where […] my first cousin christened him. It was easy and straightforward.
Any tips for couples who will go down the same path?
Just be honest and understanding with each other, and don't forget to laugh.
What was the thing you enjoyed most in your wedding and what would you have done differently if you had the chance?
Oh, absolutely everything. I loved everything, it was the most perfect, surprisingly relaxing, and fun day. I wouldn't have changed anything. My favourite parts were the church service and our walk-in entrance at the reception.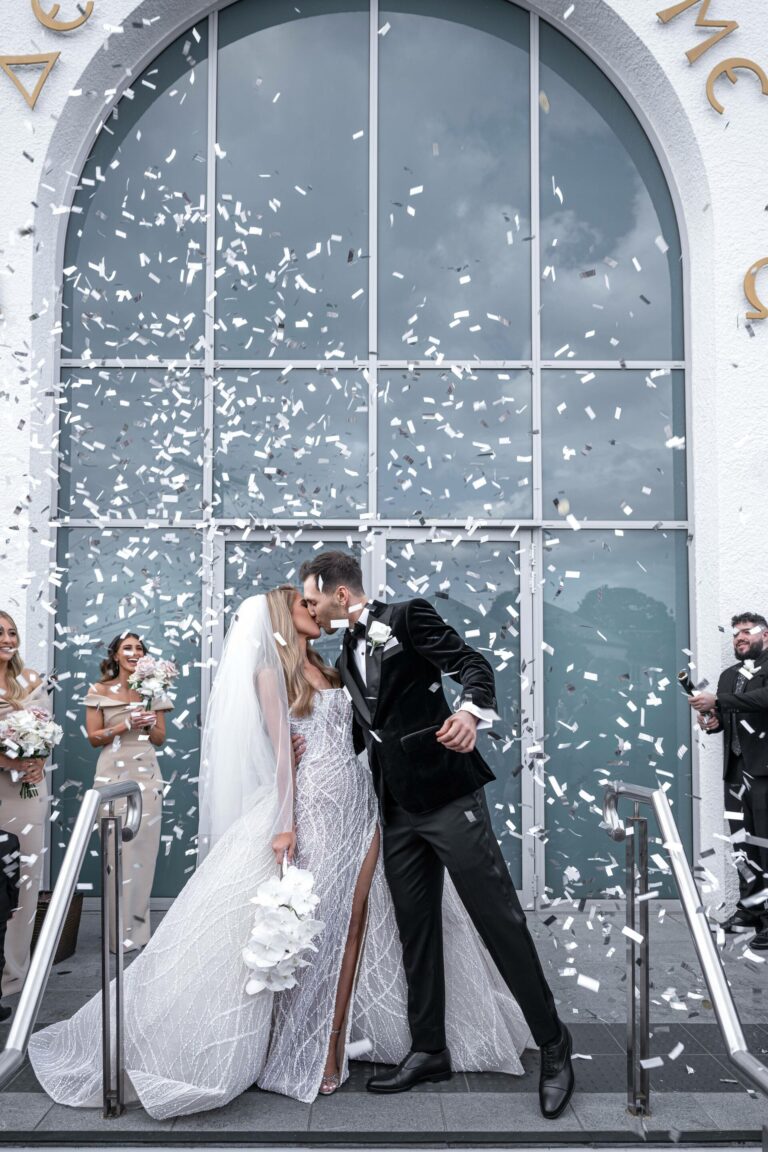 Can I have a Greek Orthodox wedding in Australia with a person of different faith?
– Yes, if they are Christian and belong (having been baptised) to a Christian denomination "acceptable" to the Orthodox Church, such as Roman Catholic, Methodist, Copts, and Syrian Orthodox. (Full list of "Acceptable denominational traditions" available at the Greek Orthodox Archdiocese of Australia site)
– No, if they belong to one of the groups "not permitted by the Orthodox Faith" including Pentecostals, Evangelicals, Hillsong and Jehovah Witnesses. (Full list available at the Greek Orthodox Archdiocese of Australia site)
– Yes, if they are not Christian or never been baptised, even though their parents belonged to a Christian tradition, provided they are baptised in a denomination acceptable to the Orthodox Church.
– Yes, if they are not Christian or never been baptised, even though their parents belonged to a Christian tradition, provided they convert to Orthodox Christianity of their own free choice.
* The above summary is extracted from the dedicated official webpage of the Greek Orthodox Archdiocese of Australia. For more information, consult your local parish priest.