Christoforos Papakaliatis' series 'Maestro', has become the first Greek TV series to air worldwide on Netflix, on 17 March under the title 'Maestro in Blue'. The popular series, which will also become available in Australia has so far been screening only in Greece and Cyprus through MEGA TV, with each episode becoming viral and starting intense sociopolitical conversations, raising awareness on human relationships, difficult choices, boundaries and significant social issues like domestic violence and homophobia.
In the series he wrote and directed Papakaliatis also stars alongside Haris Alexiou, Maria Kavogianni, Fanis Mouratidis, Marissa Triantafyllidou, Yannis Tsortekis, Antinoos Albanis, Stefania Goulioti, Klelia Andriolatou, Orestis Chalkias and George Benos. Papakaliatis plays Orestis, while Andriolatou plays his object of love and source of personal drama. Maria Kavogianni takes on the role of a school teacher with a painful and intense past and the great voice of the island is provided by famous Greek singer Haris Alexiou. Kostas Christidis, who has been living and creating in America for 25 years, has written an original score for the series which has become a massive hit.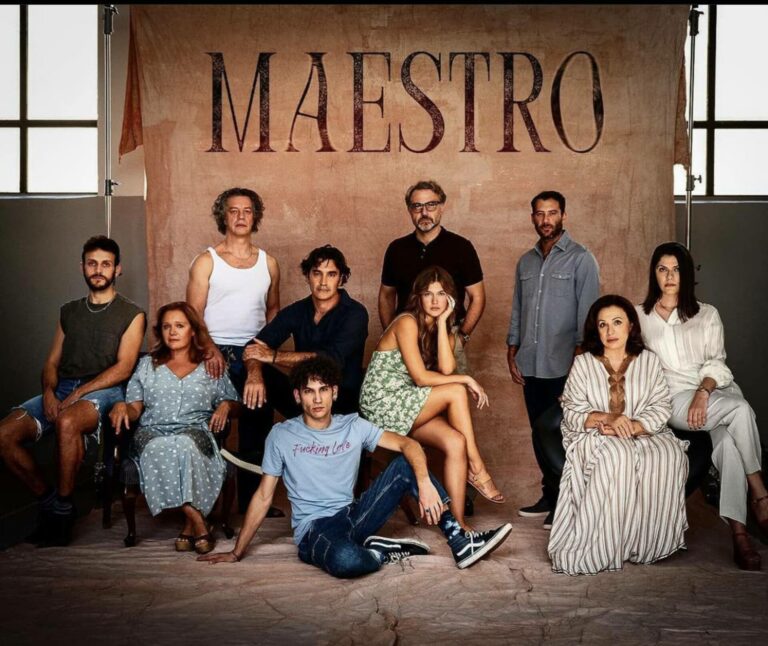 Two hours before taking off for New York from Athens, the multi-talented actor, director and screenwriter spoke exclusively to Neos Kosmos about Maestro and the global journey that starts via Netflix today. His trip to the US comes after an invite from the American expatriate community for a special event at the General Consulate of Greece in New York at the Chiotes Hall of the Archdiocesan Cathedral of the Holy Trinity. Papakaliatis will be honored for his accomplishment in the presence of expat officials and journalists.
MY CONTACT WITH THE EXPATRIATES IS DECISIVE
"The Maestro series will air worldwide on Netflix on Friday, 17 March, under the title 'Maestro in Blue'. It will also be officially screened in Australia on that same day. I feel great joy, pride and excitement, because I've always had very good relations with the diaspora community in America, I met wonderful people there, I made friends in the past. I look forward to meeting the Hellenism of Australia through my Netflix project, but I personally look forward to visiting Australia soon and getting to know our Greek compatriots. Australia is a fairytale country and the Australian expatriate community is a big part of Hellenism. It is crucial for me to be in touch with the expatriate community of America and Australia, they're a part of Greece yet so far away. Besides, I became acquainted with the Australian audience through my previous film 'Another World' (Worlds Apart) which was screened at various film festivals and cinemas in many countries including Australia. At that time, I had the pleasure of speaking to the expatriate press and SBS radio about my first international success with the film, in which I used love as a vehicle to portray contemporary reality."
THE CASE OF THE MAESTRO
The story is set on the island of Paxoi, Greece at the time of the pandemic, and focuses on the main character, a musician, Orestes, who is invited to the small island after the pandemic to organise a music festival with the islanders. He soon comes face to face with the closed community and finds himself caught up in an unexpected love story.
"Its about eight protagonists with eight parallel stories and the cast was crucial; I can say with certainty that every the actor gave it their all. It's a romantic drama with a background of harsh and modern reality that comes to life on our screens through nine episodes where issues such as abuse, family, acceptance and rejection, diversity, love, betrayal, addiction, politics, illegality and corruption. Issues that know no boundaries or borders, issues that concern not only small communities, like the one of Paxoi, but the whole world, all of us." "This love story is the motive force which manifests all the social problems that plague a whole group of people on the island. Also, on 3 April we start shooting the second season of the series in Paxoi and in Athens, another eight episodes."
"I hope you like the series, and in this way, I hope to communicate with the Greek diaspora abroad. I would like to emphasise the contribution of MEGA, thanks to which my dream came true. Without MEGA, the promotion of this project wouldn't have been possible."
THE ROLE OF MY FAMILY
A cosmopolitan with open horizons, Papakaliatis grew up travelling all over the world; even as far as Africa thanks to his mother Willie Malami. Speaking to Neos Kosmos, he touched on the role his upbringing had on his life and career choices.
"My family plays a crucial role in my life, I am lucky to have grown up in a big family which has always been supportive in all my life choices. My mother is of Greek descent from South Africa, she met my father in London, they got married in Crete, where my father is from and despite the fact that they divorced, they have always supported and helped me."
"I spent summers in Crete and Paxoi, where my grandmother is from on my mother's side. These two islands have marked my childhood and I have always been very happy to return there for holidays and business. There I recharge my batteries. With my mother I have also visited South Africa, I have experienced other cultures and customs, which has helped me in my later work, including for the documentary 'One World' filmed in African countries for Action Aid."