Nearly a decade ago, Diamond Rozakeas, a Greek Australian known for her involvement in some of Melbourne's top cafes, had a life-changing experience while visiting the Mutitjulu community located at the base of the sacred rock of Uluru.
Captivated by the spectacular outback landscape, the extraordinary Elders, and the children who stole her heart from the first moment, Rozakeas returned several times since then, intent on connecting to Country and the First Nations people, who have enriched her life in so many ways, she told Neos Kosmos, in an interview about her upcoming project.
"I was always interested in indigenous people. I have a very dear friend who introduced me to the community of Mutitjulu, which is at the base of Uluru. There I met an elder at the time, Kumanjay Randall, who was trying to create certain projects in the community. We just connected very effortlessly. Unfortunately, he died a couple of years after our first meeting, but, he planted a little seed in me."
For the next eight years Rozakeas returned multiple times to the community, creating and funding projects to uplift the lives of the children through healthy food workshops, art programs and social enterprises.
"It started off with just an idea, and art seemed like a great way to go. One thing led to another and before I knew it, I was completely immersed in this huge mural production. It started off with a small school mural to give them the idea of what it would look like. And then from there, we did the swimming pool mural, which was a huge endeavour."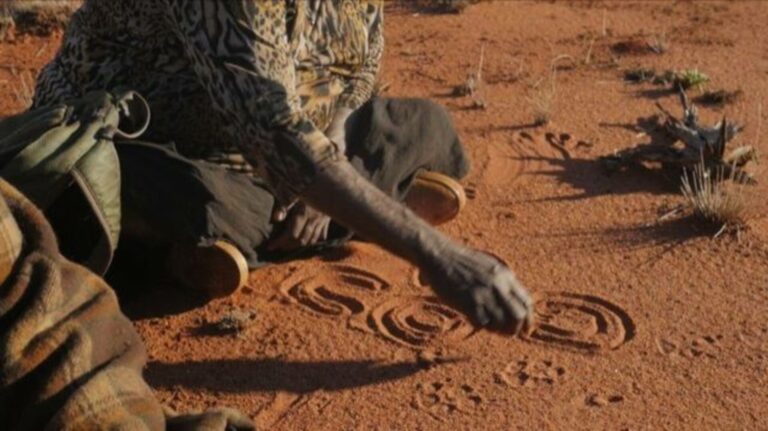 Taking a step back from full-time work in hospitality, to free herself up to do more in the desert, she is now looking for support from the wider community.
The "WALI (Pitjantjatjara for building/home) project" which she is facilitating in collaboration with Mutitjulu Elders and Maruku Arts, the community's Art Centre, aims to provide repairs and upgrades to existing buildings in the Community of Mutitjulu, starting with a much needed Community kitchen, which is now in a derelict state.
The inspiring Greek Australian also plans to deliver the kitchen herself. Driving to Uluru is always a highlight in her journey, she says, whilst it will also giving her the opportunity to oversee the whole project from start to end.
"When we place ourselves in the equation, we also ensure happiness for ourselves. We are so outcome driven in the western world, but I want to experience the whole journey. The installation yes.. the outcome. But what about the rest of it?"
Her connection with the indigenous people has enriched her world immensely, and the goodwill she extends to them returns to her tenfold.
"When you truly embody that what you do unto others you do unto yourself, it can change your life. And this has been one major thing that has really changed me. Being involved with the First People. And to know spirit, to know God, in embodiment. That's what I try and do in everything. Even in hospitality, it wasn't really about cafes for me, it was about people and connection and service."
It is in the spirit of filotimo, she stressed, referring to the virtue characteristic to her Greek culture and which can be described as an innate sense of duty, honour, and responsibility towards oneself, one's family, community, and country.
But it is also the desert itself that draws her back each time.
"The desert -it does this to some people- it steals a piece of your heart and you've got to keep going back to reconnect to that piece. And it's also the peace you find there, and connection. I revel in it, because it teaches me so much more than what the Western world can."
"Every time I go into the community, I need to recalibrate. Where do I now place my energy and my frequency? What little thing can I do when I'm there, despite maybe all the "bigger" problems?"
Rozakeas believes that ultimately the power of change lies in the individual. "There are a lot of us! We are 7 billion people. And this is why I work independently, because I don't think the solution is through government to be honest, not entirely at least, maybe as a support. I think the solutions to anything are grassroots-inspired, and led. I like to fly under the radar, to work independently. Then I'm not under anyone's jurisdiction. I just like to get in there and do some stuff and be amongst them."
During the years -apart from the art projects- Rozakeas has run food workshops where the kids would learn to cook organic food, and even how to make gelato! "What could be happier than eating gelati and being with the kids in the desert? There are a lot of wishes fulfilled for me by doing this, creating happiness for myself through service, the connection to people, to local mobs, to Elders, to kids, to Country, to spirit and to God. I find God, when I'm on my road trip."
What is it about being in Mutitjulu that makes it so special? we ask.
"From very early on they were inadvertently teaching me true connection as opposed to attachment. I think we can confuse those two things very easily. They have an innate ability to just be connected in the moment. It's that moment-to-moment living, that is still teaching me a lot. And there's a richness, beyond words, with the way that they have lived for so many years. In that they really embody their spiritual being. This is what I love about them. And they inspire me. When I end up in the community, doing projects, or even just visiting, I'm just so inspired by the spirit of the land, the spirit of the people. And, of course, the kids and the Elders. I am lost and found… you know."
Rozakeas says she has always been fascinated by a life inspired by the Spirit. And the First Nations' people seemed to do it so well. Driven by her natural curiosity she wanted to understand what it is about them, this culture, and its richness, and how can she listen and learn from them.
"I feel that there's so much we can learn, if we listen to our First People, all First People really around the world. There's a beautiful word that embodies that deep listening in language. Dadirri (not a Pitjantjatjara word, but reflective in all) which simply put, means a deep, reverent listening."
"The reason I have this connection is because I sought it, I wanted to learn about it. I made great efforts in doing that, and I cannot even begin to describe the way that it has made my life so much richer."
So as the Aussie born Greek from Mani gears up for her road trip to Uluru to deliver to the community of Mutitjulu the much needed kitchen, she is reaching out to her own community.
She estimates the project to cost about $20,000, to cover the making of the kitchen, the van, transport, petrol, accommodation, installation, labour work, and a little bit of advertising.
"I'm going to personally deliver the kitchen in advance. So assistance for example, from someone that might want to lend an automatic van that I could use for a couple of weeks, so I can see the project through from alpha to omega, would also help. I want to show the local mob there how to use some of the appliances and hopefully I can use that space to recreate some of the food workshops that I used to run with the kids after school."
To show her gratitude to her supporters, she intends to feature their logos on the van that will travel across three states, effectively providing them with publicity.
As for those of us who feel inspired to discover more about Uluru, the history and culture of Australia's First People, Rozakeas urges us not to hesitate.
There are free ranger-led guided tours available that many people may not even be aware of, which are inspired by the elders and taught to the rangers to ensure that they accurately convey cultural knowledge. This is just one example of how hard the elders in the community are working to preserve cultural practices and pass them on to future generations.
For more information to donate or assist in this project you can contact Diamond Rozakeas by phone: 0425 705 566 or by email at diamond_roz@hotmail.com