Photographer Tony Maniaty is striving to display the wonder of life in his latest exhibition in what he hopes can be a step toward reversing Earth instead of contributing to its slow destruction.
Climate change and issues of global disorder have continued to grow, and Maniaty believes that showing off the beauty of our planet and life is the key to our future survival."We've all become increasingly aware of how fragile the Earth is.
The more we see beauty, the more we're inclined to appreciate it, to revere it rather than damage it. We need to open our eyes to the planet's beauty to save it," the photographer told Neos Kosmos.
This central notion inspired his latest exhibition titled The Planet of Possibilities, which will be shown at Kiribilli Centre Gallery in North Sydney from November 19 – December 9 and is held in conjunction with the Head On Photo Festival.It features 21 large-scale photographs the Greek-Australian took during his travels to Greece, Turkey, France, and Britain in the past two years and here in Australia.
Maniaty explained that his background in news journalism has affected his style of photography, making him focus on capturing the dynamic of the streets, daily life, and specific events.
This current project of his was highly influenced by his previous one, Our Hearts Are Still Open, wherein he captured the street life in Paris during the 2020 Covid pandemic, a once-in-a-lifetime experience that saw the French capital without tourists or traffic, the streets almost empty, and the cafes and bars closed.
"Out of that experience, I discovered the best images were those of quieter moments, more intimate images that reflected what millions of people worldwide were going through, reassessing what mattered in life," Maniaty told Neos Kosmos.
"That became, if you like, a photographic turning point for me. Still working largely on the streets, I began searching for more abstract situations that were more personal, slightly off-centre."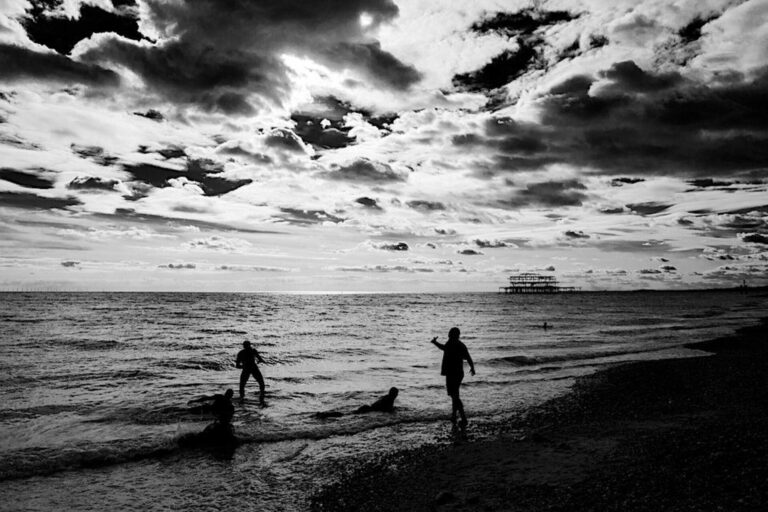 The photographer returned to Europe in 2022 for this project, first visiting Greece.
"I rented an apartment in a fairly rough Athenian neighbourhood for two months, and every day headed out to find those rare moments of strangeness and solitude, usually in the early morning and at night," he said.
"You have to go looking for them; we're too busy to recognise them, and often you wait half an hour in one place until all the elements come together to create the right atmosphere."During the middle of the day, Maniaty embarked on a different assignment altogether, which was doing street portraits of what he calls New Athenians – either new arrivals from other countries, be they refugees or immigrants, or younger Athenians who've rejected the more traditional models of Greek society and are determined to forge ahead in their way.
"In a way, visually speaking, I was living and operating in two separate worlds. The street portraits were all vibrant, and the more reflective work in black-and-white," he said.Following Greece, he went to Istanbul as well as France and Britain. While each country had its own 'look', the photographer retained the visual and emotional consistency he had developed for the entire exhibition.
Maniaty stated that as a journalist, he has watched economists, technologists, and politicians struggle to find solutions to the world's problems, with the reality being that the planet is facing environmental catastrophe.For this reason, he titled his photographic series The Planet of Possibilities based on his belief that "humanity will survive only if we open our eyes to the myriad forms of beauty that exist all around us, including our complex interactions with each other, and in the possibilities that come with heightened creativity".
"Can photography save humanity? Hardly, but it can point us in directions that may not be so obvious, towards new solutions built around our collective, creative imaginations," the photographer said.
Many will attend the gallery on November 19, November 25, December 2, and 9. They will also deliver an illustrated lecture to discuss the exhibition on Wednesday, November 22, at 1 p.m. in Stanton Library, North Sydney.