Olympia Valance, who stars as Paige Smith in the long-running soap Neighbours is one of Australia's most famous young actresses.
I absolutely adore Greece and I'm so proud of my heritage.
The young beauty has had more than once reasons to embrace 2016.
"It's been a great couple of weeks, being constantly happy and hungover," Olympia says.
"Christmas, New Years, turning 23 and looking forward to so many great things to come."
Olympia celebrated her birthday with her family, her partner and close friends in a mouthwatering dinner party at Morris Jones, put together by acclaimed chef Matthew Butcher (pictured above).
The star also opened up about having been scouted by California-based agency ROAR, the same Hollywood office that has signed Chris and Liam Hemsworth.
"It's nice to know that I have somewhere to go to when I decide to make the move and pursue things in the States. I guess I'm lucky in that respect."
"Without a doubt I do want to try new things, do a film and test myself in Hollywood, but at the moment I am focusing on my role on Ramsey Street," she explains.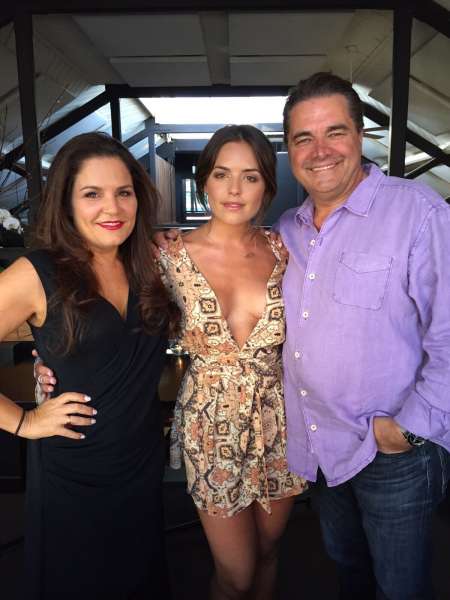 Olympia was actually signed by ROAR over nine months ago but chose to keep it quiet, since these days she has been preparing for the new thrilling adventures of her soap character as well as on taking her collaboration with UK based lingerie brand Gossard one step further.
"The agency is actually small and deals with only 42 people worldwide, which is good, because it helps the actors create a more personal relationship with the agent," the brunette star says.
"ROAR sends me a lot of material to practice on and I've been working on my accent as well. I still have a lot of learning to do, but they are very understanding when it comes to my other obligations.
"Once or twice a week they call me to check on what I'm doing, so I'm not ruling out on anything."
This year, Olympia will be starring in two campaigns as the official face of Gossard and therefore will be spending her time between Melbourne and the UK.
"I'm planning on going to the States on Christmas, spend a fair bit there. Let's say a good six weeks so I can sit down with my agents and work with them more closely." she tells Neos Kosmos.
"My step-dad's cousin, Tristan Rogers, is also a big soap star on General Hospital."
Olympia's favourite place, however, is Greece. Even though it's been a while since she last visited the islands, she can't wait to find herself enjoying the beauties of balmy days and nights in blue and white scenery.
"I absolutely adore Greece and I'm so proud of my heritage," she says.
"It saddens me that Greeks are going through such hard times at the moment. I hope for the best and I'm definitely visiting again the first chance I get."
Heads up: Voting for the 58th TV WEEK Logie Awards 2016 ends on Sunday, January 17, 2016.
If you wish to cast Olympia a vote as your favourite star, head to www.tvweeklogieawards.com.au/vote
Not only will you be supporting the best of Australian TV, but you'll also go into the draw to win the ultimate VIP prize, including two tickets to join the TV WEEK Logie Awards night; flights, accommodation and more covered. You can only vote once, but check out TV WEEK magazine during the voting period for the code word to receive bonus entries into the prize draw when you vote.