Some people live a picture-perfect life and some people have hurdles they overcome along the way. You can choose to be consumed by those moments or to power through them and overcome them. Renee Kounis is one of those extraordinary women who, despite the hardships life threw at her, has a story which tells of following her heart and letting her intuition guide her to be the successful entrepreneur she has now become.
Born in South Australia to a Greek father and Dutch mother, in a country town near Adelaide, Renee found solace on the beaches of Wallaroo. She is no stranger to Greece, and confesses she has fallen in love with the island of Lesvos, from which her father's family hails, with her many trips there providing inspiration in her work. Upon finishing a course in sports science at university, Renee moved to join her sister in Sydney, where she worked as a personal trainer, and admits Sydney just felt like where she was meant to be. Working as a PT was great, but there always seemed to be an underlying desire to be creative; as a child she was always crafty and creative, choosing to make outfits, painting, drawing and dancing.
Naturally, she enrolled in various art courses, which led to fashion illustration, and she continued to follow her heart to where it was happy, doing what worked for her. Renee describes design school as her "aha" moment, the moment she knew she was on the right track. This was her "calling" − after all, she was making leotards at the age of 10 − it only made sense.
After five solid years working as a personal trainer, at age 30 Renee began designing bikinis. The feedback was so encouraging she developed her own bikini line, Neyku. With body conforming fits and original prints, they aren't just cheeky bikinis − what sets Neyku apart is that the brand is inspiring women to live happy healthy, fulfilling lives, to believe in themselves and believe that dreams do come true.
Renee's life wasn't always a fairytale. There were dark moments of depression, a devastating accident in the family and unhealthy life choices which she now looks back on as a huge feat that she has overcome. It takes a strong, independent woman, with many supportive people around her, to get through the tough things life often throws at us, and Renee was definitely supported and loved. She used this time to find her passion and learn about herself, practice a healthy way of living, concentrating on body, mind and spirit, eventually refocusing and becoming the success that she now is in all aspects of life.
We had some highs and lows in our conversation and boy, was she funny. Here are some of the things we chatted about:
What made you interested in the fitness industry?
I love the way being fit feels, and I especially love how having a stronger, fitter body has such a positive effect on all areas of your life. Some of the many benefits include increased health, vitality, better confidence/self image, mental strength and improved focus, and simply enjoying the physical strength and endurance that comes with it. We only have one body and what we do with it is our choice. Our bodies are made to move and they adapt to what we do, so we each have the opportunity work with our body to create a better version of it that we feel great in. Fitness is a gift and I think a lot more of the world can tap into and enjoy the benefits.
How do you relax?
I love a good catch up with close friends or family around Bondi or the eastern suburbs of Sydney, over a cappuccino or tasty meal. Likewise, a good romantic comedy to switch off also does the trick.
Who or what is your biggest motivator?
Freedom and integrity provide me with my drive to create an authentic label and beautiful quality garments. My motivation is that people love to wear these garments and feel confident and happy within themselves while wearing them. Having the privilege to work at my own speed, doing what I love, in my own space, is true freedom to me, and I can only hope my work inspires others to do the same, to create and live a life that is true to them.
How would you describe your design style?
I design to create pieces to empower females, to inspire them to feel and be their absolute best. A lot of my garments also have inspiring messages woven in to them; this is another way I love to empower and inspire. I personally always choose to buy high quality garments that I feel confident and comfortable wearing myself. I love pieces that celebrate our bodies and that the wearer will love wearing over and over again. I believe the way we look and feel in our clothes influences how we present to the world.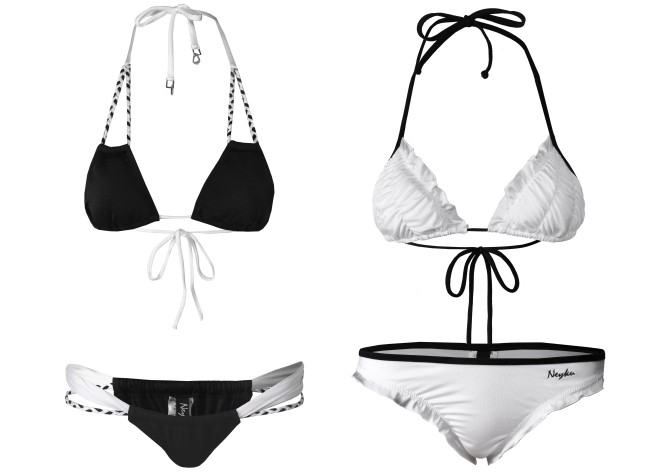 What has been your biggest accomplishment?
I love walking past a magazine rack or popping on the TV and seeing someone featured in one of my designs.
What is next for you? You mentioned rebranding?
Yes there is a lot happening and it is all very exciting. I had such a great response to the Neyku Activewear released last year that I am currently working on a new active lifestyle brand inspired by the Greek word Arkhe − a new beginning.
Do you have a message for anyone who admires you?
Definitely, I think, stay true to yourself and believe in yourself 100 per cent. With focus and perseverance you can achieve anything you desire, so learn to listen to your heart, trust your gut. Know you are worthy and clear any other thoughts that hold you back.
The Summer 2016 Neyku Swim line will be landing in a few weeks. If you would like to read more about Renee Kounis, you can find her personal blog on www.reneekounis.com and you can check out her swimwear on www.neyku.com
* Zoe George is The Subtle Mummy: www.thesubtlemummy.com and www.facebook.com/thesubtlemummy