Since its inception in 1976, Ian Sharp's reputation is synonymous to unique quality nurtured on the tradition of innovative, exceptional design and craftsmanship in diamonds and jewels.
One of Melbourne's most established jewellers, his name is intertwined with the most cherished moment couples share, as his engagement and wedding rings have become a symbol of eternal love.
Commencing with the simple ring, the ultimate sign of love and style, Ian produces second to none inspirational creations using the world's most ideal cut diamonds for an everlasting promise.
Many of his most devoted clients are of Greek background and trust him with creating unique one-off designs for four decades. Most of Ian's staff are Greek as well, mainly second generation.
"After many successful years we have built a strong reputation for quality and trust that our clients really value," he says.
We have looked after several generations of the same family over the years and trust is so important."
However, it was during his apprenticeship with the French award-winning jeweller Jean-Pierre Giliberto in the early 1970s that Ian's meticulous approach to crafting and designing was nurtured. Continuing to work with Gilberto, Ian's talents were formerly recognised when he was offered control of Giliberto's Melbourne business following a decision that would see Gilberto relocate to Europe.
For a number of years Ian continued to establish his reputation for fine craftsmanship working with other leading jewellers such as Paul Bram, Kartier and many others. When he opened his individual branded jewellery store, Ian's Bijoux, in 1976 on Toorak Road in South Yarra he immediately established a successful business which continues to attract new clients eager to own one of his individually designed pieces.
"Many pieces are lifelong purchases and require the creative design and craftsmanship that will make it a truly lasting experience," he emphasises.
Ian has been working and running his store in Toorak Road South Yarra himself providing the same quality of craftsmanship and service as he did when he first opened his business back in 1976.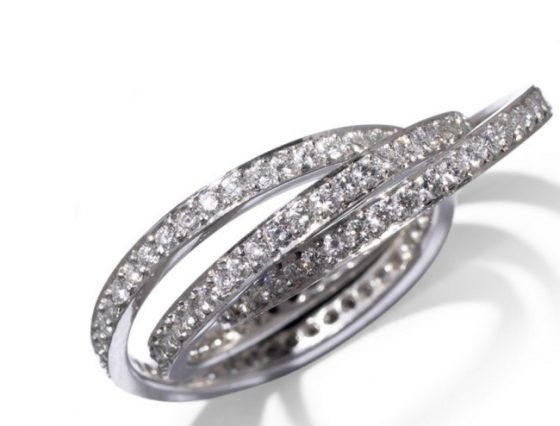 Apart from the name of the shop and the location which has moved only one store down the road, he hasn't changed a thing. Adhering to the brand-name values the staff are only too happy to work with every client individually, design jewellery to their requirement and explain the classic or more contemporary choices available.
"Our expert team of master jewellers can advise you in the areas of precious materials to assist you in realising the perfect design. At the showroom you can view an extensive range of jewellery but we're always happy to create upon request and discuss your unique requirements."
Precious but wearable, Ian Sharp pieces will help transform your wardrobe, inspiring the fashionista within by bringing together the classic and nouveau.
Gold, white and pink gold is crafted with the greatest consideration for shape, precision and colour and destined to elegantly hold diamonds and precious gemstones.
"We also have a large range of unset diamond design rings (mounts) for you to come and try on."
"Our showroom features a collection that includes the latest designs imported from Europe and New York as well as our own uniquely designed rings, necklaces, bracelets and earrings, created by our expert jewellery craftsman."
Variety and rare gemstone as well as diamond sourcing is another reason why Ian Sharp is famous for always delivering the perfect one-of-a-kind creation.
Ian Sharp has an affiliation with the Jewellers Association of Australia, diamond merchants in Belgium, Israel, USA, India and of course Australia.
"All the diamonds are from reputable companies and are from countries which are part of the Kimberly Process Scheme and also work closely with suppliers of Argyle mined diamonds," he explains.
"We are using the world's most ideal cut diamonds for an everlasting promise."
And diamonds are forever aren't they?
Apart from specialising in creating both statement and discreet pieces that will last a lifetime and be passed down through generations Ian Sharp and his team are happy to restore, redesign and repair jewellery bringing people's memories and items of sentimental value back to life.
"We specialise in ensuring that your dream becomes a reality and on that promise, our reputation goes unmatched," Ian says.
"This is what we do."
To find out more, go to www.iansharp.com.au